14th Annual Men's Event Raises $150,000 for Cancer Research
Posted in GUMC Stories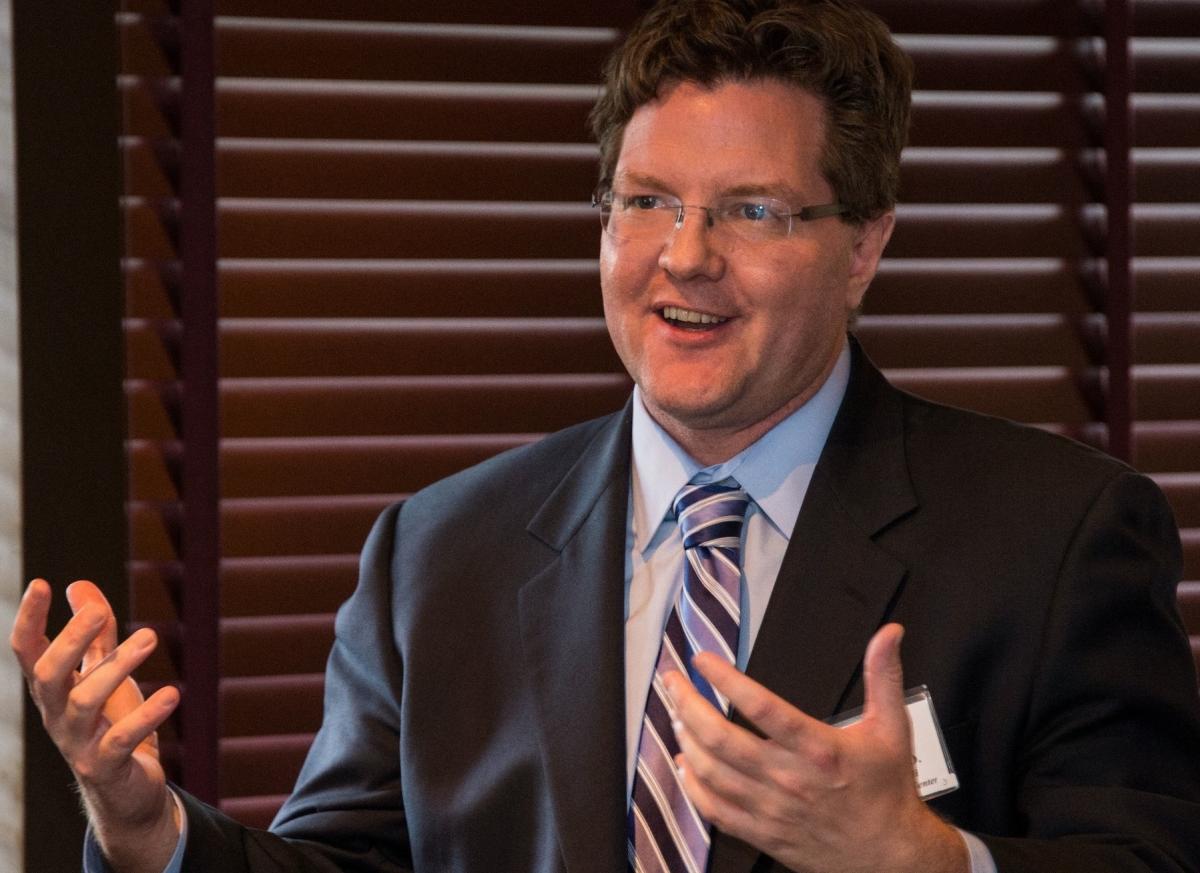 June 24 marked the 14th annual Men's Event, a charitable dinner and live auction that brings men together in support of research for the cancers that most affect them.
This year, about 175 local businessmen and supporters of Georgetown Lombardi Comprehensive Cancer Center gathered at the Capital Grille in Chevy Chase, Md., to discuss the latest developments in prostate and lung cancer. Attendees raised about $150,000 for state-of-the-art treatments and new research projects at Georgetown Lombardi.
The event was sponsored by K&L Gates.
Georgetown Lombardi Director Louis M. Weiner, MD, began the evening with a brief overview of the latest developments in prostate cancer treatment, along with new activities at the cancer center. Weiner updated the crowd on a new proton beam therapy center that will be built by MedStar Georgetown University Hospital (MGUH), and a new partnership between MGUH and Hackensack University Medical Center's John Theurer Cancer Center for bone marrow and stem cell transplantation.
It is a time of transformation for Georgetown Lombardi, he noted.
"Lombardi is growing and changing. Vince would not be able to recognize this Lombardi," said Weiner, referencing the famous football coach Vince Lombardi for whom the center is named.
Next to speak was Sean Collins, MD, PhD, a radiation oncologist and prostate cancer expert at Georgetown Lombardi. He explained the details of proton therapy and standard radiation, and emphasized the importance of proton therapy in eliminating second cancers that can result from standard radiation treatments.
Unlike previous years' events, which have focused exclusively on prostate cancer, this year's provided a broader context for men's cancers. Weiner highlighted the need to address developments in lung cancer, which is now the deadliest form of cancer in both men and women.
"We're not losing focus on prostate cancer, but each year more men and women die from lung cancer than from breast, colon and prostate cancer combined," Weiner said.
Weiner took the opportunity to introduce guests to Giuseppe Giaccone, MD, PhD, an internationally renowned expert in lung cancer and developmental therapeutics, who joined Lombardi from the National Cancer Institute earlier this year. Giaccone went on to discuss trends in lung cancer research and treatment.
Following the cancer briefing, a cocktail reception provided plenty of time for networking and socializing, with conversations among many of the guests about  their personal connections to cancer and what brings them to the Men's Event each year.
"This event is very interesting," said attendee Clyde H. Slease. "You have conversations with comrades that might make you feel embarrassed having with friends and family."
Following dinner was a live auction, which included items such as a case of wine housed in a Capital Grille wine locker for one year, and rounds of golf at Washington-area country clubs.
Many of the men who participated say they'll return next year to demonstrate their continued support of Georgetown Lombardi and the fight against cancer.
"I believe the good that we do, we get back," said Michael Conk of AMDG Consulting. "The thing I like most [about Georgetown Lombardi] is its outreach to the people in Washington, DC. They go above and beyond, sharing their values and knowledge, and that's what makes me want to try and give back each year."
By Cherisse Cobrand, Georgetown Lombardi Communications
(Published June 30, 2013)