Men Gather Together to Fight Prostate Cancer
Posted in GUMC Stories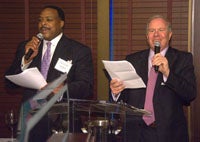 The Men's Event drew leading business men of Washington, DC, together for an evening of education and awareness-building around prostate cancer research and care. The 13th annual event took place June 25 at The Capital Grille in Chevy Chase, Md., presented by Vic Seested of UBS Private Wealth Management and the National Cancer Prevention Fund to benefit Georgetown Lombardi Comprehensive Cancer Center.
Louis M. Weiner, M.D., director of Georgetown Lombardi; Michael B. Atkins, M.D., its deputy director; and Sean P. Collins, M.D., assistant professor of radiation medicine at Georgetown Lombardi, spoke of the changing care in prostate cancer and The Prostate Center's progress in advancing approaches to treatment.
"At Lombardi we care for the individual person, [and] we care about the whole person. Receiving individualized care is key to curing cancer," Weiner said.
Atkins, who recently joined the Georgetown Lombardi team, attested to the need for tailored care along with continued research.
"Cancer is a very tough disease — it's very complicated, so we need multidisciplinary teams where experts learn from experts," Atkins said. "So many treatments that work require a team of people to pull together a plan. The exchange of knowledge is key to the success of fighting cancer."
Advancing research starts with understanding patient needs and quality of life. Tools such as patient quality-of-life questionnaires can help provide a deeper understanding of issues including those surrounding prostate cancer screening.
"We need a test that helps the patient make a decision of care," said Collins. "Better benchmarks are necessary to assist in care options; these standards will only come as a result of research."
Leon Harris, news anchor with ABC7/WJLA-TV, served as master of ceremonies, transitioning the event from cancer facts to the spirited fundraising portion of the evening. While the men dined, Harris led a lively auction, which raised $20,000 for advancing state-of-the-art treatment.
The evening was a marked success in the fight against prostate cancer, educating over 200 men about the advances and needs that surround the disease.
By Katherine Brazauskas, GUMC Communications
(Published June 29, 2012)