Meet Moshe Levi, MD, Interim Dean for Research
Posted in GUMC Stories | Tagged biomedical research, new faculty appointment
(October 8, 2019) — Moshe Levi, MD, describes himself as a "card-carrying kidney doctor" who says he once focused 100% of his time on research and another 25% on patient care. But when a family move brought him to Georgetown in 2017, he saw the opportunity to give his full devotion (all 125% of it) to his lab work. "I was told I'm not good enough to be a kidney doc in Washington," he jokes.
Levi's sense of humor and soft-spoken demeanor can mask his enormous intellectual drive and quest for knowledge.
Levi's research focuses on renal, hepatic and cardiovascular complications of obesity, diabetes and aging — most of us will end up with one of the three risk factors. He also studies the regulation of mineral metabolism and has a special interest in applying new label free techniques for imaging lipids, inflammation, oxidative stress, metabolism, and fibrosis.
His kitchen sink combination of interests reflects his educational track: his training as an undergrad and grad student in chemical engineering — earning a bachelor's degree from Northwestern University and master's degree from Stanford University — and his MD from Albert Einstein College of Medicine allowed him to apply the engineering theories he had learned to human health.
"I hated biology and loved chemistry and math, and therefore I became a chemical engineer," he recalls. "But then in graduate school, my advisor was collaborating with a very well-known nephrologist. They were doing mathematical modeling of how the kidney works by employing disequilibrium thermodynamics. So, I got involved with that. I liked it and eventually I became a nephrologist."
A Researcher's Researcher
Levi is a professor in the Department of Biochemistry and Molecular & Cellular Biology at Georgetown University Medical Center who describes his two years since arriving at Georgetown as "outstanding." A humble scientist, the newly named Interim Dean for Research wants to help achieve the medical center's promising future: "We need to improve and get better, but we have to work on this together."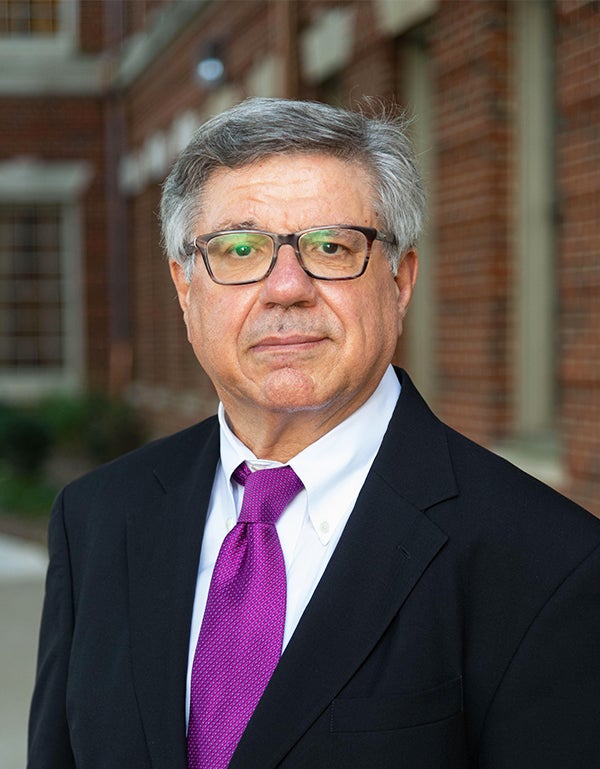 Levi is a researcher's researcher. Prior to joining Georgetown, he was a professor of medicine, physiology and biophysics, and bioengineering at the University of Colorado Health Sciences Center, where from 2005 to 2011 he was vice chair of research for the Department of Medicine, a department with more than 400 faculty members. He has co-authored about 200 manuscripts and written nearly 40 book chapters. He has served on numerous National Institutes of Health (NIH) study sections and association-related grant review committees. In 2013, he was appointed a member of the Board of Scientific Counselors for the NIH's National Institute of Diabetes and Digestive and Kidney Diseases and recently concluded his service as its chair. He is president of the Kern Lipid Conference board and serves on the editorial boards of the Journal of Biological Chemistry and Diabetes.
At Georgetown, he maintains funding from numerous NIH grants, including three R01s (one he obtained since joining Georgetown in addition to a significant supplement).
He has been generous with his time and expert knowledge, and is committed to graduate education. He has mentored more than 36 MD or PhD research trainees in his career. He also serves as the chair of the Board of American Physician Scientist Association (APSA), an organization of MD/PhD students and scientists.
"Since my arrival at Georgetown, I have been recruited to serve on at least five PhD thesis committees," Levi says with pride. "Mentoring and elevating the research components of graduate programs is something that I have been actively involved with both in my previous institutions and also the NIH."
But Levi is probably more well-known on campus for his eagerness to collaborate.
A short list of co-investigators he's engaged in his brief time at Georgetown demonstrates his deep conviction for interdisciplinary research: Christine Hsu, Robert Glazer, Blythe Shepard, Bill Rebeck, Carolyn Ecelbarger, Steve Byers and Chris Albanese — faculty from different schools and with diverse expertise.
"We collaborate with other people who study other diseases including breast cancer, liver disease and liver cancer," he says. "In this day and age, you can't do it all yourself."
Levi's Priorities
Levi says achieving GUMC's vision for a high-performance research environment will be a high priority in his new role, and he brings deep experience in promoting department-based and interdisciplinary research. He says building strong relationships both externally, especially with NIH and Johns Hopkins University researchers, and across the Georgetown campus must be accomplished.
Levi views the goal of deepening the GUMC-MedStar relationship as a "real priority," describing a strong partnership as "most beneficial for all of us."
Still, he's keenly aware of the challenges, including the limitations of GUMC's footprint: "It is critical for us to make the most optimal use of our research space."
And then there's the gas needed to power the GUMC research engine. "There is no question that in addition to increasing extramural funding, we must work hard to expand philanthropy for research."
What drives this engineer turned physician-researcher? Levi says he's intellectually stimulated by "constantly learning new things and working with young people," he says.
"It's a challenge. … You have to keep up."