Meet Edward Healton
Posted in GUMC Stories
June 25, 2015
Dear members of the GUMC community: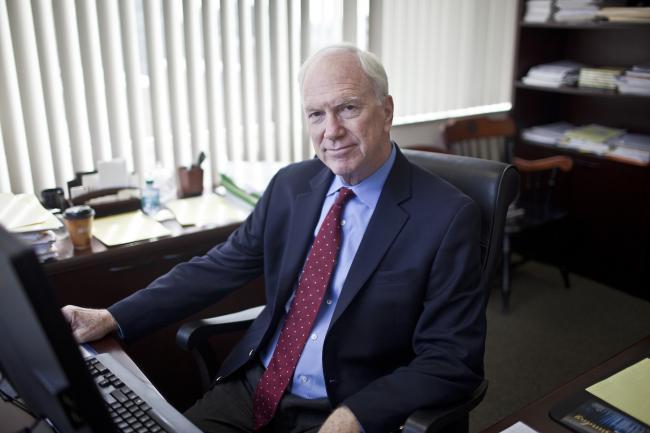 On Wednesday, July 1, I'll begin my term as executive vice president for health sciences and executive dean of the School of Medicine, and I want to take this opportunity to introduce myself.
Rather than a boring biography, let me provide an extended Twitter version. I grew up in California, attended college at the University of Oregon and medical school at Creighton University in Omaha, also a Jesuit university. I had the good fortune to go to New York City for my internship on the Columbia University service at Harlem Hospital. This was just after the 1960s period of social change. I trained in medicine and neurology at Columbia with a very engaged community of people who were committed to social justice, health equity and the overall health of the community; they saw medicine as a vehicle towards that end.
I stayed in this dynamic environment for the next 25 years, first as an academic clinician in neurology and eventually in leadership roles as medical director of Harlem Hospital and then overseeing the Columbia affiliation — a wonderful experience, and at times, an intense crucible for leadership training.
I left Columbia and New York City for Washington in 2000 when my wife, Cheryl, became the founding CEO/president of the Legacy Foundation, devoted to reducing tobacco use, particularly among youth. I again had a great opportunity to join the incredible team at the MedStar National Rehabilitation Hospital, eventually becoming senior vice president and medical director as well as director of what is now the Christoff Reusch Neuroscience Research Center. I was also named the first chair of rehabilitation medicine at Georgetown through the growing academic ties between MedStar and Georgetown.
Eight years ago, I was named chair of neurology and have been fortunate to work closely with many Georgetown faculty, including Howard Federoff, and the leadership of our clinical partner, MedStar Health. I hope to bring all that collective leadership experience in New York and Washington to my new role.
Which brings us to today, and this very important moment in the life of GUMC. I feel very privileged to have been asked by President DeGioia to help lead this medical center and to join with this community in the work we will do together. Please know that I will work as hard as I can, every day, to make substantial progress. One of the most important things I want to do in these first few weeks is to fan out around campus to meet with faculty where you work and gain a deeper understanding of the many clinical, research, teaching and service programs that are the foundation of our collective strengths. I hope to benefit from the ideas, suggestions and recommendations of our community, because as we identify new opportunities and work through solutions to specific problems, this is very much a shared process.
I've had the pleasure of starting that process, spending time with both the leadership and faculty members at GUMC and MedStar, listening and learning. Those meetings and listening opportunities will continue, because I believe very much in shared governance, communication to the 10th power and building consensus. At the same time, I know that clear decisions need to be made and communicated as we engage in this important work going forward and I will take on that responsibility as well.
Finally, I want to extend my gratitude to Howard and all of you who supported him during his tenure here as executive vice president. I know you join me in wishing him all the best at UC Irvine.
As we move forward, I look forward to working very closely together and to seeing you on campus. You can read more about my academic past and some of the University's goals for GUMC. If you wish to contact me, my email address is ebh4@georgetown.edu and my office number is 202-687-4600.
Warmly,
Edward Healton, MD, MPH