Meet Deus Bazira, Co-Director of the New Center for Global Health Practice and Impact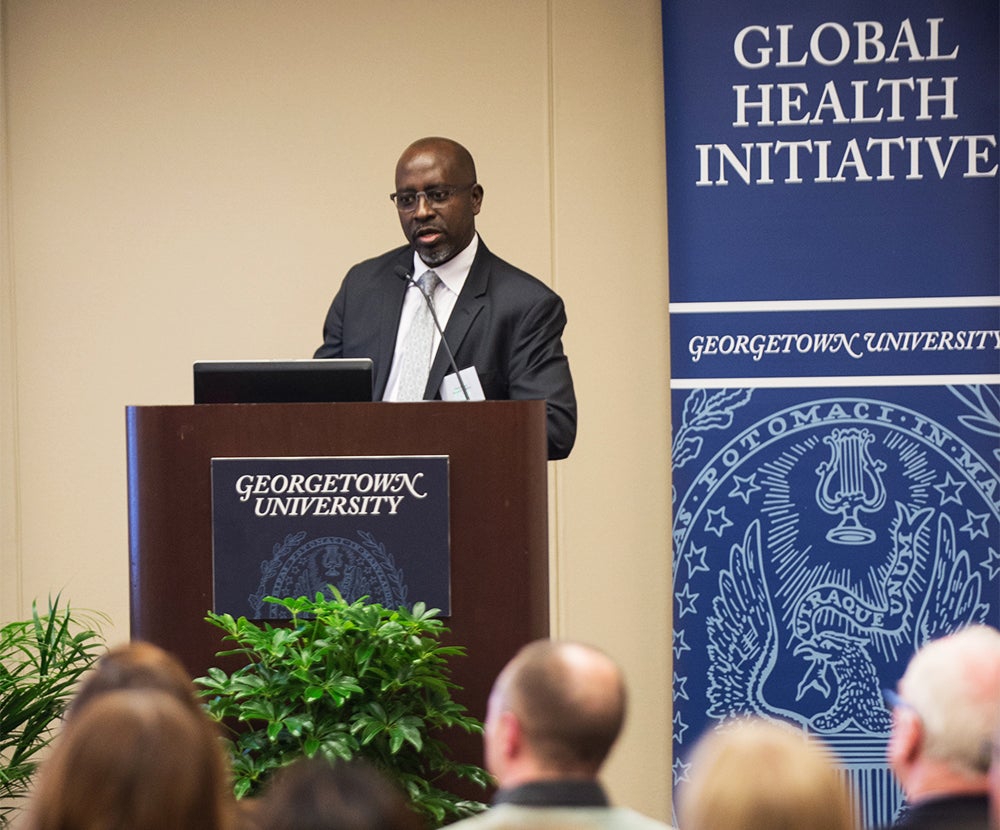 Posted in GUMC Stories | Tagged global health, public health
(April 15, 2019) — Georgetown University Medical Center this week announced the appointment of Deus Bazira, DrPH, MPH, MBA, BPharm, to co-lead Georgetown's new Center for Global Health Practice and Impact (CGHPI). Bazira is an expert in health systems strengthening and a public health practitioner with decades of in-depth, field-level practical experience in global health in emerging economies.
The CGHPI aims to advance the use of evidence through a human-centered approach and support countries to improve the health of their populations, safeguard their communities against health-related threats, and ultimately achieve health equity. The new center builds upon the work of Georgetown's Center for Global Health Quality (now expanded to the CGHPI), led by Mark Dybul, MD, and Charles B. Holmes, MD, MPH.
"With Dr. Bazira's remarkable portfolio of skills and capabilities, Georgetown has a transformative opportunity to dramatically expand our global health footprint, and impact more lives around the world," says Edward B. Healton, MD, MPH, GUMC's executive vice president for health sciences, and executive dean of the Georgetown School of Medicine.
The move to Georgetown from the University of Maryland, Baltimore also signals Bazira's interest in building collaborations across disciplines by engaging with new colleagues within the medical center and beyond in areas such as law, public policy, business and diplomacy.
Bazira and Dybul serve as co-directors of the new center, and Holmes is joined by Sylvia Ojoo, MBChB, DTM&H, MRCP, as faculty co-directors of CGHPI. Bola Gobir, MBBS, MSc, joins as resident field director to develop new programs in western and central Africa. Ojoo also serves as resident field director and develops new programs in eastern Africa.
GUMC Communications spoke with Bazira to find out what drives his work — and how his past informs his future.
Q: Your portfolio has been extensive and multi-faceted over the years. For those who are not acquainted, how do you describe the main thrust of your work to date?
A: Previously, my team's experience has been in what is called technical assistance and capacity building for different governments to help them respond better to public health challenges that they face. One of the public health challenges we have been really focusing on over the last decade has been HIV/AIDS, working very closely with the U.S. President's Emergency Plan for AIDS Relief (PEPFAR).
In addition, we have focused on synthesizing data and evidence from different sources about individuals, populations and health systems to identify health outcomes achievements, gaps and barriers to achieving desired impact. We have worked with partners on the ground to design interventions and implement needed changes – this could be at the policy or practice level.
"Bringing these innovations to benefit thousands of people is what has been our mission, and we are now poised at Georgetown to dramatically scale up such interventions for broader impact."
Another priority we would like to continue to focus on at CGHPI is what we call implementation science and research, which means trying to figure out how proven technologies and interventions that may have worked in other settings, including in the U.S., can work in a different setting. As you know, a lot of medical research happens in a lab setting, or in a very controlled research environment. When you take, for example, a vaccine that has been proven to work in a clinical trial, and you now want to implement it in the general population, there are some things that could go wrong. There are things you may have to change to make something like that effective and work in the real world. Bringing these innovations to benefit thousands of people is what has been our mission, and we are now poised at Georgetown to dramatically scale up such interventions for broader impact.
Another piece of our work has focused on strengthening the broader health systems beyond disease interventions, or supportive systems that are required for health care to be delivered, specifically focusing on policy implementation to impact practice, improving quality of laboratory systems and modeling health care delivery systems to respond to changing population needs and preferences.
We also have had an educational mission where we trained a lot of health care workers. We worked with universities in different countries to train future health care workers. More importantly we focused on new experiential learning and training approaches for health professionals in practice as part of ongoing professional development. Increasingly, in global health, we are leveraging technology to bring training to the practice environment. This minimizes service disruption, is more cost-effective, and importantly lets professionals own their learning agendas.
We have also built surveillance systems to help governments detect, prevent and control disease outbreaks. For example, when the Ebola outbreak was happening in West Africa, a few cases came up in Nigeria, but it did not spread as much as in other places. Some of the work we had already done to build these surveillance systems augmented epidemic control efforts. We also have been bringing technology into this space with a lot of the countries where we work. For example, we would use mobile phones or tablets to equip health care workers who are working in the field so that they have access to critical information when taking care of patients. We would use that information to communicate with patients and figure out whether remote support gives the same result as face-to-face interaction.
Q: Are there characteristics that you would say are defining of your approach?
What is key for us is that we put evidence at the center of everything we do. If there is no evidence that proves that what we are doing works, we don't do it.
"Because a lot of our work really focuses on promoting global health equity, this matches well with Georgetown's Catholic, Jesuit tradition of social justice."
Secondly, what we do has to be client-centered, meaning that beneficiaries and stakeholders in the countries where we work co-design and co-create the interventions. They understand the problems better than we do, so it would be presumptive of us to go to a different country and claim to know what the problems are, and therefore what the solution should be. We make sure that our clients and our partners in the field are in the driver's seat.
Thirdly, we believe in teaching people to do things by doing them together. We are not theoretical about what we do. We get into the field, side by side with people who are going to do the work.
Finally, we work from the field up. In other words, when we are designing new programs, for example, we do not sit in the U.S., look at the funding opportunity, and start debating how we would put out an aggressive program. Instead, we go to the field and we sit down with the future beneficiaries and stakeholders of a program and ask them how they would like to design the programs, and what role would they like to play in a program like this — from the beginning all the way to the end.
Q: Was there some transformative moment in the work that you are doing?
"That was my transformative moment — seeing people who had lost hope on the verge of death, and their lives were given back to them because of the work we were doing."
Before I came to the U.S., I was teaching at the University of Cape Town in South Africa. I was doing something totally different, pursuing an academic career in a different line, but at the same time I had grown up in a setting where HIV/AIDS was killing a lot of people. I had known friends and family members and colleagues who had died because there was no solution to the HIV pandemic at that moment. So when an opportunity was presented to me to leave my job in South Africa and come to the U.S., right after President George W. Bush announced the PEPFAR program, I think for me that was the beginning.
The real transformative moment is when I got into the field, and after six or so months I noticed that some of the people we had found on deathbeds in hospitals on the verge of death after getting treatment, they got up and went back to their homes and got back into jobs and started living normal productive lives. That was my transformative moment — seeing people who had lost hope on the verge of death, and their lives were given back to them because of the work we were doing. That is when I decided that, even if I pursued an academic career, it would have to be done within the context of creating real impact in the real world.
Q: How do you feel the mission of Georgetown aligns with your work?
Because a lot of our work really focuses on promoting global health equity, this matches well with Georgetown's Catholic, Jesuit tradition of social justice.
In addition, Georgetown is strategically located within the nation's capital. A lot of the work that we do requires policy support, so being at Georgetown will give us access to policymakers and other decision-makers who visit Washington. We will use this opportunity to present what we do, understand better policy motivations for global health support, and this in turn will inform design of more effective interventions. We are excited about Georgetown's holistic approach to global health through the recently launched Global Health Initiative. The emphasis placed on multidisciplinary and interprofessional collaborative approach to global health will enhance the impact we seek to create. I can see us working with the law school, business school, the School of Foreign Service, School of Public Policy as well as other organizations within the D.C. area, because the problems we are trying to solve in global health are complex and require an interprofessional and multidisciplinary approach.
Q: Do you have a professional or personal philosophy that guides your work?
Yes — I do what I feel is morally right and aligns with my personal values. If something does not align with me, I don't do it. Those values are informed by desire and a calling to serve others.
Q: How does that philosophy help shape how you approach work in different cultural contexts?
First, I don't make assumptions about other people, or about other settings. I listen before I offer any help or any solution.
Second, I try as much as possible to empathize and put myself in other people's shoes to figure out how they would look at this from their own perspective, meet them on their terms, and reach an accommodation.
Third I am self-aware. I pay attention to my strengths and weaknesses and seek to build partnerships for effective synergy.
As I have grown in this work too, I have had to address issues around leadership. My approach has been that, first and foremost, my job as a leader is to support and advocate for the people that I lead. Once I have supported them — given them all of the tools that are required to get the job done — then I can demand accountability and performance. But I first have to do my job, if I expect others to do theirs.

This interview was edited for readability and length.