Fulfillment Through Service: Medical Students to Serve U.S. Military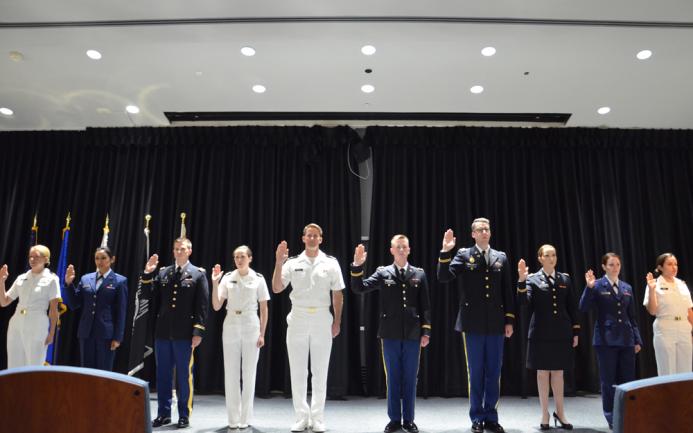 Posted in GUMC Stories | Tagged Graduation 2018, School of Medicine
(May 20, 2018) — "Military medicine is not for everyone. It takes someone who is adaptable, who has a sense of adventure … and who is willing to serve his or her country. That's really what's different about you."
Keynote speaker, retired Navy Capt. Joseph O. Lopreiato, MD, MPH, addressed the 12 students in military uniform on Armed Forces Day, Saturday, May 19, during the Georgetown University School of Medicine (GUSOM) Armed Forces Commissioning Ceremony.
A former GUSOM and Health Professions Scholarship Program (HPSP) alumnus, Lopreiato had nothing but words of encouragement for the students who received their medical training through the HPSP and were taking their medical oaths and receiving promotions. Army and Air Force graduates were promoted to captain and Navy graduates were promoted to lieutenant.
"You will get a sense of fulfillment in military medicine," Lopreiato said. "Because you're doing a job beyond yourself and you're doing something beyond just for yourself. And that's something very few people [experience]."
Ready to Serve
In 2009, Lopreiato completed 31 years in the U.S. Navy Medical Corp and became a civilian employee in the Department of Defense, directing programs at the Simcenter. He is currently the associate dean for simulation education and professor of pediatrics and medicine at Uniformed Services University of the Health Sciences in Bethesda, Md.
"It's really a privilege to take care of the patients you're soon going to take care of; those who serve our country," he said. "You'll see the sacrifice, up close and personal, that they make to serve our country. I feel very privileged, and you will feel very privileged to be able to take care of them."
Navy Lt. Amanda Cain (M'18), a soon-to-be OB-GYN resident at Walter Reed National Military Medical Center, is ready to take that next step.
"I feel really honored to get to do this, to get to serve … It's amazing," she said. "Whenever anyone finds out that I'm in the military, they say, 'Thank you for your service.' I'm excited to finally get to fulfill that service."
A Unique Community
The School of Medicine's commitment to military medicine dates back to 1851 and is second only to the Uniformed Services University at producing military physicians.
"The thing I love about Georgetown, being a member of HPSP, is that we have [so many] HPSP students at our school. We also have several veterans; those who have served and are now becoming doctors. Georgetown is special in that regard. There are so many military people here that you feel very supported," said Cain.
Air Force Captain Sarah Davis (M'18) shared similar sentiments about her experience at Georgetown. "You're not alone or unrelatable to other people here. Everyone is pretty familiar [with the military]."
Military Medicine As Family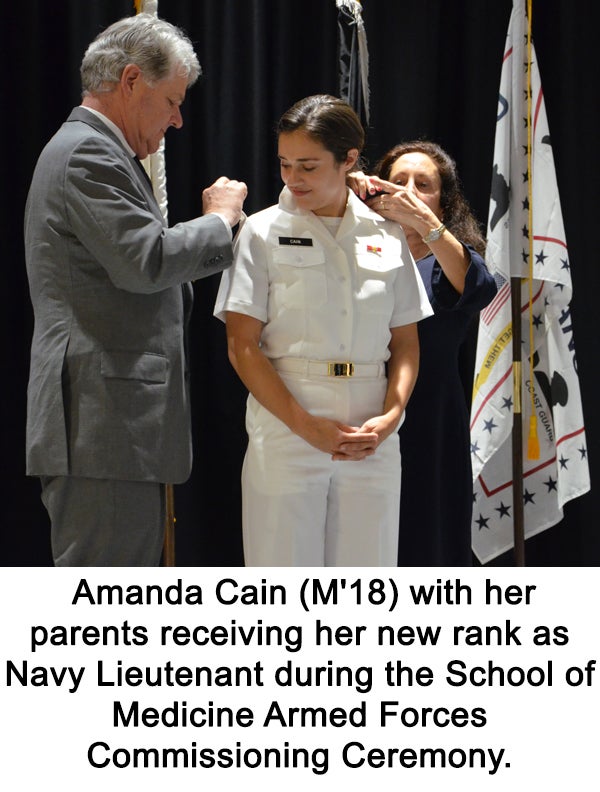 "Military medicine really is a family," Lopreiato said. "You will get to see folks many times over. You will meet them again and again in your careers. We're a small community. The connections you make in the military will be lasting for many, many years."
During her rotations at the San Diego Naval Hospital and Walter Reed National Military Medical Hospital in her fourth year, Cain also sensed a distinct difference working in a military medicine environment.
"I think what's different about military medicine is that we're a team," she said. "You need to be able to depend on the people around you; which can be a little different, a little more scary, when you're in a foreign country, in a war zone."
"That [team] mentality pervades the culture of these hospitals. It's really team focused, everyone wants to help and I'm blown away by that. It makes me super excited, even more so, to get to serve," she said.
Lopreiato emphasized this notion of support within military medicine in his closing remarks, as he welcomed this new group of military physicians into the fold.
"I want to congratulate all the graduates here at Georgetown who are HPSP students," he said. "I wish you good luck. I'm happy to call you all shipmates, battle buddies, but more importantly, I'm happy to call you my colleagues. Congratulations."
Giuliana Cortese
GUMC Communications