Georgetown Medical Students Support Veterans' Health
Posted in GUMC Stories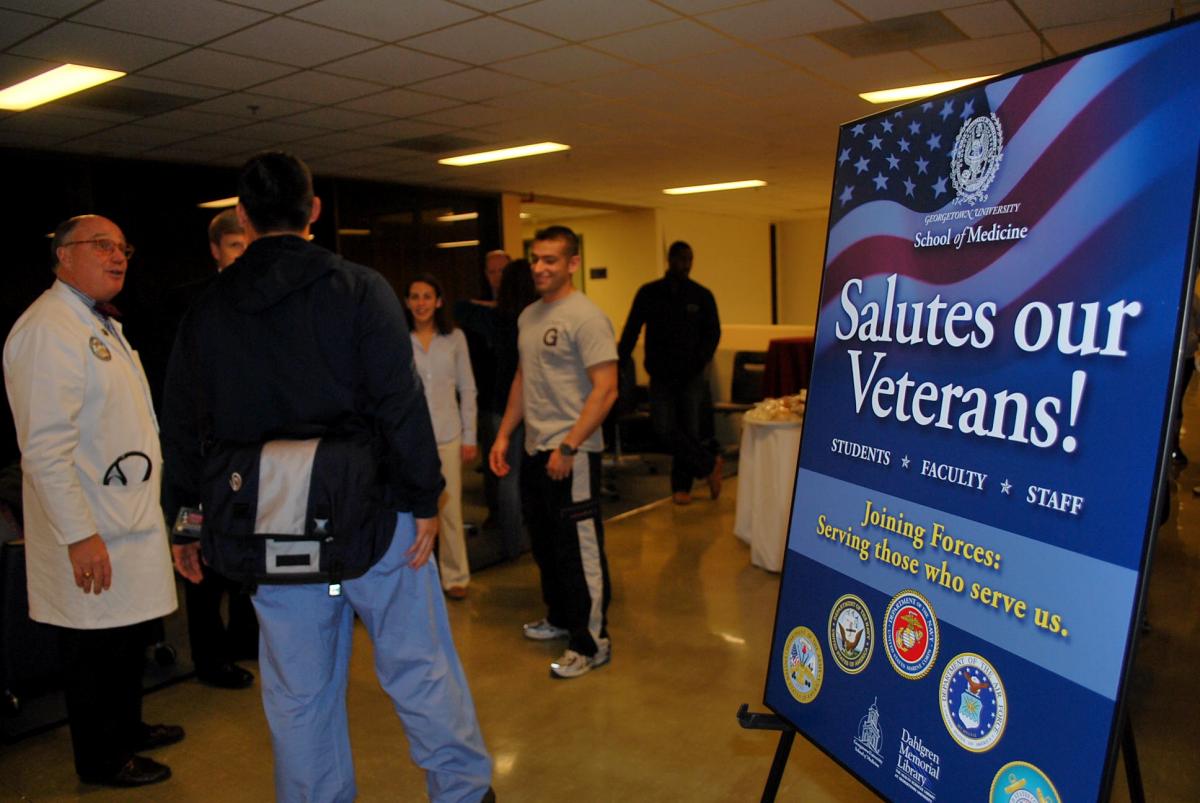 In recognition of Veterans Day, Georgetown University School of Medicine joined ranks with the Association of American Medical Colleges (AAMC) and more than 100 U.S. medical schools to heighten awareness about the health needs of the nation's veterans, service members, and families as part of its "Joining Forces Wellness Week" initiative, November 12-16.
Launched by First Lady Michelle Obama and Jill Biden, M.D., the purpose of Joining Forces is "to mobilize all sectors of society to give our service members and their families the opportunities and support theyhave earned."
Georgetown University supports 300 students and alumni who are on active or reserve duty, or are veterans of the United States Armed Forces. At the School of Medicine, 44 students are part of the Health Professions Scholarship Program (HPSP) while 5 students at the School of Nursing & Health Studies are HPSP scholars.
Many of these students, who also are part of Georgetown's Military Medicine Interest Group, volunteered to organize several events for Joining Forces Wellness Week with the assistance of Jett McCann, associate dean for knowledge management and a Navy veteran.
The week of activities included AAMC daily webinars for medical students, faculty and staff addressing topics including military cultural competence, traumatic brain injuries, and women veterans and health care issues. Georgetown psychologist and associate dean for faculty development Bonnie Green, Ph.D., joined students as they viewed a webinar about post traumatic stress disorder (PTSD). Green studies individuals with PTSD, conducting research to understand the psychological and physical health consequences of trauma.
"I am so pleased that medical students have the opportunity to learn more about individuals with PTSD," said Green. "Trauma and PTSD can have a profound effect, not only on mental health, but on physical health as well. And trauma affects how patients relate to their medical provider, including trust and openness to collaborating in healthcare decisions. So the more the students understand, the greater impact they will be able to make with these individuals."
Stephen Ray Mitchell, M.D., dean for medical education at Georgetown and an Air Force veteran, said educational efforts will continue throughout the year.
Joining Forces Wellness Panel
One special highlight of the week was the Joining Forces Wellness Week Panel on November 14. Four current and retired service members, who earned their medical degrees via the HPSP program, candidly discussed the opportunities and challenges of military medicine, and everyday life issues faced by service members.
One theme that emerged immediately was that the U.S. military offers health care providers unparalleled experiences.
"I will tell you [the HPSP program] was a good way for me to get through school. I felt very proud of my service. I met incredible people. I did incredible things. By the age of 30, I was in charge of the busiest emergency departments in the military seeing all sorts of things and having had incredible responsibilities …I wouldn't trade it for the world," explained Army veteran John Prescott, M.D., (C'77, M'81), chief academic officer for the AAMC.
It was a sentiment echoed by Harry P. Marshall Jr., M.D., director of surgical critical care at the Washington, DC Veterans Administration Medical Center.
"The [military] that you will be joining is probably the best trained military that we ever had. The challenge will be to retain that level of expertise. The military as a means to an end, as a career as a fulfilling odyssey, if you will, can't be beat." Marshall continues to serve and is commander of the District of Columbia National Guard's medical detachment.
Stephen Ray Mitchell, M.D., dean for medical education at Georgetown and an Air Force veteran, described the advances made in emergency medicine, particularly trauma and critical care, as the "sad legacy" of the Iraq and Afghan wars of the past decade.
Marshall's voice dropped as he expanded on Mitchell's comment.
"All my experience came at the expense of brothers, fathers, mothers, sons…. But the experience from a trauma and critical care perspective – I was a part of that which has changed the way we address injury and resuscitation," he said.
When asked by a medical student how such advances in medicine are made in the military in terms of process, Prescott said, "You can make a difference. I can't tell you how many times you'll be able to see something where you can make a difference."
Beyond medicine and health care, the panelists all agreed that military life has amazing benefits, but also stressful challenges.
"You'll make friends in the military that if they called you up 15 years later, and just said 'hey, I need something,' you wouldn't hesitate. I don't know how to describe it," Prescott said.
But as Marshall cautioned, "It is stressful on families. It's not a money issue… it's a face time issue. I don't give my wife enough credit."
Before closing, fourth-year medical student Laura Spaulding (M'13) asked how she and her fellow Georgetown classmates would transition into a military where so many members have had extensive physical training.
"They'll know after looking you over whether you care about them or not," said the Rev. James Duffy, M.D., S.J., a Navy veteran, HPSP graduate (M'91), and associate dean for clinical education.
Marshall agreed, "You are the doc and I will tell you, they will do anything for you."
By Karen Mallet, GUMC Communications 
(Published November 16, 2012)