Medical Students Showcase Posters on Student Research Day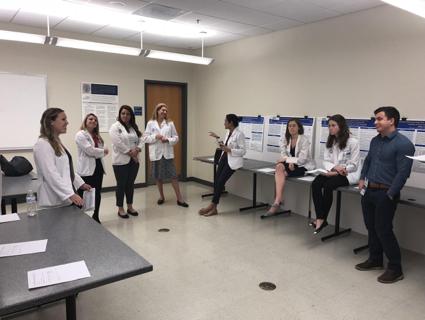 Posted in GUMC Stories | Tagged School of Medicine, student research
(April 27, 2018) — At the Seventh Annual George M. Kober Research Day on April 23, School of Medicine students presented on their independent scholarly projects (ISP). The experience is designed to mimic a real professional conference, explained Joseph G. Timpone Jr., MD, FACP (M'85), associate dean for student research who has led the ISP program since its inception in 2011.
"We have them participate in the total package including oral and poster sessions," said Timpone, who also serves as associate professor of medicine. "And all of it's going on simultaneously, and that's what happens at a national meeting."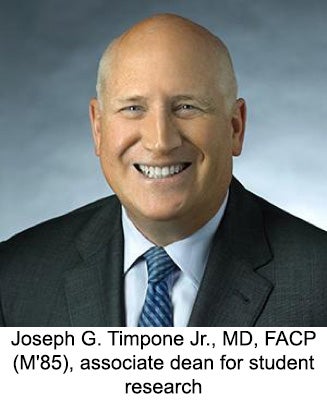 In an effort to encourage early student participation in research, both the office of the dean at the School of Medicine and MedStar Georgetown University Hospital provide summer scholarships to nearly one-third of first-year medical students. Through participation in the summer scholarships program, students have the opportunity to work with faculty mentors throughout Georgetown University Medical Center and its affiliates within the MedStar system.
"These experiences often jumpstart students' entry into the world of scientific inquiry and investigation. In fact, many of the presentations at Student Research Day are a result of the summer scholarships program," Timpone said.
Students also get to serve as judges, joining faculty members in assessing their peers' research posters and presentations. "The experience helps students realize that as they move forward, not only can they be good clinicians, but this is hopefully teaching them how to become good investigators," Timpone said. This year's Student Research Day featured nearly 200 presentations.
Preparing Students to Publish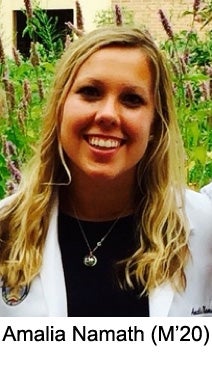 In 2014, 13 percent of students had their ISPs published but last year, the number had grown to 25 percent. "The thing we're most proud of over the last seven years is there has been a dramatic increase in the number of students who have been able to bring their research to publication," Timpone said.
Research that Amalia Namath (M'20) presented at Student Research Day was published in February by The Journal of Maternal-Fetal & Neonatal Medicine. Namath also presented findings from her paper, "Vaginal birth after a cesarean delivery for arrest of descent," at the Society for Maternal-Fetal Medicine's Annual Pregnancy Meeting.
Working last summer at a Mt. Sinai Hospitals-affiliated maternal and fetal medicine practice in New York provided the foundation for Namath's research so she could complete her ISP early. Presenting on Student Research Day was "a great way to learn how to present research and do it well, including through residency and beyond," she said.
"Georgetown is really wonderful in that whatever research you want to do, they're very accommodating," Namath said. "They'll align you with whichever professors or clinicians you want to work with."
Presenting 'Was the Easy Part'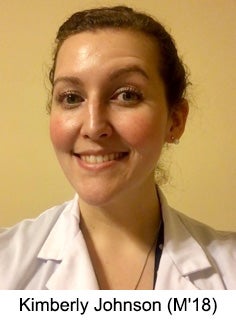 Kimberly Johnson (M'18) was inspired to do her ISP at the Burn Center at MedStar Washington Hospital Center after she was invited to a weekly research meeting at the hospital where she learned about its interest in looking at a correlation between transfusions and coagulopathy, a disorder that can lead to prolonged or excessive bleeding. Soon she'll be headed to a residency in pathology at a Medical College of Wisconsin affiliated hospital in Milwaukee — the only one in her graduating class to go into that specialty.
Presenting her ISP, "Transfusion Induced Coagulopathy in a Burn Patient Population," helped her become familiar with the format and style of academic presentations. As for presenting in general, "that was the easy part" she said. "It was the work that went into gathering four years of data that was hard."
Studying Medication Usage and Asthma Management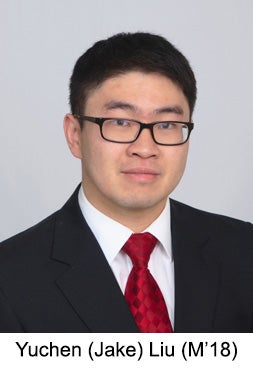 As part of the population health scholar track, Yuchen (Jake) Liu (M'18) studied the relationship between pediatric asthma, emergency room utilization and insurance data. Issues with asthma patients' medication usage and adherence have been identified by researchers before "but this illuminates that patients may not actually understand as much as we think they do," Liu said.
Liu's research raised questions that would require additional data to answer, but he was proud of his work so far and grateful to have had this experience. "From the existence of the population health track to mentors who can help guide our thought process to the location of our school in D.C.," he has learned to approach problems from a creative perspective at Georgetown.
Seren Snow
GUMC Communications