Medical Students Reflect on Faith and Medicine During New Catholic Retreat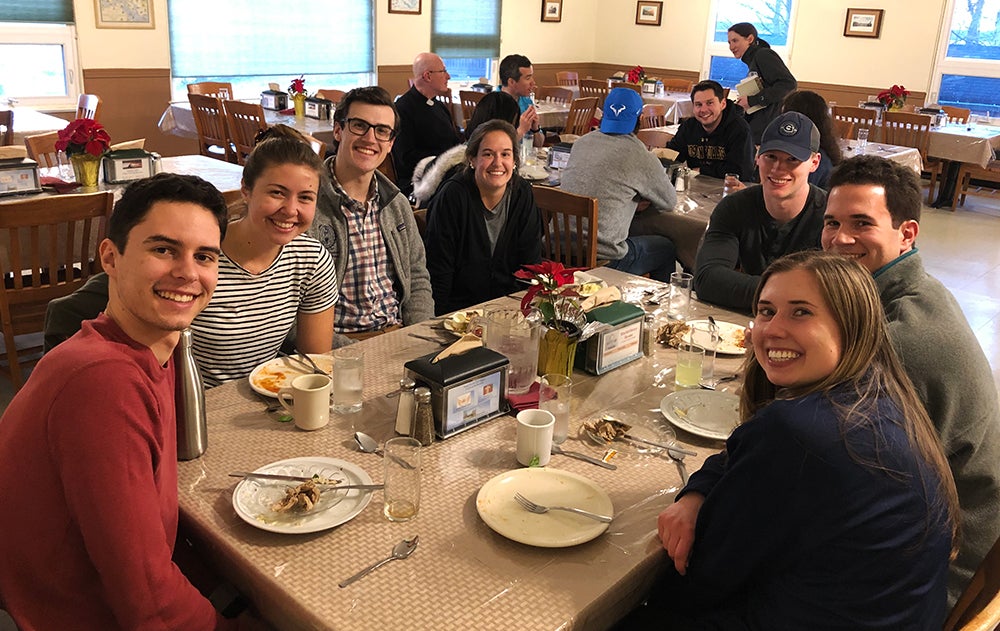 Posted in GUMC Stories | Tagged School of Medicine
(April 12, 2019) — Overlooking the Potomac River, 18 students from Georgetown University School of Medicine (GUSOM) spent two days in reflection during the school's first off-site Catholic retreat in years.
Organized by the Georgetown chapter of the Catholic Medical Association and Georgetown University's Office of Mission and Ministry, students from first- to fourth-years were invited to participate in a Catholic retreat at Loyola on the Potomac in Faulkner, Md., from March 22 to 23 to explore how medical professionals can be shaped and nourished by faith.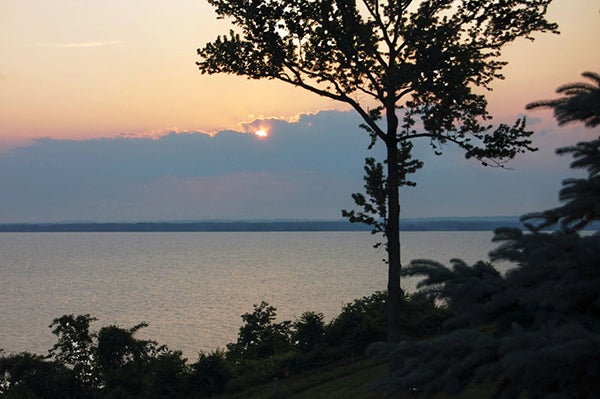 "One of the reasons I came to Georgetown was to be in a Catholic, Jesuit environment and to be surrounded by students who wanted to incorporate faith and spirituality into their medical practice," said Mark Brahier (M'21), one of the retreat organizers.
The desire for a Catholic community led Brahier to become an active member, and ultimately leader, of Georgetown's Catholic Medical Association, a group that plans weekly masses for medical students on campus, Friday lunches during Lent, prayer nights, 24-hour retreats and helps the second-year class plan the annual Anatomical Donor Mass.
Brahier took it a step further this year by planning the first off-site retreat with support from Mark Bosco, S.J., Ph.D., vice president for Mission and Ministry.
"It's been great working with campus ministry, because they've been able to help us with the logistics and financial support. We're spending the night off-site, have meals provided and are able to fly in an amazing retreat leader," said Brahier prior to the retreat.
Guidance from a Physician, Priest and Educator
To lead the retreat, the Office of Mission and Ministry contacted Fr. Keith Muccino, S.J., MD, assistant professor of internal medicine and associate dean for clinical performance at Loyola University Chicago.
Muccino had spent seven years working in emergency medicine before he felt the call to join the priesthood. Not wanting to give up medicine, he assumed both identities and continued practicing medicine during seminary training and beyond.
Ryan Keane (M'19), a retreat leader and an active member of Georgetown's Catholic Medical Association, appreciated Muccino's perspective as both a devout Catholic and a practicing physician.
"We were blessed to have Fr. Muccino give the talks. They were some of the most intelligent, yet also relatable talks that I've received in a long time," said Keane.
"He used a lot of medically oriented illustrations and patient care examples — you could very much tell it was a retreat for medical professionals. However, at the core, it was really about being a Catholic and learning how to strengthen your relationship with God."
Kelsie Gould (M'21) was also particularly impacted by Muccino's insights given her recent transition into clinical rotations as a second-year student.
"It was interesting to hear from Fr. Muccino as both a Jesuit priest and physician. He had significant insight into discernment in both our faith and in medicine," she said.
"Given where some of us are currently in medical school, it was helpful to hear him speak about following the correct path for each unique individual."
Lessons Learned and the Future of Retreats
The retreat was structured in that Muccino would give a lecture on a particular topic to the entire group and then retreat leaders would discuss the topic with smaller groups of six to eight students.
"The main, overarching topic of the retreat is what it looks like to incorporate faith into your practice as a physician. Does that mean you connect spirituality to the way you work with patients? Is it more personal, exploring the question of spirituality as you practice medicine? We want to dig into those questions," said Brahier prior to the retreat.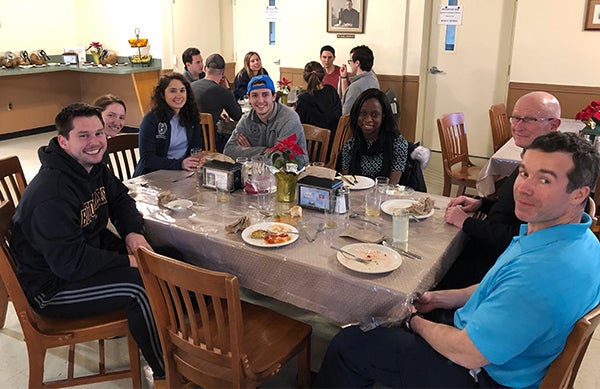 The three topics discussed during the retreat were: 1) Our Story is God's Story, 2) What Makes for a Mature Christian Identity, and 3) Letting Go of the Need to Earn God's Love. The last topic was the most powerful for Keane, who joked that being both a Catholic and a physician was a challenging combination.
"Both groups are highly scrupulous people, so you're going to feel guilty all the time no matter what you're doing," he shared. "Yet talking about God's unconditional love was something that provided relief to me, something that I've felt that I've forgotten over the years. You can always come back around. There's always a chance for redemption. That was a powerful message."
Gould found both the topics and the combination of students to be refreshing. "I thought it was exciting to have a combination of all the different classes together. I spoke to Ryan [Keane] during the retreat. It was interesting to hear his perspective, as he will soon be moving on to residency."
"I would absolutely sign up again," she added. "Honestly, it was almost too short. I wish we could have all stayed longer."
Keane hopes that Catholic retreats will continue at GUSOM, becoming a more permanent fixture for medical students. Given the positive response from retreat participants, it appears that may be the case.
"There's a bright future for retreats at Georgetown. We're seeing a resurgence and I think it will continue," he said.
Giuliana Cortese
GUMC Communications