Medical Students Join in the Fight for Racial and Health Equity
Posted in GUMC Stories | Tagged diversity, HOYA Clinic, racial equity, School of Medicine, SNMA
Group of medical students and faculty before the March on Washington (Photo taken by: Alberto Perez (M'22), student body VP)

Group of medical students at the March on Washington (Photo taken by: Alberto Perez (M'22), student body VP)

Medical students creating signs for the March on Washington (Photo taken by: Alberto Perez (M'22), student body VP)

Group of medical students and faculty walking to the March on Washington (Photo taken by: Alberto Perez (M'22), student body VP)

(Photo taken by: Alberto Perez (M'22), student body VP)

(Photo taken by: Alberto Perez (M'22), student body VP)

(Photo taken by: Alberto Perez (M'22), student body VP)

(Photo taken by: Alberto Perez (M'22), student body VP)
(September 1, 2020) — Georgetown medical students joined thousands of people from around the country who gathered around the Lincoln Memorial on August 28 to participate in the 2020 March on Washington. The civil rights rally marked the 57th anniversary of the 1963 march when Dr. Martin Luther King Jr. delivered his "I Have a Dream" speech.
Motivated by the recent killing of George Floyd, medical students say they decided to join forces to advocate, show solidarity and have their voices heard in the fight for racial and health equity.
"Racism is a public health crisis on many levels," said Sarah Trent (M'22), a volunteer at the Health Outreach for Youth and Adults (HOYA) Clinic and its former community relations coordinator.
In today's climate of undeniable health disparities and racism, the students say they felt action was required to create change.
"I just feel as medical students and as physicians to be, we are voices for the voiceless," said Anthony Jourdan (M'22), member of the Student National Medical Association (SNMA) chapter at SOM. "We are representatives for the underrepresented and the marginalized in society."
March for Change
About 50 students gathered on the Georgetown campus to create signs of solidarity before joining thousands of individuals to walk, stand, sit and kneel in action for equality at the Lincoln Memorial.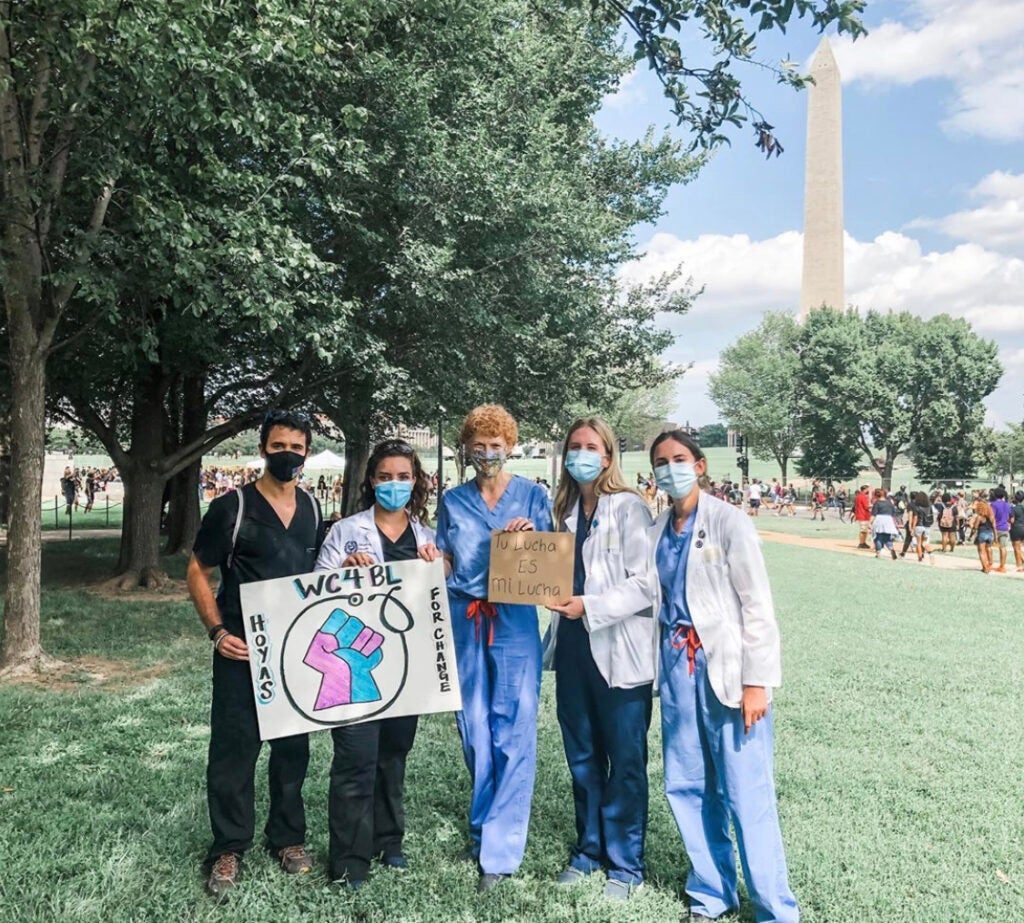 "They are indeed walking the walk of being Hoyas for others, advocating for justice," said Eileen Moore, MD, medical director of the HOYA Clinic and associate dean for community education and advocacy.
Each student marched with their own reasons and goals in mind.
"At a certain point, it feels like taking action is the only route to truly demonstrate that change needs to be made," said Benjamin Hack (M'22). "So part of going is just to be one body in this sea of many who support Black lives, and just demonstrating especially in the health care community, that those lives are important to us as well."
As a Black student, Jourdan said that he felt that his community is directly impacted by the issues the march organizers intended to address. "I just think it's natural based on what we want to do with our profession, what we want to do in terms of helping people and being men and women for others that we engage in something like this."
"With HOYA Clinic, we wanted to show our solidarity with the black lives matter movement and really speak out and act out against racism," Trent said.
Supporting Organizations Dedicated to Improving Black Lives
The medical students did not want to take just one action of marching. Along with marching, they held a Facebook fundraiser to raise awareness and support two nonprofit organizations.
"We knew we wanted to raise a large sum of money for two organizations, one nationally, that's focusing on bettering issues in Black America and one locally in DC," Jourdan said.
The two organizations they chose to support were Black Women's Health Imperative (BWHI), created by Black women to help protect and advance the health and wellness of Black women and girls, and The Grassroot Project, a local nonprofit organization that uses sport to advance health equity for youth and their communities.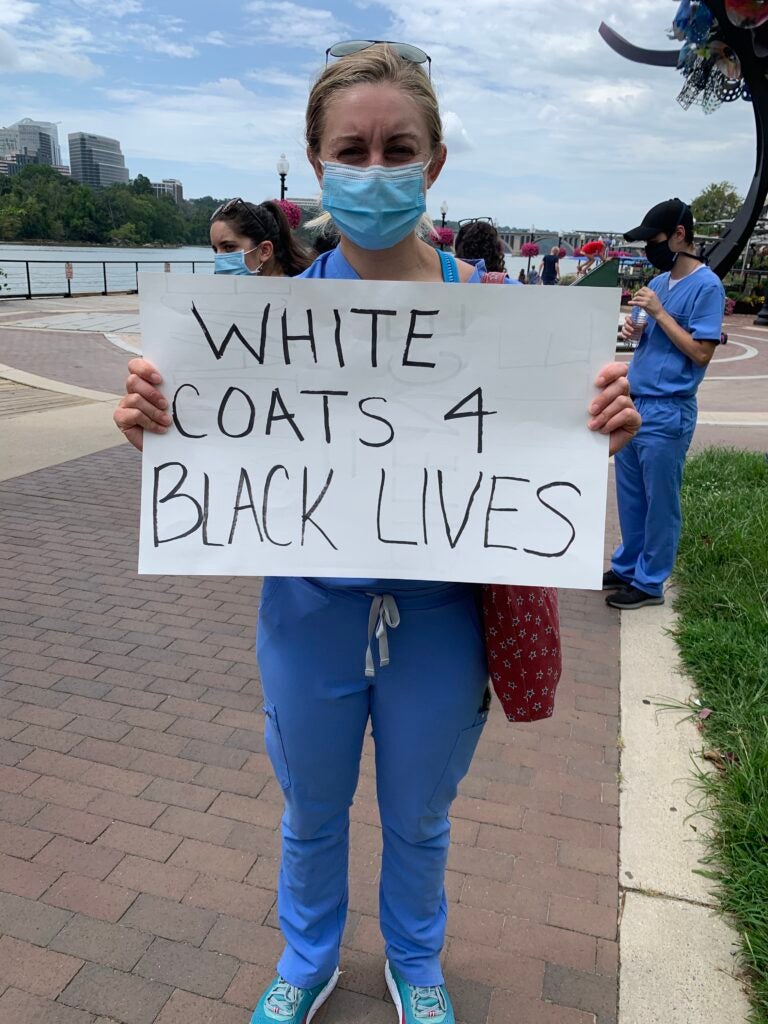 Trent said the goal of the fundraiser and participation in the March on Washington was to create something meaningful, and "we wanted to put our money where our mouth was and donate to organizations that were doing good work in reducing health disparities in our own community. We also get out there and march and show this with our actions as well."
"I hope that tomorrow's doctors are aware that racism is at the root of health disparities in our country and that current and future doctors commit themselves to eliminating racism in medicine within their practice and specialty," She said.
Tyisha Henderson
GUMC Communications