Medical Students Examine Solutions to a Deadly Epidemic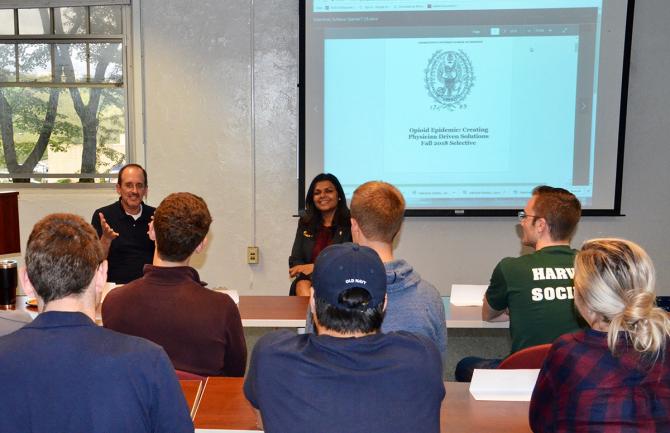 Posted in GUMC Stories | Tagged addiction research, brain, School of Medicine
(September 21, 2018) — One of the most popular selectives courses at the Georgetown University School of Medicine gives students valuable insights into a complex problem that has touched the lives of millions of Americans.
Thirteen second-year medical students participated in The Opioid Epidemic: Creating Physician Driven Solutions, one of more than 20 six-week selectives courses offered by the School of Medicine. Drawing upon his experience as director of the National Capital Region's Opioid Safety Program and as the deputy director of the National Capital Region Pain Initiative and Wounded Warrior Pain Care Initiative, the course was led by Christopher Spevak, MD, MPH, JD.
The students' strong interest in the opioid selective course illustrates the topic's both controversial and consequential nature, and how attuned they are to the issue — including their desire to solve it, according to Spevak, professor of clinical anesthesiology at Georgetown University Medical Center.
Transformative Discussions
Selectives courses are small-group seminars that focus on different topics related to health care delivery. In addition to Spevak's selective on the opioid epidemic, students may take Hacking Happiness in Medical School; HIV, Cultural Competency, and Community Activism; and even a course in intermediate medical Spanish.
In his selective, Spevak encourages interactive discussions following a brief case-based lecture. "The thing that makes this course different is the intensity of the level of engagement and how transformative the discussions are," said Spevak, who also teaches Anesthesia Pain Management and Family Medicine Pain and Addiction, both electives for fourth-year medical students.
For their final projects, students draw on their knowledge of course concepts, including solutions to health care delivery they may have previously overlooked, and insights on the neurophysiology of addiction, combining them with research- and evidence-based clinical practices and treatment modalities.
Final project topics included educating prisoners about pain management and how Medicaid expansion affected the opioid epidemic. Recognizing that substance abuse is associated with risky sexual behaviors, Cody Funkhouser (M'21) and Margaret Culver (M'21) studied sexual health in patients with opioid use disorder.
After speaking about the opioid epidemic with stakeholders from different backgrounds, Katie Povey (M'21) and Lani Galloway (M'21) found opportunities to improve education on opioid use disorder in the preclinical years of the School of Medicine's curriculum. They are also developing a plan to ensure that every first-year student receives training in the administration of Naloxone, an FDA-approved opioid overdose reversal medication.
"This selectives course provided a specific arena for me to explore how I can help fight the epidemic starting today as a medical student," Povey said. "I am so appreciative of the opportunity to take Dr. Spevak's course and am more motivated than ever to help patients facing opioid use disorder in our community."
Redefining Pain
Students in the selective also benefited from hearing the perspectives of expert guest speakers from the Substance Abuse and Mental Health Services Administration, part of the Department of Health and Human Services (HHS), including Elinore McCance-Katz, MD, PhD, assistant secretary for mental health and substance use, and Captain Chideha Ohuoha, MD, MPH, director of the Center for Substance Abuse Treatment. Vanila M. Singh, MD, chief medical officer for the Office of the Assistant Secretary for Health at HHS, spoke at the last lecture.
As an anesthesiologist who serves as a clinical associate professor of anesthesiology, perioperative and pain medicine at Stanford University School of Medicine, Singh said that solutions to the opioid epidemic should take a multidisciplinary approach to pain management, drawing on pain psychology to reduce opioid use. She implored students to broaden their definitions of pain, by looking at the psychosocial elements, not just the biological ones.
For Spevak, having Singh, McCance-Katz and Ohuoha participate was significant, given that not only are they senior policymakers but also practicing physicians. "They all immediately agreed to take time out of their busy schedules to speak with the students, recognizing that they will be leaders in addressing the opioid epidemic in the future," he said.
Seren Snow
GUMC Communications