Medical Students' Work Featured at Art Show
Posted in GUMC Stories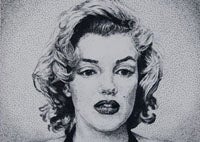 For several years, students of Georgetown University School of Medicine have participated in an annual art show at Georgetown Lombardi Comprehensive Cancer Center. With the help of Nancy Morgan, director of Georgetown Lombardi's Arts and Humanities Program, the students have organized an eclectic exhibit that will be displayed in the Georgetown Lombardi lobby throughout the month of February.
"The show gives us an opportunity to recognize the diverse talents of our medical students, and reminds the students to take care of themselves through creative expression as they manage the rigors of medical school," says Morgan.
Jessica Maglione, a fourth year medical student, is in charge of coordinating this year's event. Maglione says the works submitted by medical students represent a broad range of artistic styles. "Many students enter pieces newly made for the show, while others enter works that they have previously created. We encourage a variety of styles and media and are always impressed by the array of artwork submitted and the talents of the medical student artists," Maglione says.
This year's show includes folk art paintings, photographs and realistic drawings. The students have the option of selling their artwork, with 20 percent of the proceeds benefiting the Georgetown Lombardi Arts and Humanities Program.
The program, which helps promote a healthy and happy lifestyle for patients and their families, acts as a tool for coping through self-expression. Performances, workshops, exhibitions, environmental enhancements and education programs engage the entire Georgetown Lombardi community in creative activities.
Click here to learn more about the Georgetown Lombardi Arts and Humanities Program or contact Nancy Morgan.
By Alaina Farrish, Georgetown Lombardi Communications
(Published February 13, 2012)