Medical Student Wins Grand Prize at Medicine Hacking Competition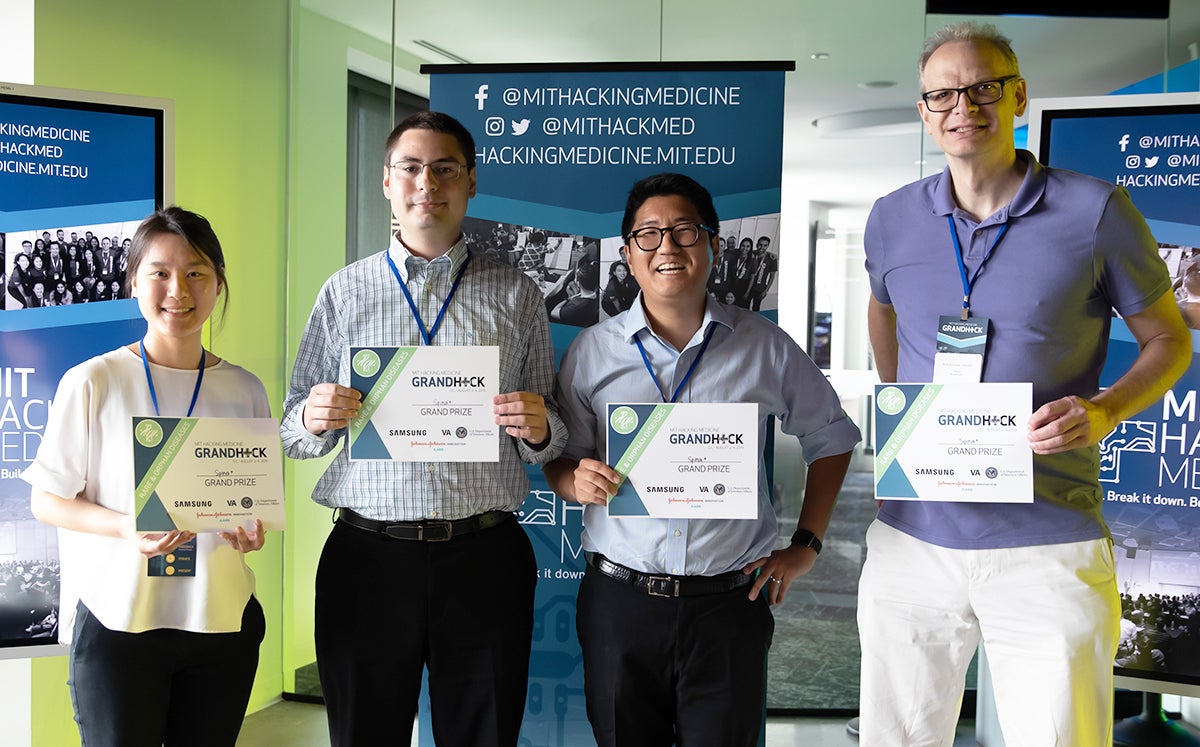 Posted in GUMC Stories | Tagged medical research, School of Medicine, spina bifida
(October 18, 2019) — Before beginning his studies at Georgetown University School of Medicine, Alex D. Luta (C'16, M'20) earned a degree in government with a minor in theology, received an award from the American Association for the Advancement of Science for his research on science and human rights, and served as CEO of Innovo Consulting, a student-run consulting group at Georgetown that supports nonprofit organizations and social entrepreneurs around the world.
Those diverse experiences reflect Luta's wide-ranging interests, which made him an ideal participant in MIT Hacking Medicine's DC Grand Hack 2019, an event that brought together participants from diverse backgrounds to brainstorm creative solutions to health care challenges.
"The event interested me because I wanted to continue engaging in opportunities for innovative, interdisciplinary problem-solving during medical school, and it provided an excellent way to do so," Luta said.
Out of the event's hundreds of participants from a dozen countries, Luta's group ultimately won the Grand Prize for Rare and Orphan Diseases, making his experience even more rewarding.
Developing a Plan
On the first night of the event, participants interested in rare and orphan diseases listened to pitches about potential problems they could address, then formed teams to discuss ways to solve those problems. Luta listened as Gabriel Kim, MD, chief resident for physical and rehabilitation medicine at Walter Reed National Military Medical Center, discussed working with spina bifida patients at Children's National Medical Center, recalling a patient who developed kidney failure because her parents were not fully aware of the condition's urological implications.
"Patients suffering from this rare disease face many challenges in getting appropriate care, including a need for regular follow-up with multiple specialists and nuances involved in the daily management of the disease," Luta said.
Hearing Kim reminded Luta of a news story he had seen about how patient advocates can help patients by educating them about their conditions and treatment options, finding the appropriate specialists, and providing support as patients navigate the health care system and coordinate their care. "I thought this would be an excellent model to apply to the problem," he said.
The team decided to create a phone app called Spina+.
After agreeing on their approach, the team divided the tasks needed to create the app. One team member who works in public health explored the epidemiology of spina bifida, while another who works in software consulting created a mock-up of a phone application that would offer educational resources and enable patients to track appointments. "It was a great asset that the members of our team came from diverse backgrounds and brought unique perspectives to the table," Luta said.
Since the summer event, the group has continued conversations about how to put their plan into practice. They have been discussing exploring partnerships with spina bifida organizations and experts in the field, and they intend to apply to the MIT Hacking Medicine Post Hack, where winning teams can find mentors and continue to build on their ideas.
Kat Zambon
GUMC Communications