Medical Student Discusses His Journey to Georgetown at AAAS Annual Meeting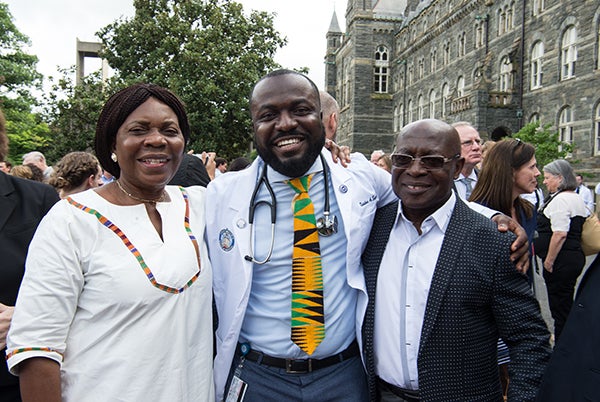 Posted in GUMC Stories | Tagged School of Medicine, women in STEM
(March 1, 2019) — At the American Association for the Advancement of Science (AAAS) Annual Meeting in Washington, D.C., researchers, scientists, educators, students and journalists attended sessions on the ways in which science transcends boundaries. However, one boundary that continues to be a challenge for students to cross is the transition from community college to medical school.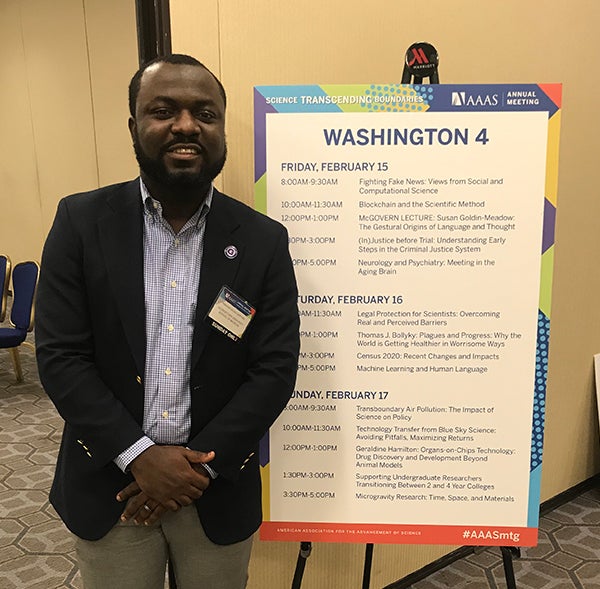 In a February 17 panel discussion at the meeting, titled "Pathways to Success: Supporting Undergraduate Researchers Transitioning Between 2 and 4 Year Colleges," Kwadwo (Kojo) Sarpong (M'22) spoke about his journey from community college to Georgetown University School of Medicine.
However, Sarpong's journey to Georgetown started years before he became a community college student with his arrival in the United States from Ghana in 2009.
"I won a green card to come to the U.S., and I was already a first-year university student in Ghana, so my idea was to transfer to a four-year school in America right away."
When he arrived, Sarpong found that transferring to a four-year institution in the U.S. was close to impossible. In order to provide for himself and his family back in Ghana, Sarpong spent his first three years in the U.S. cleaning hospital floors.
It wasn't until a physician at the hospital took an interest in him that his life took a turn.
"There was a surgeon at the hospital who basically saw me one time and started talking to me. He said, 'Hey, you're pretty young to be cleaning, what do you want to do?' " Sarpong recounted.
When he expressed his interest in studying, the physician advised him to start out at the community college level. Sarpong took his advice and enrolled at Georgia Perimeter College (now Perimeter College at Georgia State University).
After encouragement from a professor, Sarpong applied to an eight-week summer research program which partnered with Georgia State University, and was given the opportunity to study breast cancer, exploring the modification of certain drugs through an organic chemistry synthesis. The experience helped him discover his passion for research.
Making an Impact for Ghanaian Women in STEM
His exposure to research at the community college level led him to transfer to Emory University in 2013.
"As I was doing neuroscience research at Emory, I came across statistics about women in STEM, specifically in African countries, and how they are largely underrepresented in the sciences," Sarpong said. "I knew I wanted to do something about it."
With help from his classmates, Sarpong conducted a survey in Ghana and found that women in the sciences were largely unaware of non-medical career opportunities in STEM fields. "Most women had no idea that you could get a PhD in biochemistry or have your own lab," he said. "They only thought of the medical aspect."
In response, Sarpong co-founded the African Research Academies for Women (ARAW), a nonprofit organization dedicated to helping Ghanaian women pursue STEM careers outside of medicine.
As chief executive officer of ARAW, he helped create the first fully funded eight-week summer research program in Ghana, enabling female undergraduate students to gain professional development skills and practical, hands-on experience in the sciences.
A Focus on Serving Others
Sarpong's dedication to ARAW continued throughout college, and after graduating with a degree in neuroscience and behavioral biology from Emory University in 2015, he decided to put off medical school to work solely on building its foundation. "I wanted this nonprofit to last, so I decided to take off two years to focus on it," he said.
Although a challenging decision, it paid off. Sarpong was invited to the White House by President Barack Obama for the United States-Africa Leaders Summit in 2014, which helped ARAW gain traction. He has also spoken at the Clinton Global Initiative University Conference, the White House United State of Women Summit, Columbia University's African Economic Forum and the University of Virginia's Center for Global Health Research Symposium.
"We were able to use the exposure to help the nonprofit grow. We started with five students in the summer research program, then it increased to 10 or 15 per summer. More than 50 students have passed through our program." he said. "Right now, most of our students are doing master's and PhD programs all over the world. It's amazing."
Ten Years Later
Never abandoning his dream to study medicine, Sarpong came to Georgetown in 2017 through the Georgetown Experimental Medical Studies (GEMS) program. "I knew I needed to focus on myself and continue my education," he said.
In the GEMS program, Sarpong learned the skills he needed to apply to medical schools competitively, including Georgetown. He credited Christopher Kaingo, MD, basic medical sciences learning facilitator for the GEMS program, and David Taylor, M.Ed., associate dean for student learning and director of the GEMS program, for guiding him through the process.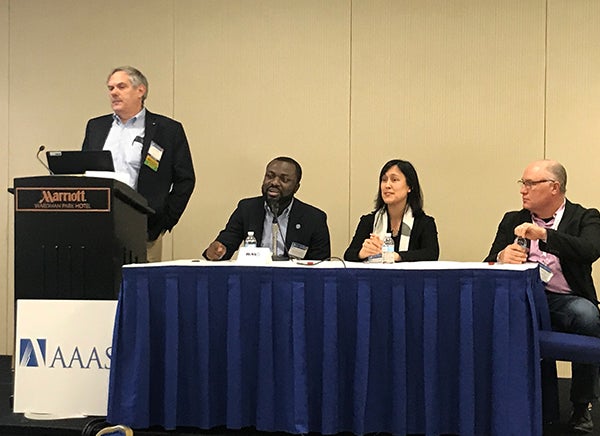 "I chose Georgetown because I'm able to stay involved in research. It provides the best opportunities, in my opinion. I didn't struggle to find a research mentor, and I am between a few summer research opportunities at the moment; one being at the National Institutes of Health (NIH)."
During the AAAS panel discussion, Sarpong shared that doing research at the community college level was a critical step in helping him get to medical school and to continue his passion for research.
However, the same cannot be said for many community college students. Panelists at the conference relayed that many students in two-year colleges either do not realize that research opportunities exist or they attend colleges that do not have strong partnerships with four-year institutions, which often provide these experiences.
"There isn't as much funding or as many resources at the community college level, so it can be more difficult for students to be exposed to this kind of work," he shared. "When I was first in school, I had no idea what scientific research looked like in the U.S. I'm from Ghana, I just came to this country. There are many students like me at the community college level."
In reflecting over the past 10 years, from when Sarpong first arrived to the U.S. in 2009 to today, he feels incredibly blessed.
"I always tell people that if someone had told me that I would be able to accomplish all these things before medical school, I wouldn't believe them," he said. "It's been a blessing knowing that I've been able to impact the lives of others, and to know that they are now succeeding in their careers.
"I have to say that I'm happy with where I am. I'm in medical school, I'm doing what I love to do."
Giuliana Cortese
GUMC Communications