Medical Center Researchers Named National Academy of Inventors Fellows
Posted in GUMC Stories | Tagged HPV, National Academy of Inventors, radiation, radiation therapy
(December 16, 2014) — Two Georgetown University Medical Center (GUMC) researchers — Richard Schlegel, MD, PhD, and Anatoly Dritschilo, MD — have been named 2014 Fellows of the National Academy of Inventors (NAI) for their groundbreaking discoveries.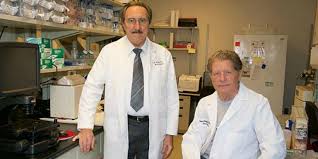 Schlegel is GUMC's Oscar B. Hunter Chair of Pathology; Dritschilo is chair of radiation medicine.
An expert in human papillomaviruses (HPV), which causes nearly all cervical cancers and contributes to several others, Schlegel co-developed technology for Gardasil, an HPV vaccine approved by the U.S. Food and Drug Administration in 2006.
According to the American Cancer Society, HPV infections targeted by the vaccine have drop by 56 percent in the U.S. since the vaccine's inception.
HPV Vaccine
"It is a honor to receive this award for our HPV vaccine work and recognition for the positive impact that the vaccine will have on global health, for both women and men," says Schlegel, a professor of pathology, oncology, microbiology and immunology, and obstetrics and gynecology.
Earlier this year, the President's Cancer Panel said increasing HPV vaccinations is one of the "most profound opportunities in cancer prevention today."
Schlegel is also director of the Center for Cell Reprogramming, which focuses on a new research technique that has multiple applications in science, including cancer diagnostics and therapeutics.
"We're hopeful our work on conditional cell reprogramming will have a similar impact on medicine," adds Schlegel, also a member of Georgetown Lombardi Comprehensive Cancer Center.
Radiation Therapy
Dritschilo's research focuses on overcoming cancer cell resistance to radiation therapy.
He was instrumental in creating the radiation biology research program at Georgetown, supported by more $30 million in funding over the past 30 years from the National Institutes of Health and industry.
Dritschilo holds a series of patents for radiation sensitizing drugs and methods of cancer treatment.
"I'm pleased to be recognized by the NAI as our work to translate better treatments for cancer patients continues," Dritschilo says. "We are now working to develop and commercialization our radiation sensitizers for clinical use to improve the patients' outcomes after therapy."
Spirit of Innovation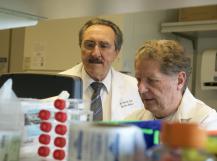 The NAI says the highly selective fellow status is awarded to those "who have demonstrated a prolific spirit of innovation in creating or facilitating outstanding inventions that have made a tangible impact on quality of life, economic development, and the welfare of society."
According to the NAI, the academic inventors and innovators elected to the rank of NAI Fellow are named inventors on U.S. patents and were nominated by their peers for their outstanding contributions to innovation in areas such as patents and licensing, innovative discovery and technology, significant impact on society, and support and enhancement of innovation.
The United States deputy commissioner for patent operations of the U.S. Patent and Trademark Office will induct the new NAI Fellows in March during the fourth Annual Conference of the National Academy of Inventors in California.
Spiros S. Dimolitsas, PhD, Georgetown senior vice president for research and chief technology officer, and Ophir Frieder, PhD, Georgetown College professor and computer science chair, were appointed NAI Fellows in 2013. The NAI named Dr. Howard J. Federoff, GUMC executive vice president for health sciences as a Fellow in 2012.