Medical Alumni Event Explores Current and Future Global Health Challenges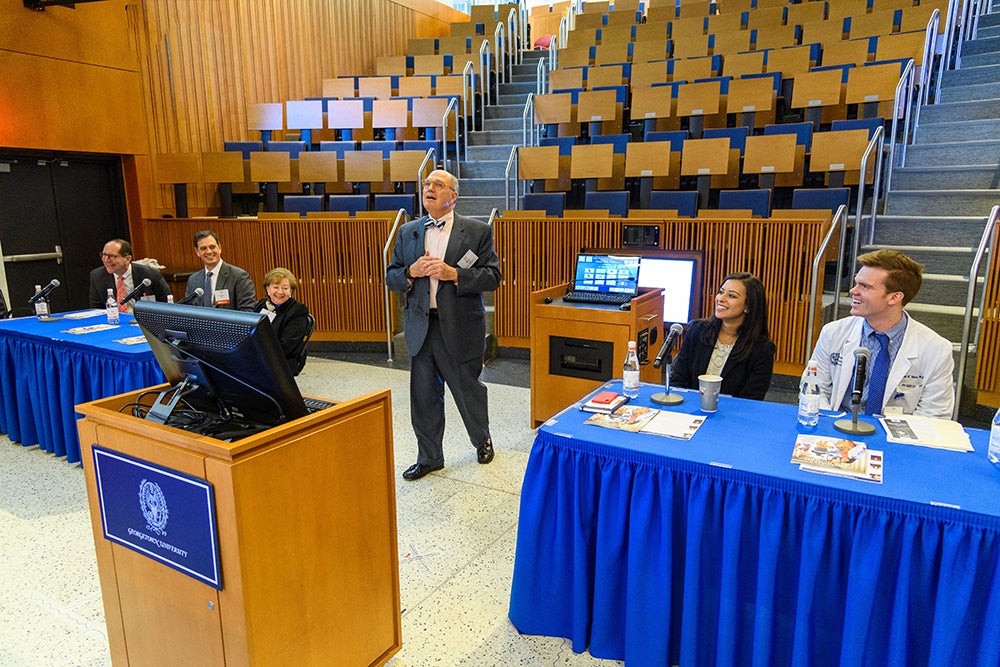 Posted in GUMC Stories | Tagged climate change, global health, School of Medicine
(November 3, 2018) — In a thought-provoking and far-ranging discussion, Georgetown University School of Medicine (GUSOM) convened a panel of faculty, a medical alumna and a current student to explore some of the most pressing issues in global health.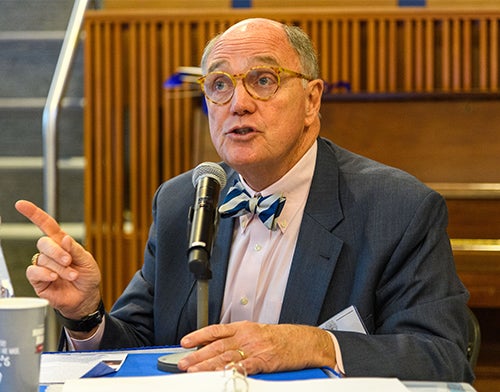 Delving into topics such as infectious disease outbreaks, population dynamics and poverty, health disparities and medical training, the panelists stitched together — and teased apart — complex notions around the challenges and opportunities in global health.
The October 26 panel helped kick off Georgetown's Medical Reunion weekend.
"Georgetown's focus on global health aligns with our mission as a Jesuit institution. We are working at a global level for an important purpose — pursuing the Jesuit philosophies of academic excellence and service to others — and this conversation underscores the importance of that work," said Stephen Ray Mitchell, MD, MBA, dean for medical education at GUSOM, who moderated the discussion.
Global Challenges
Panelists agreed that the battle for improved human health worldwide must be waged on at least two fronts: infectious diseases including HIV, tuberculosis and malaria, and noncommunicable diseases (NCDs), such as heart disease, diabetes, cancer and pulmonary disease.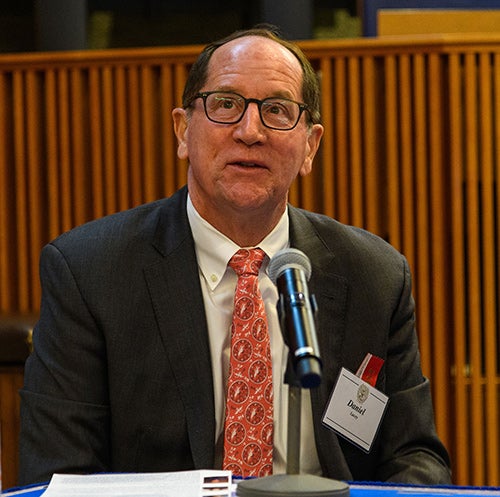 Epidemics and pandemics of infectious disease rank among the greatest persistent threats, as the world feels ever smaller and people are more interconnected and mobile than ever before. This is closely linked to myriad issues such as socioeconomics, security and geopolitics, said Daniel Lucey, MD, MPH, adjunct professor in the department of medicine who specializes in infectious disease.
In addition, the spread of infectious disease by insects such as mosquitos and ticks — known as vector-borne diseases — is an increasing threat as they expand their range into newly warming geographic areas, Lucey said.
"Increasingly in this century, now and certainly in the decades in the future, these diseases are linked to climate change," he added.
The global health community has invested heavily into combating viral and bacterial diseases with dramatic results from initiatives such as President's Emergency Plan for AIDS Relief (PEPFAR), which marked its 15th anniversary this year, and the Global Fund to Fight AIDS, Tuberculosis and Malaria.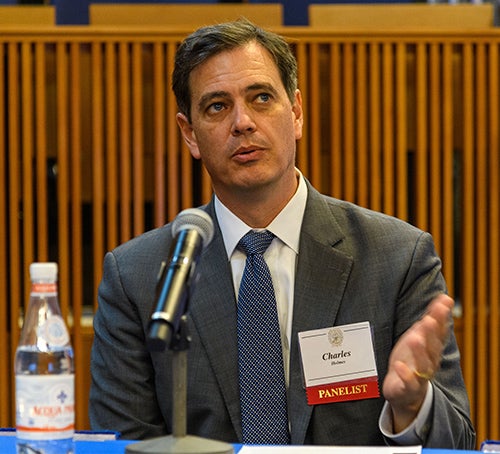 "The real challenge in the global health space is taking that momentum and evidence from disease-specific programs and translating that into broader health security, and into a platform of primary care that allows us to get on top of the next wave [of NCDs]," said Charles B. Holmes, MD, MPH, faculty co-director of GUMC's Center for Global Health and Quality.
By 2030 in sub-Saharan Africa, there will be a predominance of deaths due to NCDs, yet there are currently few programs to address the challenge from a treatment or prevention standpoint, according to Holmes.
Though they tend not to capture as much public attention as infectious diseases, NCDs are a major contributor to premature death. The World Health Organization (WHO) reports that 15 million of all deaths attributed to NCDs occur between the ages of 30 and 69. Of these premature deaths due to NCDs, more than 85 percent are estimated to occur in low- and middle-income countries, according to the WHO.
"Countries must support large-scale structural prevention focused on keeping people healthy and promoting a culture of wellness. Otherwise we will end up with a tremendous unmet need for chemotherapy, cardiac revascularization — all the things we grapple with every day in this country will be hitting countries with fairly weak health systems," Holmes said.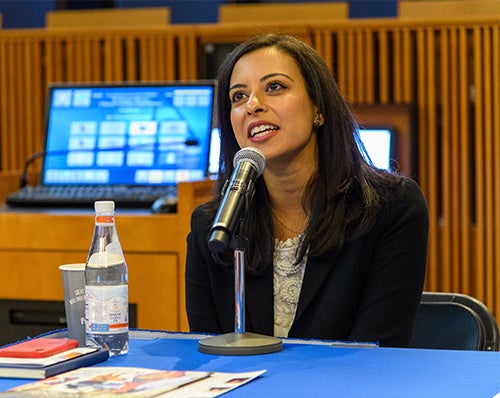 Infectious disease and NCDs must not be looked at as competing priorities for investment and research, but rather as interconnected, according to Christina Hanna, MD, MPH (F'08, M'14), a clinical advisor and researcher with Partners in Health.
"It's a dual burden of disease. In my work, many of the things we have learned come from the early HIV work in sub-Saharan Africa, such as task shifting and working with pharmaceutical companies to get cheaper drugs," said Hanna, who works in pediatric oncology in developing countries and the U.S. "It is actually quite nice to not have to reinvent the wheel, but to be able to work alongside our infectious disease colleagues to say there are other types of care delivery we would like to offer people in low-resource settings."
Building a Strong Platform for Students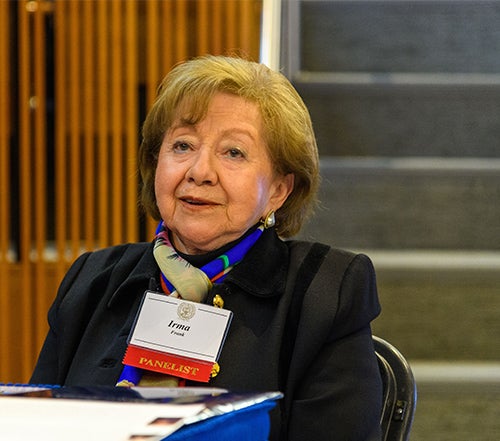 Underpinning these challenges further is the massive gap between poverty and wealth within and across many countries, including the U.S. Understanding how income disparities translate into health disparities, and the array of social, cultural and psychosocial variables that play a role, is essential for health care practitioners today — whether they are working in the U.S. or abroad.
As senior associate dean for international programs at GUSOM, Irma Frank, DDS, leads programs for medical students in more than 20 countries throughout the developing world. Those experiences have a profound and lasting impact on students, she said, even on those who never intend to work outside of the U.S.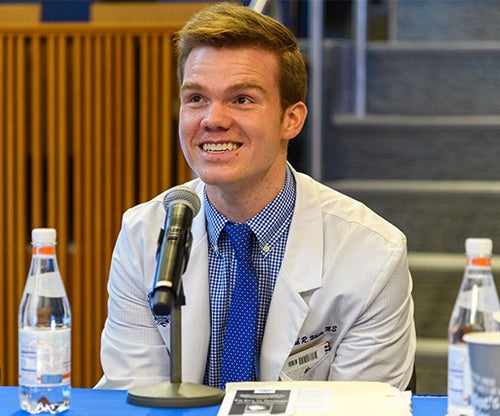 "One thing I always tell the students is that they have to adapt to the circumstances where they are going, and learn from the doctors there who are excellent clinicians even though they may not have access to the technology that we have here. That combination of what the students learn in those countries and the sophisticated medicine we have here makes them very good doctors," Frank said.
"The most effective global health practitioners are those who are the tenacious problem-solvers, those who adapt well to uncertain environments and unanticipated events," said Joey White (M'20), a past fellow of the Georgetown Global Health Initiative who had experience in maternal health in Uganda prior to enrolling in GUSOM. "They are individuals who are consensus-builders, who collaborate most importantly with the local community, as well as with experts of other disciplines, such as policy, economics and government, to think creatively and utilize resources wisely to formulate impactful, sustainable solutions."
Lauren Wolkoff
GUMC Communications