Georgetown Med Students Provide Camp for D.C. Homeless Children
Posted in GUMC Stories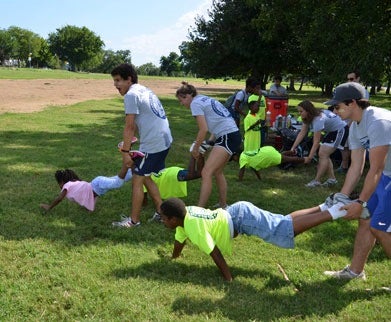 JULY 29, 2013 — Homeless children from Washington, D.C., are being treated to a sports camp this week at RFK stadium, thanks to the inspiration of a Georgetown medical student.
Paul Elsbernd, a rising second-year medical student, wanted to spend his summer working with children. Wolfgang Rennert, MD, the director of the pediatric residency program at Georgetown University Medical Center, suggested helping kids in the surrounding community as a great place to start.
"He also suggested I incorporate my sports background," says Elsbernd, who served five-and-a half years on active duty in the Air Force before attending Georgetown. "Though I only played soccer in college, I played several other sports in high school and truly love all sports. I also like to learn new ones every chance I get."
Helping Children and Families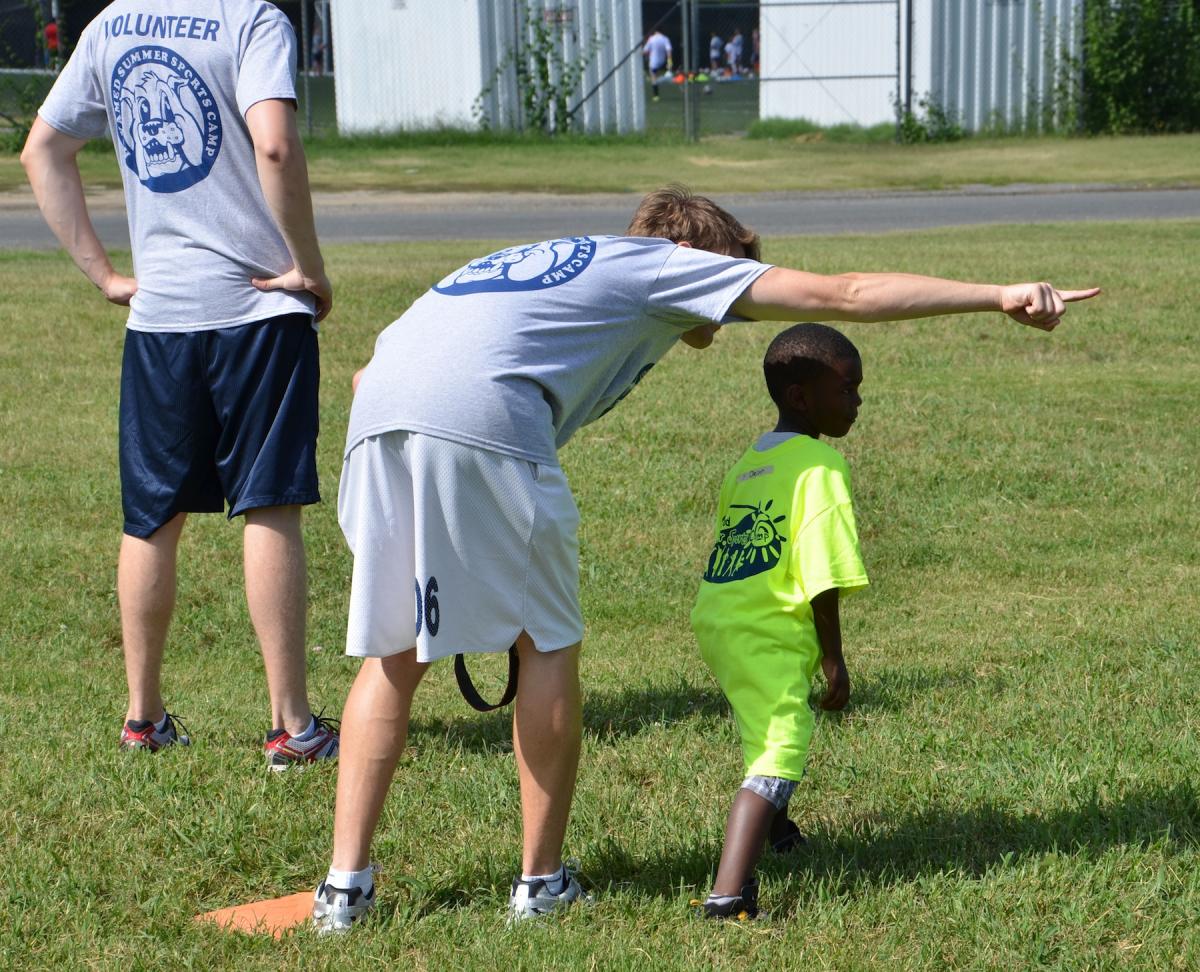 The summer camp serves children, ages 6-13, and has campers participating in team-building exercises, kickball, soccer, track and field events and Frisbee.
He says Eileen Moore, MD, who helps run Georgetown's Hoya Clinic where Elsbernd volunteers, helped him flesh out the idea for a sports camp and put him in touch with the city's homeless organizations.
The Hoya Clinic then became one of the biggest supporters of the camp and provided transportation, medical supplies and equipment to the camp staff.
Elsbernd subsequently recruited 26 other medical students to run the camp. Several students, including Bradley Colton (M'16) and Tracey Alperin (M'16), played key roles in organizing the camp along with Elsbernd.
Multiple Populations
"The camp aims to help multiple populations," Elsbernd says. "First and foremost we want to help the children. I hope that the camp will inspire teamwork, perseverance and build self-confidence in the kids."
The children, ages 6-13, arrived at RFK in Southeast D.C. on July 29 and began team-building exercises and kickball. Tuesday was soccer day and the children attended a training session with Washington's professional soccer team, D.C. United.
Today, they competed in several track and field events, and tomorrow they will play capture the flag and Ultimate Frisbee. The last day, Aug. 2, will be a field day with relay races, water balloons and other events.
Overcoming Adversity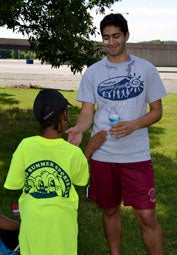 The camp also will include guest speakers to talk to the children about overcoming adversity.
Elsbernd says the Community Partnership for the Prevention of Homelessness (CPPH) helped recruit campers and provided a few volunteers. CPPH manages the homeless shelter at the former DC General Hospital site and has been an important partner in developing the camp.
"I also hope the camp will offer some benefit to the parents or guardians of the campers," Elsbernd adds. "In my previous experience in Houston, one of the obstacles to homeless families finding new jobs or living situations was their responsibility to care for their children. I hope this camp will offer parents and guardians a much needed break to be able to pursue a path out of homelessness."
The Georgetown University Medical Center's Dahlgren Memorial Library volunteered
to pay for all of the camp's design and printing needs, including fliers, banners and T-shirts.
"This will be the first time for the kids to take part in a sports camp," says Kevin Franklin of CPPH. "I believe it will be a learning and exciting event for them."
Philosophy of Service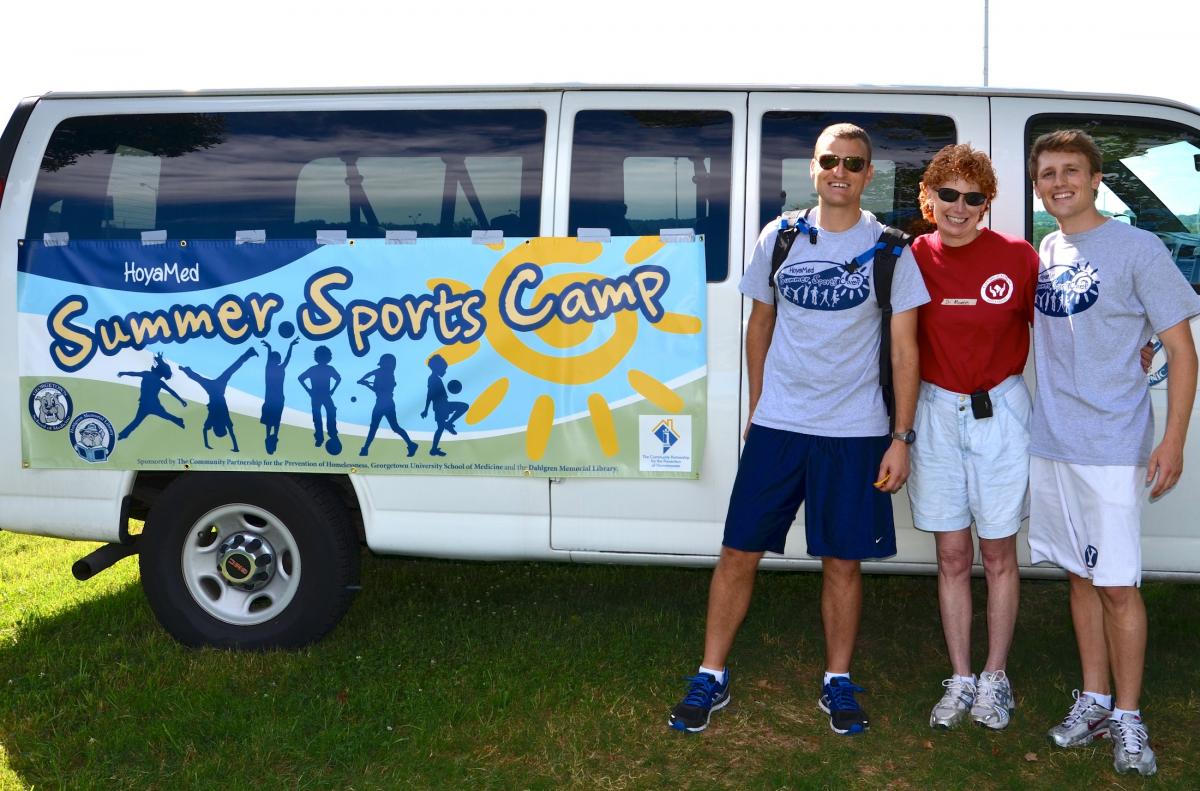 Elsbernd, who comes from a Catholic family of five boys, is married and the father a baby girl. He holds a bachelor's degree in physics from the U.S. Air Force Academy in Colorado and a master's degree in mechanical engineering from Rice University.
When he graduates from Georgetown, he plans to return to active military service as an Air Force physician. Right now, he says he is most interested in neurology, especially traumatic brain injury, pediatrics and a few other specialties.
"Georgetown's Jesuit philosophy of service and caring for those in need really connected with why I changed careers from pure science to medicine," he says when asked why he chose the university to pursue his M.D. "When interviewed here I spoke to students and it really felt like more than just words on paper. Since arriving, I have experienced the culture of service firsthand and I'm confident I made the right decision."
(Published July 31, 2013)