Medical Student Pursues Research Dream through HHMI Fellowship
Posted in GUMC Stories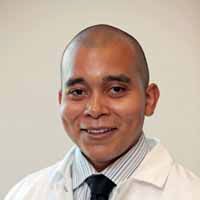 MAY 8, 2014 — A third-year Georgetown University School of Medicine (new window) student is one of 70 medical, dental and veterinary students nationwide selected to participate in the Howard Hughes Medical Institute (HHMI) Medical Research Fellows Program (new window).
Leonel Ampie (M'16) embarks on his year-long fellowship this month at Barrow Neurological Institute (new window) in Phoenix.
Now convening its 26th class, the annual HHMI program is a $2.8-million initiative geared to increase the basic, translational or applied research training of future physician-scientists.
Ampie has chosen to focus his research on glioma tumors, a type of tumor that arises in the supportive tissue of the brain or spine.
"My project revolves around the belief that glioma tumors recur after removal because glioma stem cells hide within an area of the brain called the subventricular zone," Ampie says. "These stem cells then manage to seed the brain again, leading to tumor recurrence."
Ampie is working with mentor Nader Sanai, MD (new window), director of neurosurgical oncology and director of the Barrow Brain Tumor Research Center.
"Dr. Sanai was a Howard Hughes fellow when he was a medical student and was published in [the journal] Nature throughout his experience," says Ampie. "He was very eager to mentor an HHMI student and helped me tremendously throughout the application process."
Motivated by Family
When Ampie was 13, his mother was diagnosed with stage 4 ovarian cancer. He watched her fight and survive her battle with the disease. On her last day of chemotherapy, he promised her he would dedicate his life to finding a cure for cancer, he says.
"When I arrived in Washington to begin school at Georgetown, I was carrying only two things: a small suitcase carrying my belongings and the other — the dream of finding that cure for cancer — still motivates me today," says Ampie.
After completing his fellowship, Ampie hopes to pursue a research-intensive residency, potentially in neurosurgery.
"Hopefully one day I'll be able to land a position at an academic institution where I will be able to handle the roles of both a clinician and a scientist," Ampie says. "All the while, still keeping the promise that I made to my mother 13 years ago."
Next Generation of Researchers
The HHMI Medical Research Fellows Program allows participating students the chance to take a break from their regular coursework to pursue biomedical research at academic or nonprofit research institutions.
Applicants designate labs where they wish to pursue their research and submit project proposals of what they intend to accomplish.
Ampie and the other HHMI fellows will present their work at a Howard Hughes conference in May 2015.
By Sarah Reik
GUMC Communications