Match Day Madness for Georgetown University Medical Students
Posted in GUMC Stories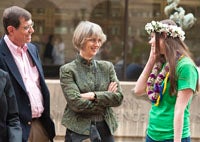 Move over March Madness, watch out St. Patrick's Day, March signifies another celebration that students eagerly anticipate, and that's Match Day!
This seminal event, in the lives of medical school students nationwide, was celebrated simultaneously by fourth-year classes across the country on Friday, March 17th at noon (ET).
As 193 Georgetown University School of Medicine students donning bright green "Match Madness" t-shirts filled the auditorium, the excitement began at the hilltop. The clock began to tick towards noon, when students would open their sealed white envelopes, containing information on the medical residency programs each would participate in – for the next four to seven years of their lives.
"Are those the letters? Oh my Gosh!" one student squealed as she pointed to the boxes being brought into the auditorium. Stephen Ray Mitchell, M.D., dean for medical education, grabbed the microphone and made his way to the stage, as the countdown continued.
When the clock struck twelve, Dean Mitchell gave the signal and students tore into their envelopes. Suddenly, eruptions of screams filled the air. Students and parents everywhere were crying, hugging, slapping high-fives, and congratulating each other on the result of much hard work that led to this important moment.
"I'm absolutely overwhelmed right now, I am so happy—this is a dream come true for me," Nancy Tray said, after learning she would be working at Georgetown University Hospital for Internal Medicine.
"Yeah! I'm going to Hopkins, it's my first choice and I'm really excited," Lara Atwater said after opening her envelope and finding out she will be working at John Hopkins Hospital for Orthopedic Surgery.
After graduation, Georgetown students will continue their medical journeys to well-known residency programs coast to coast, including Boston, New York, Miami, Los Angeles, and the Hawaiian Islands.
With all the excitement looking towards the future – students could not help but remember the support that led them to this moment. Studying at Georgetown University represents a special experience. "It helped me develop a great knowledge base, compassion, and moral responsibility that I wouldn't have received anywhere else," Michael Kochak said.
"Importantly for you, you guys knocked the ball out of the park!" Dean Mitchell concluded as he looked out upon the new generation of doctors.
By Alicia Tarancon, GUMC Communications
(Published March 23, 2012)