MAGIS Society Honors Two Outstanding GUMC Educators
Posted in GUMC Stories | Tagged pursuing excellence, university awards
May 20, 2016–The MAGIS Society of Master Teachers welcomed its newest inductees, Bassem Haddad, MD and Joseph Timpone, MD at the 14th annual ceremony Thursday.
"We are here to celebrate our faculty that have formed and shaped the lives of our students and our residents," said Stephen Ray Mitchell, MD, dean for medical education at the School of Medicine.
Honoring faculty members since 2003, the MAGIS Society recognizes Georgetown University Medical Center physicians and biomedical scientists who have demonstrated sustained excellence in their teaching.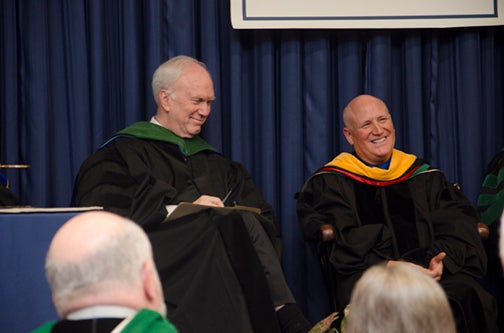 VALUABLE CONTRIBUTIONS
"It's wonderful to be here to honor faculty that have been so deliberately and so passionately committed to guiding these outstanding men and women," said Edward B. Healton, MD, MPH, executive vice president for health sciences and executive dean of the School of Medicine at GUMC, in reference to the graduating medical students.
Healton highlighted Timpone's organization of George M. Kober Student Research Day and Bassem's development of GUMC's first massive open online course on genomic medicine as examples their valuable contributions.
MEDICAL CARE WITH COMPASSION
The ceremony was held at the Goldberg Auditorium at MedStar Georgetown University Hospital. The auditorium's namesake, Richard L. Goldberg, professor of psychiatry and president of MedStar Medical Group, congratulated the inductees.
"In challenging yourselves and your students to deliver expert medical care with compassion and respect for human dignity in the Jesuit tradition of cura personalis, you make Georgetown a very special place to work, teach, learn and receive care," he said.
Other named faculty awards and the recipients of the annual CIRCLE grants, competitive annual awards that stimulate creativity and recognize excellence in medical education, were also announced.
Learn more (new window) about the new MAGIS inductees.
Leigh Ann Renzulli
GUMC Communications
2016 MASTER TEACHERS
Bassem Haddad, MD
Professor, Oncology
Joseph Timpone, MD
Associate Professor, Medicine
Kaiser Permanente Awards
Stefano Vicini, PhD
Professor, Pharmacology and Neuroscience
Rebecca Evangelista, MD
Associate Professor, Surgery
The 2016 Leonard Tow Humanism In Medicine Award
Ranit Mishori, MD, MHS
Professor, Family Medicine
2016 Circle Grants
"Fostering Professional Identity Formation in M1s: Shining Light on Unconscious Bias in Medical Education and Clinical Settings"
Donna Cameron, PhD; MPH, Kim Bullock, MD
"Cadaver Exome Sequencing: Feasibility and Curriculum Development"
Beth Peshkin, MS, CGC; Dean Rosenthal, PhD; Carlos Suarez-Quian, PhD
Mother Of Pearl Award
John Costello, MD
Resident