MAGIS Society Ceremony Honors Medical School Faculty
Posted in GUMC Stories | Tagged Graduation 2018, School of Medicine
(May 20, 2018) — Days before the School of Medicine commencement ceremony, the 16th annual MAGIS Society of Master Teachers Induction and Faculty Awards Ceremony recognized faculty members for their contributions to medical education, including two new MAGIS inductees.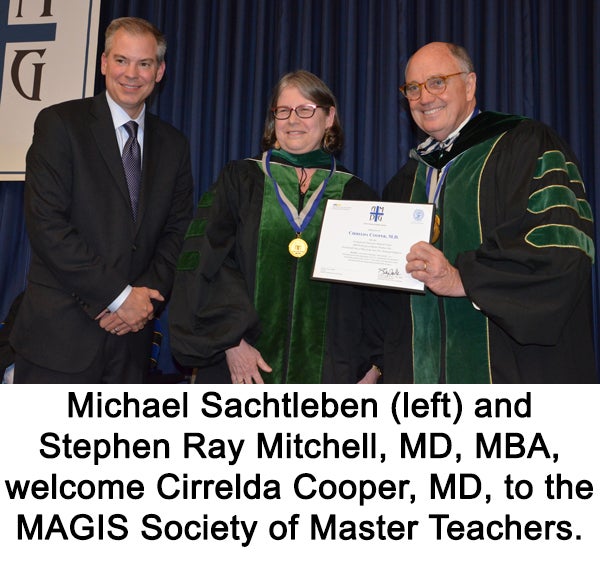 "Over the coming days, much of the focus will be on our outstanding medical students, as it should be," said Edward B. Healton, MD, MPH, executive vice president for health sciences and executive dean of the School of Medicine. "But tonight we honor the educators — those who have demonstrated great dedication as they have inspired and guided our students along the challenging road to becoming doctors."
Jacqueline Jonklaas, MD, PhD, professor of medicine, and Cirrelda Cooper, MD, professor of radiology, were honored for their work as educators in preclinical science and clinical science, respectively, at the May 17 ceremony in the Goldberg Auditorium at MedStar Georgetown University Hospital.
Jonklaas, Cooper Join MAGIS Society of Master Teachers
From the Latin adverb meaning "more greatly," the term MAGIS comes from the Jesuit motto "ad maiorem Dei gloriam" or toward the greater glory of God, explained Stephen Ray Mitchell, MD, MBA, dean for medical education at the School of Medicine. MAGIS Society members "are our role models, our educators, our mentors, our heroes and heroines," he said. "They strive for excellence in all their activities and give selflessly to their students, their colleagues and their patients."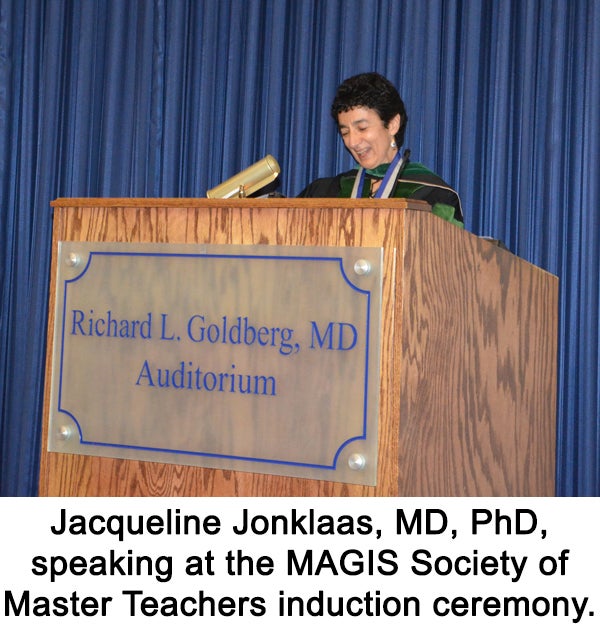 "When I look at the members of the MAGIS Society, they're people I respect," Cooper said at the event. "They're people I admire, and it is such an honor for me to be invited to join you."
In a confession, Jonklaas said that she nearly left academia to avoid teaching. "I was going to go into health education because that would be less stressful, later realizing that that was not my chosen career," she said. "I then finally did move into medicine, but never in my wildest dreams did I ever realize that I was signing up for a lifetime of teaching and never in my wildest dreams did I realize how much I would enjoy it."
In addition to Jonklaas and Cooper, the event recognized recently retired faculty members and honored the recipients of the Kaiser Permanente Awards, the Leonard Tow Humanism in Medicine award and CIRCLE Grants.
2018 Master Teachers
Jacqueline Jonklaas, MD, PhD
Professor of Medicine
Cirrelda Cooper, M.D.
Professor of Radiology
Kaiser Permanente Awards
Thomas Sherman, Ph.D.
Professor of Pharmacology
Dennis Murphy, M.D.
Assistant Professor of Medicine
2018 Leonard Tow Humanism in Medicine Award
Eileen Moore, M.D.
Associate Professor of Medicine
CIRCLE Grants
"Residents as Teachers"
Shimae Fitzgibbons, M.D.; Ornela A. Dervishaj, M.D.
"Screening for the Social Determinants of Health: Moving from Knowledge to Action Through Community Engagement"
Yumi Jarris, M.D.; Richard Waldhorn, M.D.; John Penner; Sarah Kureshi, M.D.
"Using Video Technology to Enhance Teaching of Clinical Skills"
Stacey Kaltman, Ph.D.; Erin Farrish, M.D.; Ted Liao, M.D.
Mother of Pearl Award
Michael Sosin, M.D.
Resident, Department of Surgery
William Denney Zimmerman, D.O.
Resident, Department of Neurology
Kat Zambon
GUMC Communications