Madam Minister
Posted in GUMC Stories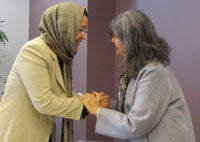 Ten years ago in Afghanistan, a woman died every 30 minutes in childbirth. That rate has dramatically improved to every two hours still shockingly high.
Also a decade ago, the life expectancy of adults in that country was 42 years; now it is 62 years.
To say that people's health in Afghanistan has improved dramatically in the past decade is no understatement. But advocating for change and progress in a war-torn country is no small feat – especially if you are an Afghan woman in a society still struggling to recognize the basic rights of women.
"I was not allowed to enter the compound" where the Ministry of Health is located, explained Dr. Soraya Dalil, the Afghan Minister of Public Health. "Today, I am the minister."
Minister Dalil was honored for her devoted commitment to saving lives and improving the health of women and children in Afghanistan at a Georgetown luncheon on April 25, hosted by the U.S. Afghan Women's Council. The Council is a public-private partnership, established in 2002 by U.S. President George W. Bush and Afghan President Hamid Karzai, based at Georgetown University. Its mission is to mobilize resources to empower Afghan women, particularly in economic empowerment, education, political leadership, and access to health care.
Dr. Dalil attributed much of the progress made in her country to international support from organizations such as the Council, and to funding from non-governmental agencies such as the US Agency for International Development (USAID).
She noted the direct link between such funding and the decrease in mortality during childbirth. Ten years ago, there were only 400 midwifes in Afghanistan. International funding has allowed for the education and training of thousands more, to the point where now there are 3500 professional midwifes in the country, who can assist women and improve the likelihood of a safe and successful birthing experience.
"These impressive gains are due in no small part to the Minister's commitment to primary health care, reaching underserved populations, and close collaboration between the Ministry and hospitals, clinics, and community health centers from Kabul to remote villages across the country," Phyllis Magrab, Ph.D., vice chair of the U.S. Afghan Women's Council later said.
Dr. Dalil is "a great role model for the women of Afghanistan and the U.S.," added Dr. Magrab, who also is director of Georgetown University's Center for Child and Human Development.
Much work remains to be done in Afghanistan. Dr. Dalil told those at the Georgetown luncheon that her country needs two things from the international community to bring peace, stability and prosperity to her country, which will reverberate in the region and world.
First, she explained that Afghan people must be engaged in any decision about the future of its country. "Nothing about us, without us."
Second, she called on groups like the U.S. Afghan Women's Council to continue its hard work and advocate on behalf of Afghani women. "International support is critical to ensure that the progress and achievements made are irreversible," she says.
By Karen Mallet, GUMC Communications
(Published May 07, 2012)