Long-standing D.C. Collaboration Grooms Future Cancer Experts
Posted in GUMC Stories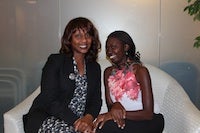 The University of the District of Columbia and Georgetown University Medical Center have a decade-long partnership to train the cancer specialists of the future.
Ocla Kigen had once set her sights on doing bench research in a cancer laboratory. But she found this work to be missing something — a personal connection between the tumors she was studying and the patients they affect.
So this Kenya native searched far and wide for a master's program that could provide that bridge between research and patients. She found one in Washington that not only provided this bridge, it opened her eyes to disparities in cancer care and changed the direction of her professional life.
"Only one school — well, two universities working together — offered such a great opportunity to work with patients, not just with books or in a lab," she says. "And I learned so much more about cancer care disparities in people who look like me than I ever realized existed."
Now Kigen is determined to return to Kenya to help shape and promote an effective cancer control program.
Kigen is just one example of what a decade-long collaboration between the University of the District of Columbia (new window) (UDC), a minority-serving institution, and Georgetown Lombardi Comprehensive Cancer Center (new window) can produce.
Under the joint leadership of Carolyn Cousin, PhD, (new window) a molecular parasitologist and professor of biology at UDC, and Georgetown Lombardi professor of oncology Jan Blancato, PhD (new window), UDC students now have access to a soup-to-nuts education in cancer.
Students can now select a cancer focus in an undergraduate biology degree, and since 2004, the college has offered a joint UDC-Georgetown master's program in cancer biology, prevention and control.
A cornucopia of National Cancer Institute (NCI) grants over the last decade to UDC and Georgetown Lombardi has made — and continues to make — this partnership possible. The latest examples are NCI training grants of more than $2 million that will equip faculty at both institutions with advanced teaching and assessment techniques in cancer education. It will also create an eight-week summer biotechnology training program for UDC undergraduates that will secure them internships at the National Institutes of Health and Georgetown Lombardi.
The showpiece of all that collaboration has been the master's program, which is so well regarded that competition from students, nationally and internationally, to gain entrance is fierce for one of its seven slots annually. Cousin says the program has been described to her as a "jewel" among NCI cancer education programs.
Cousin says there are very few degrees like it in the country. "The need for such a degree is there. The talent it takes to do well in the course is there. Our job is just to cultivate that talent," she says.
Smart and Driven Students
The master's program is two years long, twice as long as most cancer biology master's degree programs.
The first year involves coursework split between UDC and Georgetown. Between years one and two, students spend the summer rotating as an intern through Georgetown Lombardi laboratories. The second year is devoted to research, either laboratory-based or focused on cancer prevention. Students are paired with a Georgetown researcher and are expected to conduct publishable research that addresses a health disparity issue.
"This year-long mentorship is huge. To actually take a student for a year into your laboratory or clinic is both costly and time-consuming, but the payoff to both mentor and mentee is well worth it," Blancato says.
"The goal is to increase the number of minorities in the sciences, including cancer, and we are succeeding," Cousin says. Given that D.C. has the highest rate of cancer per capita due largely to the cancer burden in the minority population, she adds, there is no place in the U.S. in greater need of this expertise than UDC and Georgetown Lombardi's back yard.
Success stories among graduates are easy to find: graduate Kwame Ofori is now a bio-aeronautical scientist at NASA; Oswald D'Almeid, MD, is a physician; 11 students have gone on to enroll in PhD programs, including three at Georgetown; and many others are currently in medical or dental school.
"There isn't a day that goes by that I don't get an inquiry about the master's program. We can be extremely selective," says Kim Fenwick-Wooten, who helps manage the masters program for UDC.
Blancato agrees that the students are very smart, driven and hard-working. "In some cases, these students are more qualified than anybody else we see at that level. I love them all, and I have grown a lot with them," she says.
Fighting cancer in the community
Tsion Minas decided to pursue her PhD in tumor biology at Georgetown after completing the Georgetown-UDC master's degree in cancer biology, prevention and control.
The master's program opened her eyes to the public health aspects of cancer; she had always focused on the molecular biology. As a result Minas became interested in cancer prevention and early detection, which she thinks would be a much better option for cancer control in countries like Ethiopia, where she was born and raised. "In nations like mine, with huge health care disparities, prevention would be cheaper and obviously more effective than treatment," she says.
"I now have a more complete picture of cancer in the community, and I feel more connected to the public," Minas says.
The recipient of a slot in GUMC's competitive post-baccalaureate training program in disparities, funded by Susan G. Komen for the Cure, Kigen is working with Vanessa Sheppard, PhD (new window), associate professor in oncology at Georgetown and the assistant director for health disparities research at Lombardi.
Like Minas, Kigen is now focused on a career that aims to reduce health disparities in her own country, Kenya. "People should not suffer because they can't afford health care, but that is what is happening. For example, ovarian cancer rates in Kenya are very high because very few people benefit from a pap smear screening.
"I want to translate an effective cancer control program into a plan that can be used in Kenya, and would like to teach university students how to write policies and conduct research," Kigen says.
Kigen, in her second year, is working on a number of projects with Sheppard: studying breast cancer behaviors in African immigrant women, and examining whether there are racial or ethnic differences in toxicity in patients undergoing chemotherapy. Kigen is also a co-author on a manuscript focused on cancer interventions in African immigrant populations.
Sheppard calls the students she works with "determined, energetic, committed," and says it is personally gratifying that these students have come to care deeply about cancer disparities.
"That doesn't mean that all of these students will become population scientists and conduct clinical or community-based research," Sheppard says. "It can mean that if you are working in the laboratory, you care that the cells in your experiment come from people. That matters."
"We have all worked hard, we are all very serious about the importance of increasing minority participation in the sciences, especially cancer," says Cousin. "This has been a great collaboration, from the very beginning."
By Renee Twombly
GUMC Communications
(Published October 31, 2013)