Leaders in Biomedical Informatics Explore Vast Potential at Inaugural Symposium
Posted in GUMC Stories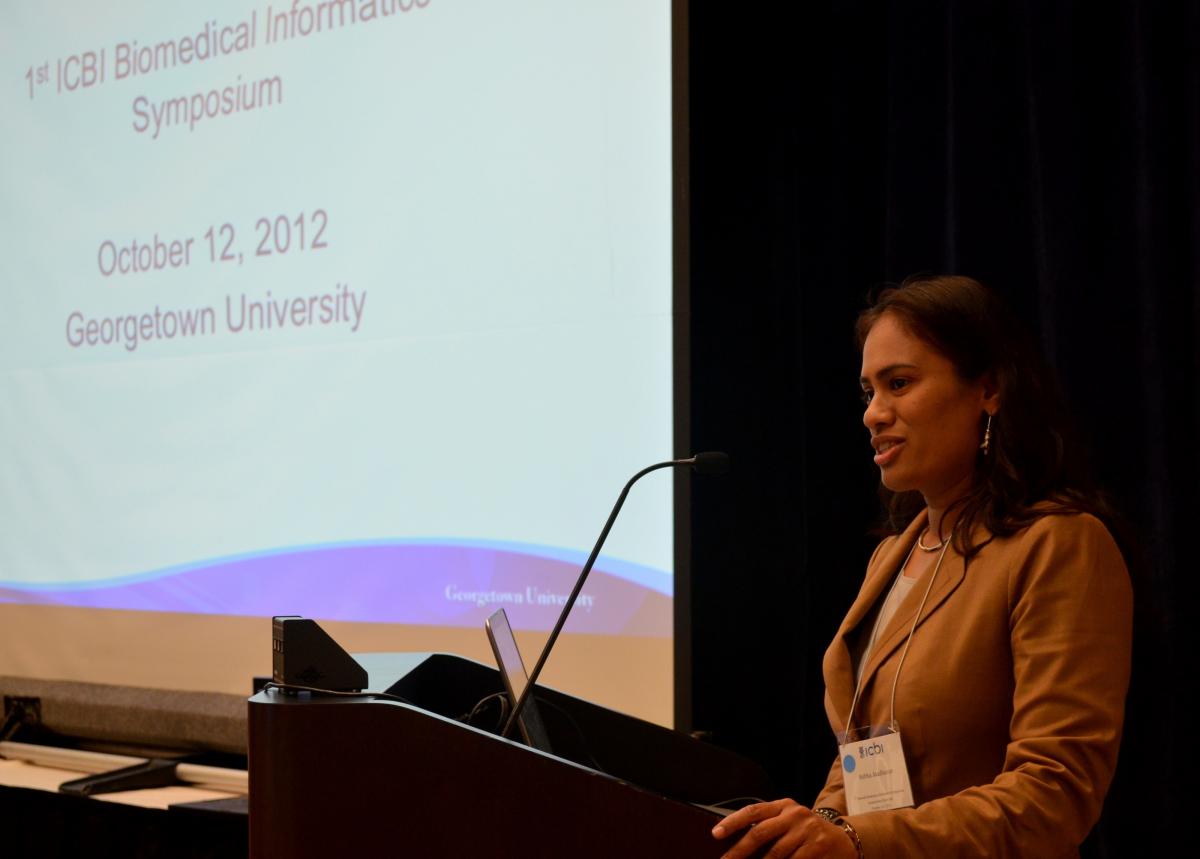 Informatics has become an essential component of modern medicine.  Properly employed, it is the key that allows us to unravel the secrets of genomic and molecular data with the goal of improving patient care.
Without it, the vast amount of biomedical data available today to researchers and clinicians lacks organization and any meaningful relevance for translation to clinical knowledge and patient care.
Georgetown hosted a symposium to explore the immense challenges and opportunities in the field of biomedical informatics at a symposium held October 12.
The symposium was the inaugural event held by the Innovation Center for Biomedical Informatics (ICBI), a new center launched this past summer at Georgetown University Medical Center. The center was established as an academic hub for innovative research in the field of biomedical informatics, with the goal of enabling a more individualized approach to health care based on a patient's molecular makeup.
Era of 'Big Data'
In this era of so-called "big data", with an increasing volume and rapid output of genomics and other molecular information, scientists need more sophisticated tools to rapidly integrate, analyze and apply it, according to ICBI Director Subha Madhavan, Ph.D.
"How do you go from terabytes of data to those seven or eight data elements that you want to put in front of a basic scientist or a clinician to make effective decisions?" Madhavan said in her remarks.
The answer is not simple, and requires a multidisciplinary effort involving informaticians, statisticians, computer scientists, basic scientists and clinicians, she said.
"Our vision is to bring these groups of people together to enhance translational research and clinical care into a multidisciplinary and collaborative approach that will ultimately enable a more individualized approach to health care," Madhavan said.
Sorting Genetic Needles from the Haystack
The day-long symposium featured opening remarks from Louis M. Weiner, M.D., director of Georgetown Lombardi Comprehensive Cancer Center, and Robert Clarke, Ph.D., D.Sc., dean for research at Georgetown University Medical Center.
There were two keynote presentations: John Quackenbush, Ph.D., professor of computational biology and bioinformatics at the Harvard School of Public Health, and John Niederhuber, M.D., executive vice president and CEO of Inova Translational Medicine Institute and former director of the National Cancer Institute
As Quackenbush phrased it, the real challenge of biomedical informatics lies in convening the right people and creating the right tools to "begin to sort the genetic needles from the haystack."
The predecessor to the ICBI, the clinical informatics group, was first established at Georgetown Lombardi in 2008. The clinical informatics group developed the Georgetown Database of Cancer (G-DOC®), a cutting-edge software platform that allows researchers and clinicians to analyze genomic data across numerous cancer studies and clinical trials.
This event was co-sponsored by the Georgetown-Howard Universities Center for Clinical and Translational Science, Georgetown Center for Cancer Systems Biology and Georgetown Lombardi Comprehensive Cancer Center.
By Lauren Wolkoff, Georgetown Lombardi Communications
(Published October 19, 2012)