Laissez les Bon Temps Roulez – 2012 Founders' Day Awards
Posted in GUMC Stories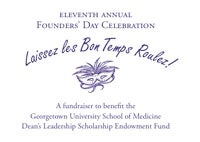 Georgetown University School of Medicine hosted the eleventh annual Founders' Day Celebration, an evening of fundraising to benefit the Dean's Leadership Scholarship Endowment Fund.
Under the leadership of Dean Stephen Ray Mitchell, M.D., the School of Medicine (SOM) has raised funds to support the best and brightest physicians of tomorrow by providing scholarship awards for those who qualify based on need.
The celebration also honored three outstanding contributors to the educational and healthcare fields at Georgetown; Joseph A. Bellanti, M.D., Professor of Pediatrics and Microbiology and Immunology, Kenneth L. Dretchen, Ph.D., Professor and Chairman, Pharmacology and Patrick Michael Kildea, D.D.S. (D.'73). These awardees were recognized for their dedication and achievements at Georgetown University Medical Center.
This year's Founders' Day Celebration was a jazzy affair, transporting Washingtonians with the sights, sounds, smells, and tastes of New Orleans. Celebrating, Laissez les bon temps roulez, the evening let the good times roll, with laughter, memories, and recognition of the people that make Georgetown University School of Medicine such a unique learning environment.
Joseph A. Bellanti, a truly dedicated faculty member at Georgetown University has given nearing 50 years of service to GUMC and educated young minds in the importance of patient care. Dr. Bellanti's career at Georgetown reaffirms the Jesuit value of cura personalis – care of the whole person through his proficiency in teaching, research, and patient care. A true asset to the GUMC community, Bellanti has published over 400 scientific articles and abstracts, as well as numerous textbook chapters and provided educational resources to thousands of students through his widely acclaimed textbooks in immunology.
Kenneth L. Dretchen, Ph.D. came to Georgetown in 1972 and has been an engaged member of the faculty ever sense. As a permanent fixture to the success of the Department of Pharmacology, Dretchen has also taken on other responsibilities academically as Dean of Research, Senior Associate VP for Regulatory Affairs, Chief Operating Officer for the Medical Center, professor, member of the DoD and Meridian Medical Technologies, on call 24/7 expert for the Department of Homeland Security, and numerous other positions. Dretchen is a fixture of GUMC, giving his time and expertise to educate young minds as well as promote the academic mission of the university.
Patrick Michael "Mike" Kildea, D.D.S., (D'73), represents John Carroll's vision of "men and women for others." Kildea, in his career as a dentist lives out the Jesuit tradition of care for the whole person by providing the very best care for his patients. A lifelong Hoya, Kildea remains a fixture to the Georgetown community through his efforts with Georgetown Athletics and Hoyas Unlimited. As an alumni, Kildea has given his time and support to the Georgetown Club of Washington, DC, and the Alumni Career Network. He exemplifies Georgetown University's efforts to care for the community through his dedication to Operation Smile and So Others Might Eat. Kildea reaffirms Georgetown University's dedication to reach beyond the campus and help those who are underserved.
Founders' Day was a great success, reminding participants of the importance of education, scholarship, dedication, and achievement.
By Katherine Brazauskas, GUMC Communications
(Published May 07, 2012)