John Marshall Receives Christine Sapienza Memorial Award from Advocacy Organization
Posted in GUMC Stories
Video produced by Chris4Life Colon Cancer Foundation.
OCTOBER 20, 2014–John Marshall, MD (new window), director of the Ruesch Center for the Cure of Gastrointesintal Cancers (new window) at Georgetown Lombardi Comprehensive Cancer Center, was honored recently by the Chris4Life Colon Cancer Foundation (new window) for his tireless work on behalf of colon cancer patients. 
Marshall, who is also chief of hematology/oncology at MedStar Georgetown University Hospital, (new window) received the Christine Sapienza Memorial Award at Chris4Life's Blue Hope Bash held Oct. 16 at the Four Seasons Hotel in Georgetown.  
Christine Sapienza, who succumbed to colon cancer in 2009, was Chris4Life President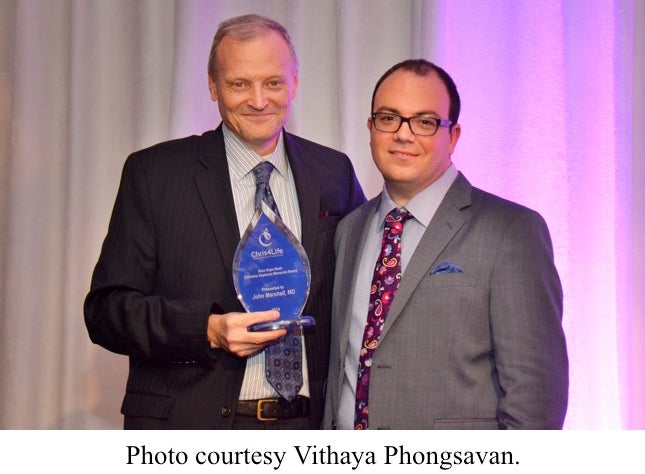 and Founder Michael Sapienza's mother. She was treated by Marshall. 
The award honors Marshall, who has been a champion for the organization since its founding, "for being at the forefront of treatment, advocacy, and awareness for Chris4Life and the colorectal cancer movement."
In a video (new window) presented at the Blue Hope Bash, Marshall says he became a GI oncologist because he realized "that what I really wanted to do with my career is find new medicines and new approaches, and there was no place with greater need than GI cancers." 
Marshall has long been public about his mission to emulate the breast cancer advocacy community in its ability to garner awareness, funding and resources–and to galvanize the GI cancer community in a similar manner. He lauded Chris4Life for its ability to "merge us into a cohesive group that has the best shot of changing the landscape for patients with colorectal cancer."
By Lauren Wolkoff
GUMC Communications