IPN Student to Research Cell-to-Cell Communication Through NSF Fellowship
Posted in GUMC Stories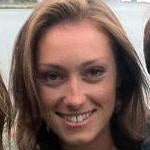 NOVEMBER 26, 2014—A Georgetown University Medical Center (new window) PhD student who received a National Science Foundation (new window) graduate research fellowship is gearing up to begin her project, examining how cells communicate with one another in the brain.
Vivianne Morrison starts her second year in the Interdisciplinary Program for Neuroscience (new window) (IPN) this winter. She seeks to research cell-to-cell communication in the brain with the goal of understanding the biology of oligodendrocytes, a population of support cells that provide membrane insulation, or myelin, around nerve cell processes in the brain.
"I'm interested in the development of the brain and what happens to the brain when you're born, or even before you're born, that allows it to function the way it does as you grow up," Morrison says.
She plans to explore how neurons in the brain communicate with oligodendrocytes—a process not well understood.
"Oligodendrocytes have a very tight relationship with neurons, but it's unclear how a neuron communicates to oligodendrocytes or how they respond," says Morrison.
Searching for Answers
Morrison will center her research on determining what type of proteins or molecules a neuron releases that trigger an oligodendrocyte to insulate that neuron.
"One possibility that I think is really exciting is in regards to exosomes," Morrison says. "We don't really know what exosomes hold; it could differ from cell to cell."
Exosomes are collections of proteins, genetic material, sugars, fats and possibly other compounds enclosed in a membrane that are then secreted by cells into the surrounding environment, where they can be taken up by neighboring cells.
"We also don't know what the contents are doing once they get released by one cell and picked up by another," she adds.
Another theory focuses on NMDA (N-Methyl-D-aspartic acid) receptors and calcium. While it has been established that neurons have NMDA receptors, the idea that oligodendrocytes also have them is new.
"The general idea is that a neuron releases a substance onto an oligodendrocyte, and that substance binds to the NMDA receptor. That interaction causes the release of calcium inside the oligodendrocyte," Morrison explains.
Calcium can send many different messages, such as triggering the release of another substance or initiating cell death, Morrison adds.
"We don't know for sure, but I hypothesize that exosomes are part of what modulates the close physical interaction and communication between neurons and oligodendrocytes," says Morrison.
Passionate Motivation
For Morrison, receiving the NSF Fellowship is a motivation to work harder in the field of science that interests her—and a validation that she is on the right track.
"I am so grateful to have this opportunity," Morrison says. "It's humbling and makes me want to work harder to fulfill whatever ideas the NSF has of me as a scientist and as an advocate of science."
Morrison will be working with her mentor, Jeffrey Huang, PhD (new window), assistant professor in the department of biology, who researches oligodendrocyte function.
"Vivianne is an enthusiastic and highly inquisitive student," Huang says. "She's very excited by the science that's going on in this field and has many ideas she would like to pursue. I believe that Vivianne has what it takes to be a successful PhD student."
During the fellowship period, Huang will help ensure Morrison has the necessary tools and support to carry out her research.
"We'll essentially be thinking together about this project—she'll be doing the experiments and I'll guide her in finding the answers to her questions," Huang says.
Huang has high hopes for Morrison as she pursues her research project and continues the IPN. She expects to receive her PhD in 2018.
"She is talented and independent-minded," Huang says. "I'm excited to have her begin research in my laboratory."
The NSF awards approximately 2,000 graduate research fellowships per year to doctoral-level students studying science and engineering.
Morrison is one of two Georgetown students—and the only within GUMC—to receive the prestigious fellowship this year. Amy Battocletti (new window) (G'20), a second-year PhD candidate in the biology department, researches the impact of genetic variation within plant species in salt marsh ecosystems.
By Sarah Reik
GUMC Communications