iPad Application Makes Boring Data Collection History
Posted in GUMC Stories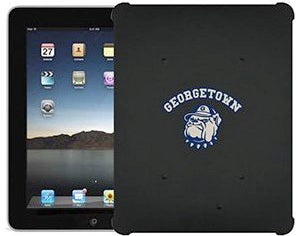 One of the most tedious parts of the patient experience is being handed the clipboard to fill out the dreaded patient questionnaire. Standardizing patient data is also a constant challenge for those who collect it — volumes of forms and questionnaires can become unwieldy and cumbersome, and the quality of information can vary from patient to patient.
The Ruesch Center for the Cure of Gastrointestinal Cancers, part of Georgetown Lombardi Comprehensive Cancer Center, is seeking to modernize this clunky process and improve the quality of the information that comes in. There is a real need, researchers and clinicians agree, to improve the patient experience and ultimately enhance patient care.
Enter Tonic, an iPad-based application that creates a more seamless, engaging and dynamic experience for patients when it comes to reporting family medical history information. Ruesch Center researchers are collaborating with others on a study, called the Lombardi Research Participant Registry, that will use Tonic to streamline patient questionnaires and consent forms that are necessary to enroll a patient onto a research study. Patients will be able to receive a link ahead of time or fill out the information on an iPad when they come to clinic.
The study relies on obtaining consent from patients with gastrointestinal cancers such as colon and pancreas cancers, as well as some cancer-free patients and relatives, who are asked to answer an in-depth questionnaire on topics ranging from family history to treatment details to quality of life questions. To date, researchers have guided nearly 600 patients through the lengthy paper questionnaire process in order to standardize information. Someone then enters this information into a secure database.
Unlike current paper-based systems, Tonic is bright and engaging — just as a game on an iPad would be.
And, because Tonic's system is cloud-based, the data is secure in that it is not stored on the iPads (which, although also password protected, are not as secure as the cloud). Every time a patient hits "submit" after an answer, the response is sent to an electronic health record, where it is securely saved.
The patients are also asked to provide specimens as well as tumor tissue, when available — and all is tracked and facilitated by other companion systems that interface with Tonic. As one of the first studies at Georgetown to use Tonic for its consenting and questionnaire processes, the effort will integrate with other patient database and tissue repository efforts at Georgetown Lombardi; the intent is to collect data once and use it multiple times to improve patient care and research.
Improving the Patient Experience
Subha Madhavan, Ph.D., director of clinical informatics at Georgetown Lombardi and head of the new Innovation Center for Biomedical Informatics at Georgetown University Medical Center, is collaborating on the study. In her role that bridges biomedical science and informatics, Madhavan is naturally interested in ways to improve the standardized collection and use of clinical data in ways that improve patient care.
"Traditional paper-based questionnaires geared toward collection of family medical history are complex and cumbersome for patients, involving documenting details related to histories of numerous maternal and paternal relations," she says. "We are implementing an iPad-based application to improve the patient experience in the clinic related to reporting family medical history information and to streamline numerous aspects of collecting and reporting this information."
The information that is gathered will be used to provide reports to physicians that are then used as part of the physician-patient encounter. The system allows for standardization of data elements across multiple questionnaires, allowing the information to be integrated and analyzed with much greater ease by researchers.
A Model for the Future
The introduction of Tonic into the clinical research realm greatly bolsters the ongoing work of the Ruesch Center, and could serve as an invaluable tool for many other studies moving forward, according to John L. Marshall, M.D., the center's director who is also involved in the Tonic study.
"The Ruesch Center has a number of ongoing studies involving the gathering of extensive patient personal and medical history data, necessitating organization of patient consent and questionnaires." The use of secure electronic methods to gather patient data and health information, while making the process fun for patients, has great appeal," Marshall says.
By Lauren Wolkoff, Georgetown Lombardi Communications
(Published November 30, 2012)