Inspiring GEMS to Shine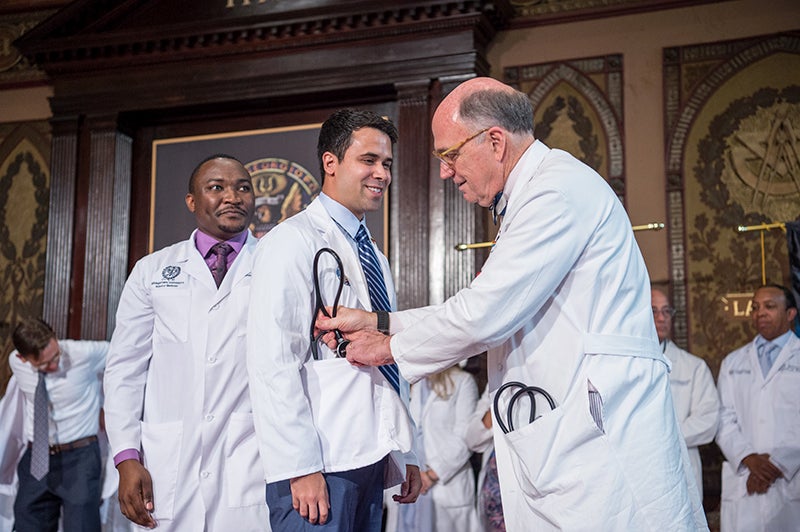 Posted in GUMC Stories | Tagged diversity, GEMS, medical education, School of Medicine, White Coat Ceremony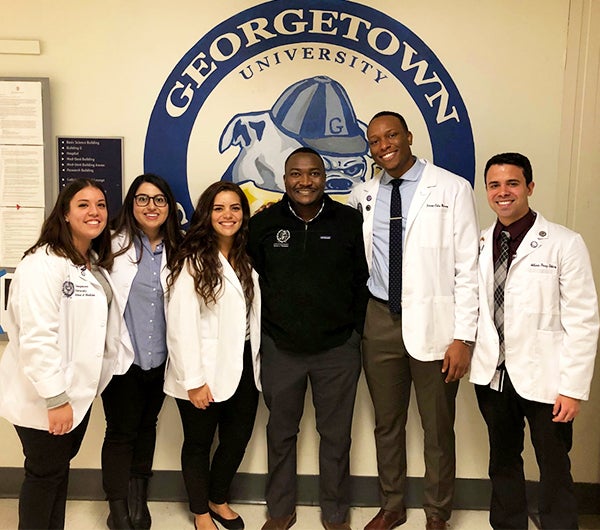 (August 2, 2019) — After walking across the stage and introducing themselves to attendees, incoming students at the School of Medicine White Coat Ceremony often state the name of the medical doctor who will give them their first white coat, welcoming them to the profession of medicine. At this year's ceremony and others recently, several students named the same person as their designated "coater" — Christopher Kaingo, MD.
As the basic medical sciences learning facilitator for the Georgetown Experimental Medical Studies (GEMS) program, Kaingo works closely with students from socioeconomically disadvantaged populations, preparing them for the rigor of medical school by helping them learn how to learn.
"The White Coat ceremony is indeed an emotional affair for all of us, for it is an honor that I deeply appreciate and do not take lightly, for this student has specifically requested you to be the professional who is welcoming him or her into this noble profession of medicine," Kaingo said.
Zuby Syed (M'22) was one of the students Kaingo coated at last year's ceremony. "He saw in me potential that I did not see in myself," she said. "It was an honor to be coated by someone who contributes unwaveringly toward his students' success."
Coming to Georgetown
Similar to the students he works with, Kaingo faced some challenges before coming to Georgetown in June 2016. Originally from Uganda, he earned his medical degree from the University of Dar es Salaam in Tanzania. However, when he came to the U.S., Kaingo struggled to enroll in a residency program, so he started teaching at Prince George's Community College (PGCC).
"I wanted to join an academic medicine career path, and I've always wanted to teach at an academic institution like Georgetown, but I was spending most of my time at community college," Kaingo said.
When he applied for his position at Georgetown, he interviewed with David Taylor, M.Ed., senior associate dean for student learning and academic advising at the School of Medicine. "I knew that his presence in GEMS would be an ideal catalyst for the academic and professional enrichment of each student, our so-called 'polishing' of the GEM with great potential into excellence for service in the profession of medicine," Taylor said.
"Excellent teachers have the gift to inspire curiosity and passion in learning, not for the sake of students simply possessing knowledge, but more significantly, to use that knowledge to effect positive change in one's chosen career choice," Taylor added. "These were the attributes I clearly recognized in Dr. Kaingo."
"The individualized-student approach in GEMS is what makes me love teaching," Kaingo said. "Our GEMS students have specific individual needs, and once you tap into that specific student's need, that becomes their turning point on becoming ready to be competitive future medical students.
"I have been known to refer to that as the student's 'GEMS moment,'" Kaingo added.
Connecting with Immigrant Students
When Kwadwo (Kojo) Sarpong (M'22) first came to the U.S. from Ghana in 2009, he worked as a cleaner in a hospital. After asking him about his goals, a surgeon encouraged him to pursue his education.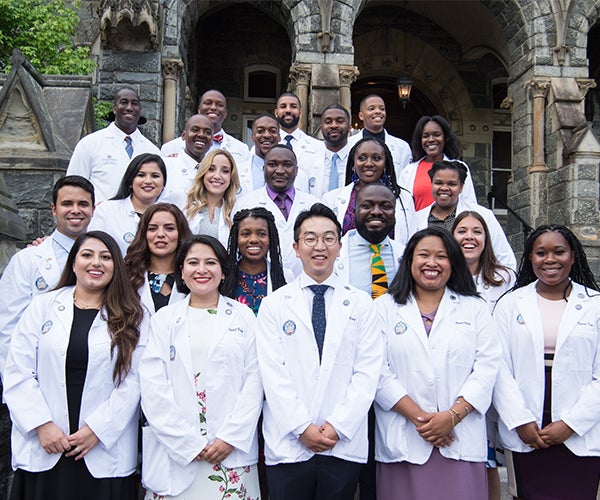 Kaingo's experiences as an immigrant resonated with Sarpong, who received his white coat from Kaingo last year. "He is an amazing person," Sarpong said. "Coming to this country as an immigrant, you need that one person to believe in you and help you follow your dreams."
Originally from Venezuela, Alberto Perez (M'22) emigrated to the U.S. with his family. He was also inspired by Kaingo's story.
"As an immigrant himself, Dr. Kaingo had to go through similar circumstances and understands the difficulties and barriers that disadvantaged and minority students go through every single day," he said. "He gave me the chance to be part of the GEMS program, where I was constantly challenged to become a better student and have confidence in what I am capable of doing."
Before participating in the GEMS program, Perez had applied to medical school three times and received 40 rejection letters. At last year's White Coat Ceremony, he received his white coat from Kaingo. "I asked him because he and Dean Taylor changed not only my life but that of my family as well," he said. "Dr. Kaingo saw possibilities in me where others often saw impossibilities."
"He has always related to all of us as a brother from Africa," Sarpong said.
Building a Family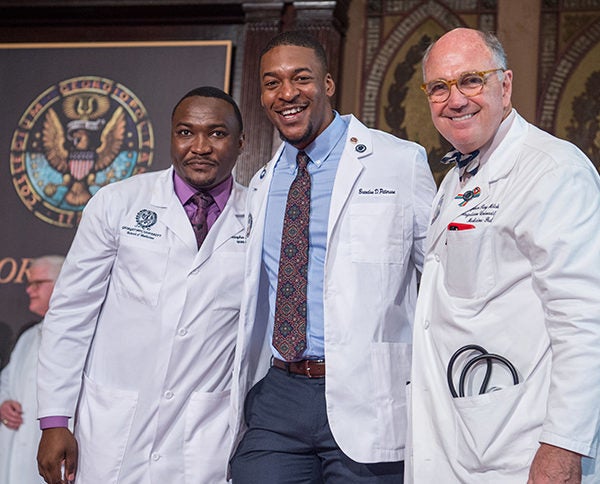 The White Coat Ceremony can feel intimidating for GEMS students, many of whom are first-generation students. "We are surrounded by classmates who come from generations of physicians," said Brendon Peterson (M'22), one of the students Kaingo coated last year. "This can be very overwhelming as you see friends who have parents, aunts, uncles, grandparents and so forth who can coat you."
"Dr. Kaingo is that family member for us," Peterson added.
Perez also described Kaingo as a family member. "Dr. Kaingo became a big brother to me, always reminding me where I came from and pushing me to go beyond my limits," he said.
Calling him "a mentor and brother," Syed recalled Kaingo's words to her as she received her white coat. "While coating me, he said, 'Congratulations on earning your short white coat. Now it's time to forge ahead toward earning your long white coat,' reminding me that this journey is one of being a lifelong learner."
Kat Zambon
GUMC Communications