Inaugural Staff Spotlight Award Given to Research Administrator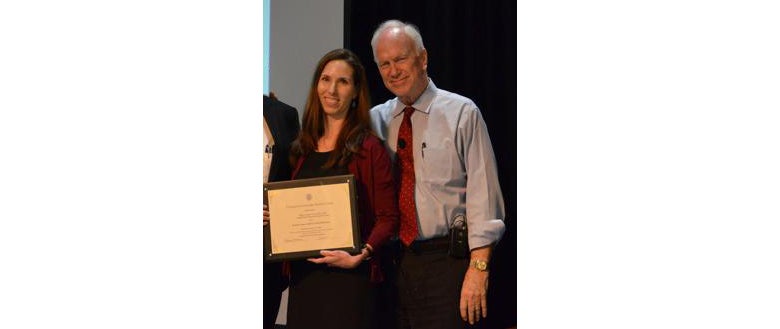 Posted in GUMC Stories | Tagged CARIS Award
(June 1, 2018) — An inaugural award to recognize staff and academic and administrative professionals (AAPs) at Georgetown University Medical Center was bestowed upon Melissa Layman, deputy director of research development services. Named C.A.R.I.S. for compassion, achievement, respect, inspiration and service, the award is inspired by the Greek word for "compassion," "caring" and "love" — qualities the medical center promotes, according to Sean Hawkins, chief of staff in the office of the executive vice president of the medical center and director of GUMC special projects. The award was presented to Layman at the GUMC community meeting on May 23 in the Research Building auditorium.
Layman started working at Georgetown University Medical Center in October 2009 as a financial analyst at Georgetown Lombardi Comprehensive Cancer Center. She then moved to the Office of Shared Resources, then helped launch the Office of Research Development Services, where she has served as deputy director since January 2015.
"Having additional time on her hands and being the overachiever that many of us strive to be, Melissa also managed to earn professional certifications in the fields of research administration, pre-award administration, and financial research administration," Hawkins said at the community meeting.
Layman said that she believes being able to launch an entirely new administrative office has been one of the highlights of her career. Before the office was created, faculty were responsible for submitting their own grants — a stressful process on top of other tasks they must complete. "Then to hear from faculty about how supportive we've been able to be, and how much they can focus on their science and submit more and more proposals. I think that's been really gratifying to hear," she said. Even winning some of the smaller awards can be really exciting and fulfilling for her, especially when it's for a junior faculty member. "You're really cheering them on and it's very exciting to see them be successful," she said.
Layman said that she loves working with the faculty at the medical center, who she described as very collaborative and supportive. Moreover, she has been able to make big changes, design systems, and implement new processes at Georgetown — measures that have been embraced by the faculty. "Georgetown provides a culture that embraces improvements in efficiencies and new ideas," she said. That entrepreneurial spirit is part of what has helped her thrive.
In her role as a research administrator, Layman deals with complex and obtuse federal regulations, many of which change frequently. Having a dedicated support staff has helped her keep up with the complicated regulatory environment and communicate important information to faculty.
"Aside from personal experience, I have an amazing team. Sometimes we just bring everyone together to brainstorm and figure out the best way to interpret federal guidelines," Layman said.
Layman named several people who have contributed to her success, including two managers whom she oversees, Jessica Atlass Roscoe and Richard Cecil. She also thanked her boss, Doreen Robinson, for letting her "grow and do things and seeing where it takes us," and Robert Clarke, PhD, dean for research. In addition, she has always looked to Mary Glasscock, senior associate vice president for business affairs and administration, as a mentor.
The CARIS Award is a result of work-life survey recommendations that were released last April by a working group led by Hawkins. Moving forward, the CARIS Award will be bestowed annually after an administrative committee solicits and reviews nominations for staff and AAPs who best embody the meaning of the award.
Seren Snow
GUMC Communications