In Values Based Lecture, Griffith Discusses Ways to Achieve Health Equity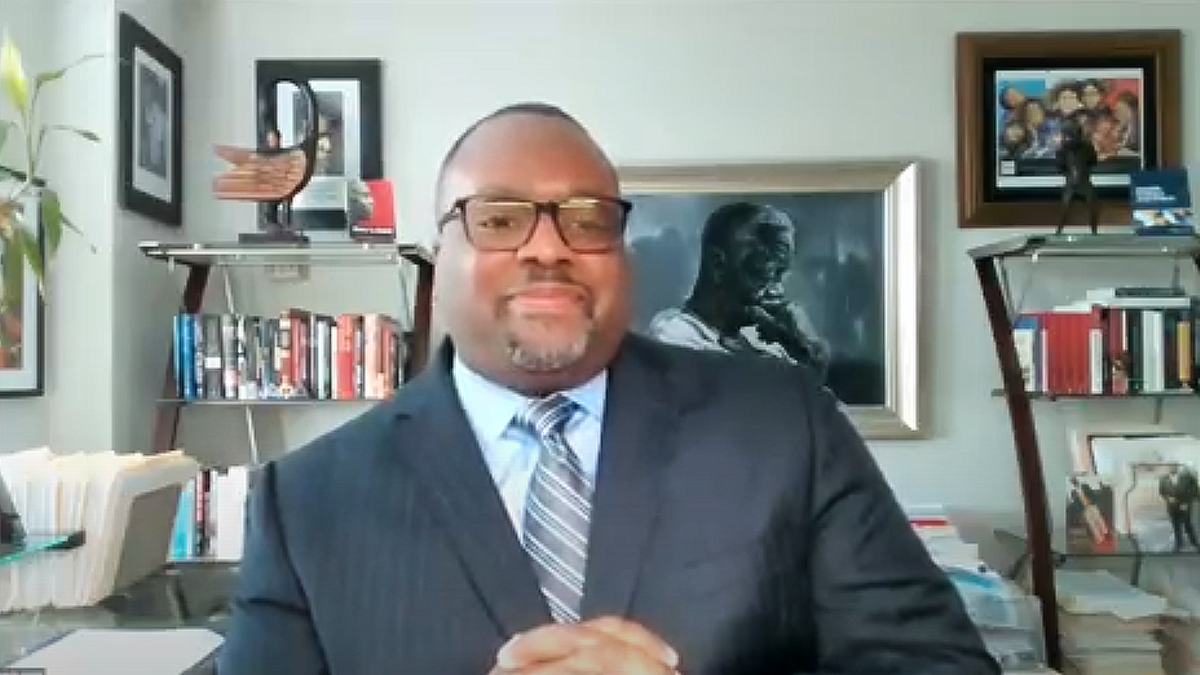 Posted in GUMC Stories | Tagged health equity, racial justice, racism, social justice, Values Based Lecture
(April 30, 2022) — While public health is guided by goals that are specific, measurable and time-bound, the goals of health equity have been difficult to pursue because they do not follow these principles, explained Derek Griffith, PhD, professor of health systems administration at the School of Nursing & Health Studies (NHS) and founding co-director of Georgetown's Racial Justice Institute.
"The fact that health equity — what it means and what that aspiration really looks like — remains ill-defined and unclear, and makes it even more difficult to achieve," Griffith said during the NHS Values Based Lecture, held over Zoom on April 21.
Griffith's lecture, titled "I'm A Little Lost … Is Health Equity on the Way to Social Justice or Are They The Same Place?", was the second Values Based Lecture of 2022, following a talk given by Rev. Michael Rozier, SJ, in February. Both lectures were hosted by the NHS Committee on Mission and Values.
"Part of the challenge that we face is we're on this journey that so many have decided is an important place for us to try to go, but we don't exactly know how we're going to get there or where we're trying to go," Griffith said.
An Outcomes-Based Approach
While some look at health equity in terms of fairness, or whether groups of people receive the same resources and opportunities, Griffith, who also is founder and director of the Center for Men's Health Equity, advocated for a focus on outcomes, recognizing that populations have different needs and life experiences.
"Justice in its most basic sense is giving people what they're due," he said, paraphrasing Rev. Dr. Martin Luther King Jr. "And sometimes that means treating people differently or giving them different resources."
Moreover, addressing health equity in terms of fairness alone erases the context that had prevented health equity in the first place. "For us to have the justice that we're talking about, particularly justice in terms of outcomes, then we have to bring the context to bear on the information that gives us a sense of what is fair and what is just," Griffith said.
Structural Racism and Health Equity
Dealing with the scars of structural racism is a critical part of pursuing health equity.
"What does it mean that we've been, for hundreds of years, basically disadvantaging a particular population, putting them on that lower step and distributing resources in such a way that we're not actually treating them fairly and equally, and therefore they're not having the same opportunities to be healthy?" Griffith asked. "We have to do something special for that population if we're really trying to achieve this idea of equity and justice."
"Thankfully, we did remove most of those legal structures and so forth," he added. "What we didn't do is actually figure out how we're going to mitigate or undo the advantages or disadvantages that came with that history of inequitably allocating resources."
The damage caused by structural racism will prevent health equity unless something affirmative is done to repair that damage. "Eliminating structural racism or figuring out how we're going to grapple with structural racism only stops people from being sick," he said. "It's not creating the conditions that are going to make people well."
'Do Something'
When asked what students should do to promote social justice and health equity, Griffith said, "Do something." Specifically, he encourages students to educate themselves and connect with those currently working in the field.
"Don't make the assumption that the things that you're trying to do have not been tried before, and that there aren't people who are already doing that kind of work," he said. "Doing one-offs or us doing things individually is not going to be as effective as us working together."
"This work is not going to be easy," Griffith added, again paraphrasing Martin Luther King, Jr. "We have to recognize that this is going to require sacrifice. This is going to require suffering and struggle. And we need dedicated people who are willing to commit to these kinds of things. But the first step to get us on this journey is really figuring out how we're going to envision this new future. And so hopefully this is starting that conversation today."
Kat Zambon
GUMC Communications