Hyundai Grant Goes to Dr. Shad to Help Distressed Families During Child's Cancer Treatment
Posted in GUMC Stories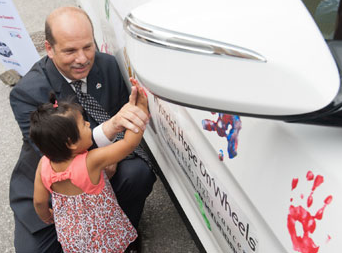 Hyundai Hope On Wheels presented MedStar Georgetown University Hospital / Georgetown Lombardi Comprehensive Cancer Center with a $75,000 Hyundai Clinical Award grant to help identify families in distress as their children receive treatment for cancer.  This grants aims to develop a clinical psychosocial distress screening initiative for the early recognition of psychosocial stressors that could interfere or impede medical treatment. 
 
"We are thrilled to have received funding from 'Hyundai Hope on Wheels' for our Psychosocial Distress Screening Program. The importance of early identification of distress and psychosocial stressors in the lives of young cancer patients and their families cannot be overemphasized.  These  stressors can escalate over time and potentially complicate medical care.  In keeping with the recommendations of the Institute of Medicine, this screening initiative will allow us to identify psychosocial problems early in children who are currently being treated for cancer as well as in our cancer survivors and their families," says Aziza T. Shad, MD, chief, division of pediatric hematology/oncology, blood and marrow transplantation, MedStar Georgetown University Hospital and professor of pediatrics at Georgetown University School of Medicine.
During the presentation, Jamie Banks, whose son was diagnosed with a brain tumor at age 13, expressed how cancer is not just about treating the illness, but about being supportive for the whole family.
"When your child has cancer it involves more than just treating the medical illness. It involves trying to keep your whole family and home together. You're trying to keep your life on track," said Banks. 
 
The opportunity of this grant anticipates an improved quality of life for the patient and the families involved. 
Children attending the presentation participated in a handprint ceremony where they painted one of their hands with blue, red or green paint and placed them on a white HOW Tucson.
Daniel Shank-Rowe also participated in the handprint ceremony and shared his experience with battling leukemia. He expressed the importance of making sure the whole family felt at home and appreciated the generosity of the medical team while he received care at MedStar Georgetown.
"I never felt alone when I came for treatment. Everyone was so kind. Georgetown was always my home away from home. Thank you Georgetown and thank you Hyundai," said Shank-Rowe. 
Hyundai Hope on Wheels has donated over $750,000 to MGUH and Georgetown University in order to help improve the lives of families and children battling cancer.
By Hunter Hardinge, MGUH
(Published July 02, 2013)