HSA Graduate Students Go Beyond Coursework
Posted in GUMC Stories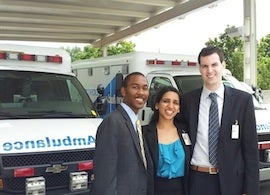 An extracurricular effort by six graduate students at the School of Nursing & Health Studies sought to develop an implementation plan for a new emergency department wait time data collection process in Canada's largest city.
The students, who are currently earning master's degrees in the Department of Health Systems Administration, collaborated with Toronto General and Toronto Western – two hospitals within University Health Network.
Team-Oriented Project
Led by Christopher O'Keefe (G'13), the three-month project – which took place outside of the students' regular coursework – was a result of his desire to give classmates the opportunity to apply concepts they had learned in class.
"I wanted to design a team-oriented project that would encompass policy, operations, quality improvement, human resources, and strategic planning– something that would apply most of our skills," said O'Keefe.
Poonam Bal (G'13), a fellow team member, viewed the experience as something that will impact her future work in health care.
"Not only did it test my abilities and build my confidence that I can produce quality work on a very tight deadline, I learned more about how health care systems outside of the United States work," said Bal. "That knowledge will allow me to bring new insights into any job I hold in the future."
Addressing the Problem
In Toronto, academic medical centers participate in the Emergency Room National Ambulatory Reporting System Initiative (ERNI), which requires hospitals to report wait time data in their emergency departments.
Emergency department physicians must record the time they request a consult physician, and consult physicians must record the time they arrive in the emergency room.
"A failure to comply may result in a reduction in government funding," said O'Keefe.
The graduate students specifically worked to provide recommendations on how best to implement a new process to increase the adherence rate of consult physicians recording their arrival time in the emergency department.
Preparatory Work
In preparation for the work in Toronto, the team completed literature reviews and other research here at Georgetown.
Once in Toronto, the team conducted informational interviews with 25 clinicians and administrators, observed emergency department behaviors, and gathered additional information needed to present to hospital leaders.
"Some of our recommendations included determining the best way to communicate the information to various staff members, figuring out how to manage pushback, and developing an evaluation plan," said O'Keefe. "After synthesizing the information collected, we were able to figure out what could be added to the solution to make it as effective and sustainable as possible. I think we exceeded their expectations."
"Refreshingly Unique"
Jason Ormsby, Ph.D., assistant professor of health systems administration, served as the faculty advisor for the project and was proud of the students' work.
"[The department] is very proud of the creativity and enthusiasm our students had when developing this project," said Ormsby. "It was the students' from the beginning, and it was the perfect opportunity for them to incorporate many of the skills taught in the classroom in a real-world setting. We sponsor many student-led performance improvement projects, but this one was refreshingly unique."
Team Members
On-Site Team: Christopher O'Keefe (G'13), Artair Rogers (G'13), and Poonam Bal (G'13)
Preparatory Work: Stephanie Davis (G'13), Cindy Manaoat (G'13), and Erin Boyle (G'13).
By Alicia Lee, NHS Communications
(Published November 07, 2012)