Hoyas Give Back to D.C. Community During Annual Summer Sports Camp
Posted in GUMC Stories | Tagged HoyaMed Summer Sports Camp, School of Medicine, service to others
(August 2, 2019) — Incoming medical student Rory Byrne (M'23) sat with 4-year-old camper, Gloria*, in the shade of the basketball court at Anacostia Park.
The pair has been inseparable during most of this year's HoyaMed Summer Sports Camp, an annual program run by first- and second-year students at Georgetown University School of Medicine (GUSOM) for homeless children in Washington, D.C.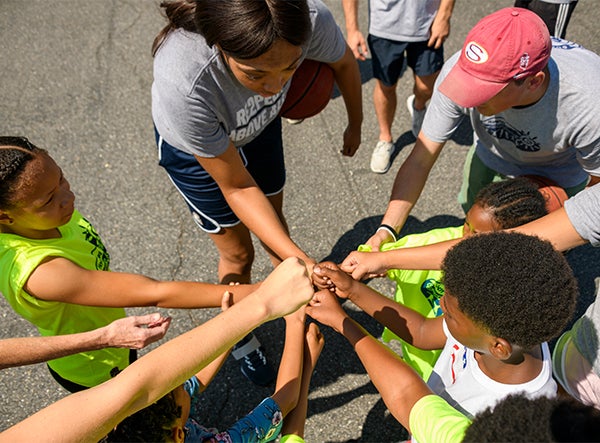 "I've always felt like sports are a really good way to connect with kids, and have them connect with each other," said Byrne. "These kids don't often have the chance to have a carefree day, to have people around to provide fun all day."
The camp, which ran from July 22 to 26, featured visitors from Georgetown University's football team, women's basketball team, a double Dutch group and dancers from the nonprofit hip-hop dance organization Culture Shock Washington D.C.
The campers also engaged in a wide variety of activities, such as basketball, soccer, jump rope, water balloon fights and roller skating.
"I think physical activity, especially sports, is such an important healthy habit to instill early in life," said Tejasvi Peesay (M'22), who co-led the camp with Christine Hill (M'22) and Robert Cragon (M'22).
"Engaging in sports can teach important lessons like perseverance, teamwork, good sportsmanship and discipline," she added. "We place a strong emphasis on these values."
Serving D.C. Kids Seven Years Strong
While the program has been ongoing for seven years, this is the first year that a child with special needs, James*, participated in the camp. While the counselors felt prepared, they hoped the campers would be kind to each other.
"It surprised us how welcoming and accepting the kids were of one another," said Hill.
For Cragon, seeing James thrive at the camp was a powerful experience. "He was out here on day one, happy, interacting with all the kids," he said. "We had a fire truck come one day and he loved it so much. Watching him interact with the firefighters, huge smile on his face, was one of my favorite moments."
While the students aim to create a fun environment for kids, fostering a sense of community and consistency is equally important. "We want these kids to know that their community loves them. We care about their health, well-being and happiness," said Peesay.
"Hopefully we can inspire them to dream big, grow up to be amazing people and know that GUSOM is always here for them," she added.
Connecting with Like-Minded Hoyas
The camp also gives incoming medical students the opportunity to meet each other prior to orientation week at the School of Medicine.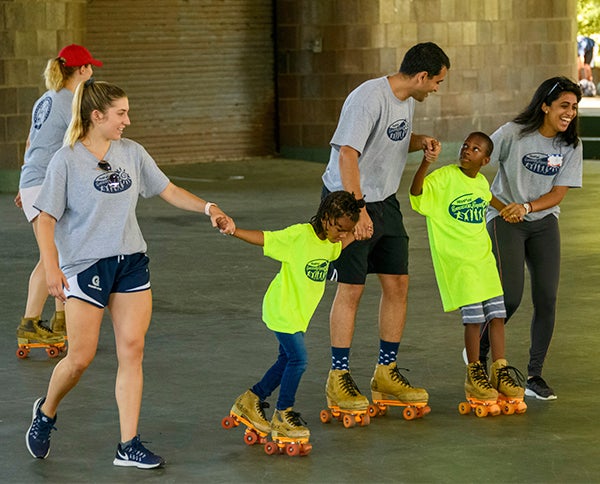 Joon Chung (M'23) was inspired to join the camp after his experience working with kids in the Special Olympics through the Division I swim team at West Point. While his aim was to serve, he has also found the experience valuable in getting to know future classmates.
"It can be pretty nerve-wracking to meet 200 people at once, but getting to know 20 or 30 at a time and having familiar faces at orientation is great," he said.
"We're about to start another journey that's going to be pretty stressful in a few weeks, but witnessing all the smiles, getting to know people and having fun hanging out with the kids helps ease that transition."
Peesay echoed this sentiment. "The incoming M1s that participate in sports camp have great relationships with each other," she said. "They get a head start, give back to the community and also build relationships with people they'll be with for the next four years.
"It's really special to be part of an event that brings people together that way," she added.
*The names of the campers have been changed to protect identities.
Giuliana Cortese
GUMC Communications
The HoyaMed Summer Sports Camp would like to thank their generous sponsors: Coca-Cola, Target, Trader Joe's, Einstein Bros. Bagels, Georgetown University School of Medicine's Office of Medical Student Research, Dahlgren Memorial Library and the HOYA Clinic.