HOYA Clinic Reopens to Serve DC Residents
Posted in GUMC Stories | Tagged community outreach, HOYA Clinic, School of Medicine, service to others
(November 12, 2021) — One of the most coveted real-world experiences for Georgetown medical students is the opportunity to serve others and learn clinical skills through the HOYA (Health Outreach for Youth and Adults) Clinic, the first student-run free clinic in Washington, DC. For more than a decade, the clinic has provided free, nonemergent medical services to District residents experiencing homelessness.
In the spring of 2020, the clinic paused its medical delivery operations because of the COVID-19 pandemic, and the doors remained closed throughout the summer due to the delta variant surge.
After many months of planning in the shadows of COVID, the HOYA Clinic doors will reopen in the next few weeks at The Triumph, a temporary housing facility in the southeast part of the District run by Community of Hope. The HOYA Clinic began operating there in 2019 following the closure of the DC General Family Shelter.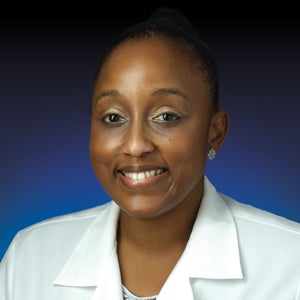 Second HOYA Location
Last month, Georgetown students began providing medical services at a second location, the Volunteer Medical Clinic (VMC) on Monroe Street in the northwest part of the District, making evening hours available to its clients once a week. The facility, run by Catholic Charities, serves primarily uninsured people living in Prince George's and Montgomery counties in Maryland, as well as the District.
"The students who volunteer with us are extremely passionate about working with the communities we serve," says Jay Gupta (M'24), HOYA Clinic community relations coordinator, who acknowledged the challenging hurdles created by the pandemic.
For their work at VMC, the HOYA Clinic is partnering with Latino Medical Student Association and CURA Medical Spanish Volunteer Corps, both at the School of Medicine, to provide Spanish and English translation support.
While the HOYA Clinic might be best known for the clinical services it provides — it has logged more than 6,000 clinic visits since its 2007 start — the student volunteers also provide flu vaccinations and education on a plethora of health topics, including HPV vaccination, NARCAN use for opioid overdose prevention, depression and anxiety, and chronic disease management including diabetes and heart disease.
Mission Driven
The HOYA Clinic is supported by MedStar Georgetown University Hospital physicians and nurses. Medical training is provided by Georgetown School of Medicine faculty and is staffed by volunteer physicians from the medical school and hospital faculty. It is led by medical directors Michelle Roett, MD, and Eileen Moore, MD, with additional support from student advisors such as Tobie-Lynn Smith, MD.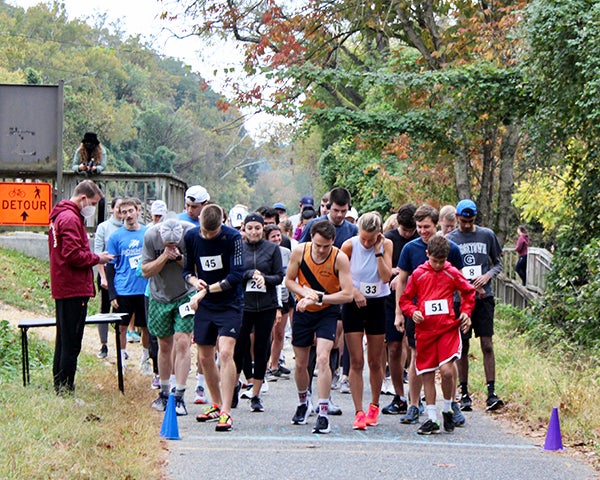 In addition, students conduct their own fundraising for HOYA Clinic through efforts like IronMed 5K, which raised about $1,600 this past October.
"The enduring mission of the HOYA Clinic, since we opened in 2007, has always been to serve the underserved residents of our city and community in a holistic manner; to animate cura personalis," Moore says. "We are delighted to open our second location, expanding our services and offering more opportunities for our student volunteers."
Equally important, the clinic also provides free smiles through fun activities for the children living at The Triumph. In October, HOYA Clinic volunteers hosted a Halloween party. Because of COVID, everyone donned masks.
"We've all faced tremendous challenges and loss over the past two years, so being able to come together and have fun is something I think we all need and deserve," explains Lizzie Torrez (M'24), Hoya Clinic education coordinator. "With COVID-19, we've all now lived through a holiday season that is marked by extreme difficulty and uncertainty, so I think we can all appreciate how necessary it is to provide a safe and fun space for families to come together, make memories, and alleviate some of the tension and stress that we're all experiencing."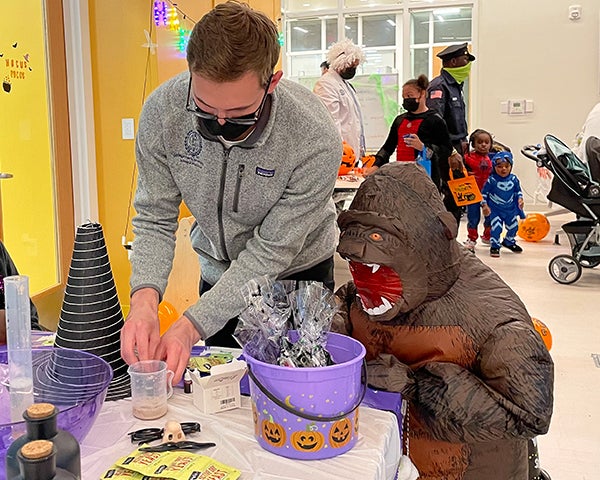 About 25 kids and their families attended the gathering at on October 29 to trick or treat, play festive games, and engage in fun, spooky themed activities.
Sports Camp Returns
While masked as superheroes, ghouls and goblins, many of the faces still looked familiar. Earlier in the month, volunteer students organized a day of safe fun through the HOYA Sports Camp for almost two dozen children living at The Triumph.
While moms looked on, the kids engaged in full-on competitive bumper ball, Jenga, hopscotch, basketball and, the crowd favorite, dodgeball.
"Sports can form communities in a unique way, as you have a group of people working towards a common goal," explains Tyler Gentile (M25), a HOYA Clinic volunteer. "This allowed us to not only form bonds with all the kids, but also have some friendly competition against others. Competing against each other also fostered respect among everyone, which even furthered the connections."
With an overwhelming response from medical students wanting to serve and learn, the HOYA Clinic was able to restart other in-person programs, such as its foot clinic — people who are homeless spend more time on their feet. Soon, they plan to resume an autism screening effort.
New this year, HOYA Clinic volunteers aim to stand up a medical services navigation program for the clinic's patient and for the large refugee community in the Northern Virginia and the DC area, a community that has grown in recent months as tens of thousands of evacuees from Afghanistan are being resettled.
"The refugee community is incredibly resilient, but faces many challenges when resettling in the U.S. due to cultural, language and economic barriers," explains Emily Phelps (M'24), scheduling coordinator for HOYA Clinic. "HOYA's Refugee Health Navigator Program aims to support refugees through this difficult transition by ensuring that they have access to the health care and services they need."