HOYA Clinic Campaign Aids DC's Temporary Housing Residents
Posted in GUMC Stories | Tagged community outreach, cura personalis, HOYA Clinic, School of Medicine, service to others
(May 8, 2020) — The risk posed by COVID-19 may have temporarily closed the physical doors of the Health Outreach for Youth and Adults (HOYA) Clinic, a free, medical student-managed clinic located in the Triumph temporary housing facility in Congress Heights in Southeast Washington, but it has not dampened the resolve of its student volunteers to care for DC's families experiencing homelessness.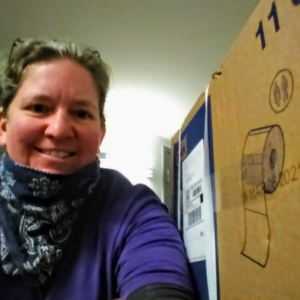 "The HOYA Clinic has always been more than just a medical clinic," said Stephanie Shin (M'23), the clinic's community relations coordinator. "We are ultimately a service and outreach organization for the DC community. Our goal is to improve the lives of DC residents in whatever way we can, and our student volunteers are uniquely passionate about this."
Unable to care for patients directly, HOYA Clinic volunteers queried the community organizations they work with for ways in which they could assist people virtually. "As we started to reach out to our community partners, it was immediately apparent that the best thing we could do was provide essential, material resources so residents can stay healthy, stay inside, and help stop the spread of the virus," explained Shin.
The student volunteers launched an online campaign to raise funds to provide several local temporary housing facilities with care packages of essential items such as toilet paper, laundry detergent, towels and fresh sheets. "The HOYA Clinic team and [SOM] student body wanted to be as proactive as possible to make sure they were equipped and encouraged during these stressful times," Shin said.
Throughout April, HOYA Clinic accepted donations to its GiveCampus campaign. As of the campaign's conclusion on April 30, more than $5,000 had been raised, 67% of which came from students. Thanks to the donations, the clinic was able to distribute over 1,000 boxes of menstrual products and sets of plates and utensils, 400 sets of toiletries, 200 rolls of toilet paper and 50 gallons of cleaning solution.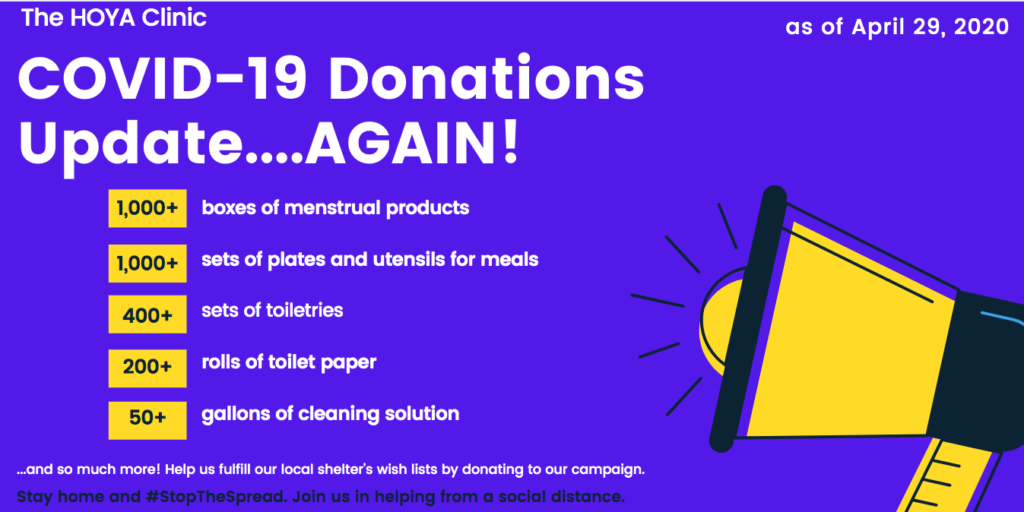 "We are very proud of our student volunteers for their determination in the face of extraordinary circumstances. They are reaching out to help others during what are stressful, difficult times for everyone," said Eileen Moore, MD, medical director of the HOYA Clinic and associate dean for community education and advocacy at the School of Medicine. "They exemplify the Georgetown spirit of being women and men for others."
Shin noted that the fundraising project had united medical students from all four classes, Georgetown staff and Georgetown alumni. "We have received countless emails from donors wanting to give more supplies, ideas about how to increase our donor base, and creative ideas for new projects."
Reflecting on the experience, she commented, "This overwhelming response displays the passion and excitement that you will uniquely find in Georgetown students. It makes me proud to be a Hoya."
Tyisha Henderson
GUMC Communications