Howard J. Federoff Named AAAS Fellow
Posted in GUMC Stories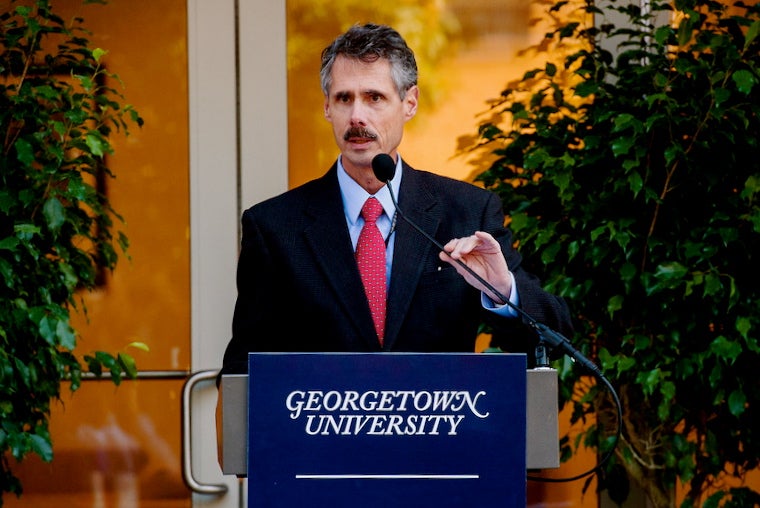 Howard J. Federoff, M.D., Ph.D., executive vice president of health sciences at Georgetown University Medical Center and executive dean of its School of Medicine, has been named a Fellow of the American Association for the Advancement of Science (AAAS). Election as a AAAS Fellow is an honor bestowed upon AAAS members by their peers.
This year 702 members have been awarded this honor by AAAS because of their scientifically or socially distinguished efforts to advance science or its applications. New Fellows will be presented with an official certificate and a gold and blue (representing science and engineering, respectively) rosette pin on Saturday, 16 February during the 2013 AAAS Annual Meeting in Boston, Mass.
Federoff was elected as an AAAS Fellow for his "pioneering research in gene therapy, and for founding and leading a consortium enabling two trials in Parkinson's disease; for contributions as administrator, and championing systems approaches for academic medicine," reads the citation. "It is an honor to be recognized by my peers especially when I work along side some of the brightest, most distinguished and equally deserving researchers in the country," said Federoff. "I'll carry the title of AAAS honor with great pride."
The tradition of AAAS Fellows began in 1874. Currently, members can be considered for the rank of Fellow if nominated by the steering groups of the Association's 24 sections, or by any three Fellows who are current AAAS members (so long as two of the three sponsors are not affiliated with the nominee's institution), or by the AAAS chief executive officer.
Each steering group then reviews the nominations of individuals within its respective section and a final list is forwarded to the AAAS Council, which votes on the aggregate list.
The Council is the policymaking body of the Association, chaired by the AAAS president, and consisting of the members of the board of directors, the retiring section chairs, delegates from each electorate and each regional division, and two delegates from the National Association of Academies of Science.
By Karen Mallet, GUMC Communications
(Published November 28, 2012)