How a Comprehensive Cancer Center Makes a Difference in Patient Care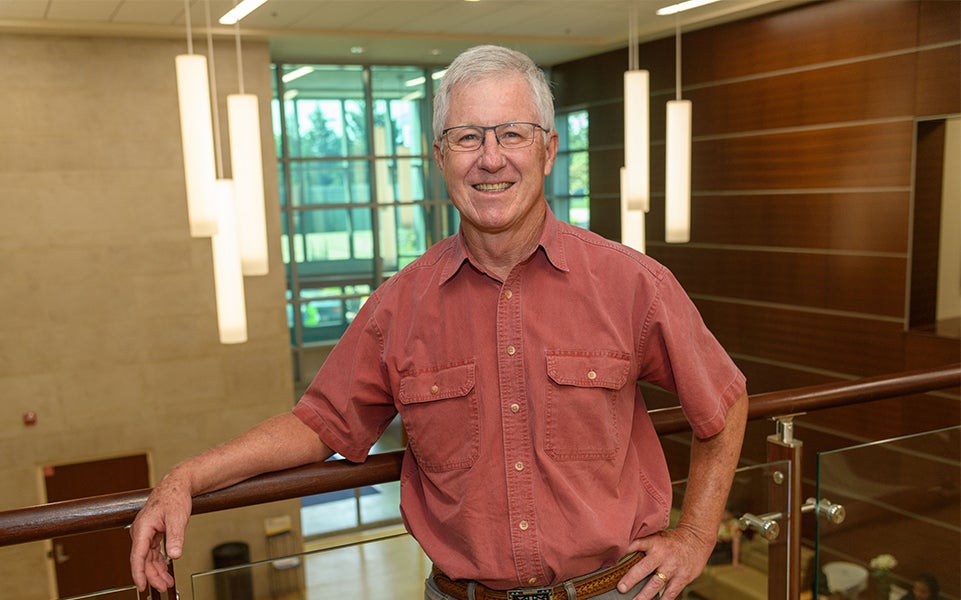 Posted in GUMC Stories | Tagged cancer, cancer research, Georgetown Lombardi, leukemia
(April 26, 2019) — After being diagnosed with chronic lymphocytic leukemia (CLL) in 2009, Geoff Grubbs' search for an expert led him to medical oncologist Bruce Cheson, MD, head of hematology and director of hematology research at Georgetown Lombardi. That connection became indispensable years later when Grubbs developed an extremely rare complication from the disease.

Now in remission, Grubbs' experience illustrates the value of seeking treatment at a research-focused comprehensive cancer center like Georgetown Lombardi. "The fact that he was in a center where we specialize in CLL and lymphoma, that's why we knew that this treatment had the potential to reverse a potentially disastrous complication," Cheson said.

Grubbs expressed gratitude for the care he received from Cheson at Georgetown. "For many of us with cancer, this is a lifetime proposition," he said. "Cancer has a nasty habit of coming back. And as things become more stable, your visits become less frequent but you still need to have someone watching out for you. With Georgetown Lombardi broadly and Dr. Cheson specifically, it's just a source of great satisfaction and comfort. I trust him completely."

Getting 'The Phone Call Nobody Wants'

With 16,000 to 20,000 new diagnoses annually, CLL is the most common leukemia in the U.S. Grubbs received his diagnosis following a routine physical. "I felt great, felt fine, then got the phone call nobody wants from my primary care provider saying, there's something not right with your blood and I need you to go see a hematologist/oncologist," he said.

Following a disappointing experience with a local hematologist, Grubbs was referred to Cheson, who explained that there's no cure for the disease but treatments to extend life are increasingly available. Their first appointment left Grubbs feeling optimistic.

"He explained at the beginning that the research and scientific understanding was progressing very fast, faster than he thought that my disease would," Grubbs said. "So I walked out with lots of hope. I respected his knowledge and understood all of his explanations."

For five years, Grubbs' CLL needed no treatment. He became involved with the Lymphoma Research Foundation as an ambassador and joined the organizing committee for the Lymphoma Research Ride, which was founded and organized by Cheson. But in 2014, Grubbs' health started to deteriorate and he entered a clinical trial.

"I could not tolerate that new drug," he said. "But Dr. Cheson and his staff were extremely helpful through the process. And for me personally, it was worth it. They were able to collect a lot of useful data from me, which was by itself satisfying. I was glad to be a part of it."

Conventional treatment and chemotherapy led to a partial remission for Grubbs, but a year and a half later, he began to develop a seemingly unrelated symptom — vision loss.

Treating a Rare Complication

Over several weeks, Grubbs' vision in one eye grew increasingly foggy. "I could see nothing out of the eye except a white fog," he said. "And the other eye was beginning to follow."

"I never connected this to blood cancer because it was a vision problem," Grubbs added. "I thought CLL never happens in the eyes. Dr. Cheson knew better than to say it never happens."

A lumbar puncture confirmed the presence of CLL in Grubbs' spinal fluid and the lining of his brain. The CLL was causing his vision loss and additional neurologic symptoms including frequent and debilitating seizures. "It's very unusual," Cheson said. "It's almost unheard of. It does occasionally involve the spinal fluid but I've never seen a case that's this symptomatic before."

To come up with a treatment plan, Cheson used his prominence in the field to call on researchers at other cancer centers. "He had two or three of the top experts in the world work together with him on this," Grubbs said. "That is the sort of care and the extra level of power, frankly, that comes from care at Lombardi and the connections between the medical knowledge base there at the comprehensive center and the larger world community of experts."

The treatment plan included two rounds of high-dose chemotherapy into Grubbs' spine followed by a high-dose oral immunotherapy agent that crosses the blood-brain barrier. The plan worked. "It's been maintained for over a year now," Cheson said. "This is a guy who was going blind, was barely ambulatory."

"I feel good," Grubbs said. "There's eye damage, but I think the disease is going to be manageable from here on out, thanks in very large part to Dr. Cheson."

Research Advancing Rapidly

When Grubbs' grandfather developed CLL in the 1960s, there were few treatment options available, and the disease took his life. Decades later, research on CLL is moving rapidly, giving patients hope. For example, the immunotherapy agent that helped reverse Grubbs' vision loss, ibrutinib, was approved by the FDA in 2014.

"The world has changed in the last five years for CLL with ibrutinib and other drugs," Cheson said. "We've had a number of drugs approved over the last few years which have totally revolutionized our management and patient outcomes. The treatments can get excellent responses that can last for years and by the time treatment is indicated again, there will be newer and better therapies."

"The outlook for patients is much better than it ever has been and most of my patients will never see chemotherapy in their lives, even if they need multiple lines of treatment," Cheson added. "It's a chemo-free world for CLL, which is a major advance."

"It's very cool how quickly things are developing," Grubbs said. "I'm really excited."

Kat Zambon
GUMC Communications