GUMC Holiday Outreach
Posted in GUMC Stories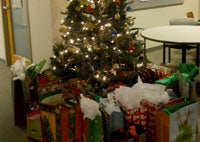 During the holidays, GUMC community was busy helping those in need throughout the Washington DC area. From Georgetown University's Sponsor a Family Program to the Share the Warmth drive, generosity, good cheer, and caring for others were manifested.
Jean Farley, M.S.N., R.N., an instructor of nursing at the School of Nursing & Health Studies, describes one of the activities that lights up St. Mary's Hall:
"Each year, the Georgetown Chapter of the National Student Nurses Association (NSNA) partners with the Georgetown University Hospital Pediatric Mobile Van to collect gifts from NHS faculty, students and staff to families in disadvantaged communities in the city. We put up a tree on the 2nd floor lobby of St. Mary's [Hall] and decorate it with angel tags that are inscribed with the gender and age group of a child. NHS folks are asked to take a tag (or more) to purchase a new toy or clothing that would be appropriate for a child of the specific gender and age on the tag and place it under the tree. At the end of the two-week toy drive, the mobile van picks up the gifts. Then the gifts are distributed to families at the various stops throughout the D.C. area, where the van travels throughout the year to provide pediatric health care."
Barbara Klett R.N., B.S.N., who is in charge of nurse retention and recruitment at Georgetown University Hospital, explains the annual Share the Warmth program:
"The Magnet Champions and Nurse Recruitment and Retention collect gently worn coats for the Share the Warmth program. Many adults and children in our area struggle during the winter months because they are unable to afford proper attire for the [cold] weather. With so many people struggling financially because of the recession, [the]coat donations will matter this winter more than ever. Bergmann's Cleaning cleans the coats and delivers them to the Salvation Army. In the coming weeks, these donated coats will be distributed to people in need at no cost."
On Wednesday, December 7, KEYS for the Homeless Foundation donated 250 children's toys in order to help Georgetown medical students spread Christmas cheer to underserved youth of Washington, D.C. KEYS' generous donation of action figures, remote control cars, storybooks, magical wands, and much more were delivered to families cared for by the Kids Mobile Medical Clinic on December 15th.
Of course, as he does every year, Santa Claus arrived for his annual visit to children at Georgetown Lombardi Comprehensive Cancer Center and Georgetown University Hospital. Santa, was escorted by the Fairfax County Police Motorcycle Squad, and distributed gifts to pediatric patients and posed for photos with each of them.
(Published January 03, 2012)