High School GEP Scholars Devote Summer to Exploring Health Disparities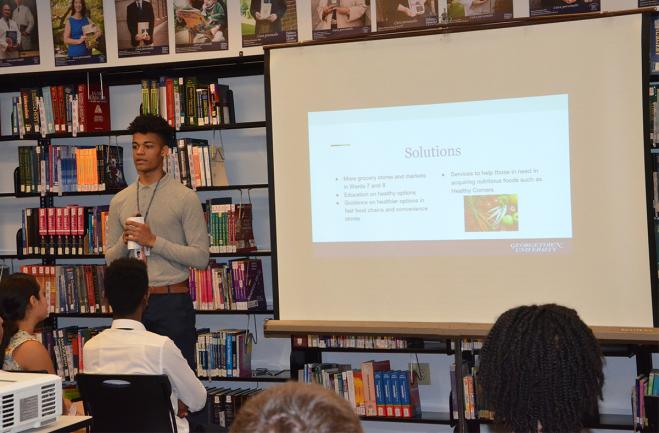 Posted in GUMC Stories | Tagged Gateway Exploration Program, School of Medicine
(August 9, 2018) — Delivering a presentation on a consequential topic in a packed room with medical school administrators watching closely and asking questions might bring out fear and anxiety in anyone, especially someone in high school.
However, Gateway Exploration Program (GEP) scholars delivered their capstone health disparities presentations in the final week of the program with a sense of conviction unmatched by their introductory remarks at an Ice Cream Social earlier in the summer.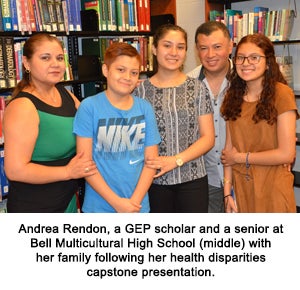 Andrea Rendon, a rising senior at Bell Multicultural High School, epitomized this growth during her impassioned presentation on infant mortality rates and support for low-income African-American and Latinx women. "She presented her presentation calmly, wasn't as nervous as usual, and did it as if no one was in the room," her father said. Rendon is interested in becoming a licensed professional nurse (LPN) and wants to specifically help people whose first language is not English. Next year, she will become the first person in her family to attend college.
"We feel proud of her because she's going after her dreams and we're so thankful to the program for allowing her to have more exposure to the medical field," her father added.
Under the leadership of Susan Cheng, EdLD, MPP, senior associate dean for diversity and inclusion at Georgetown University School of Medicine, the Gateway Exploration Program was founded three years ago with five high school students from District of Columbia Public Schools. Since then, Cheng and her colleagues in the Office of Diversity & Inclusion have refined the program's blend of experiences consisting of medical office administrative and clerical tasks, professional development workshops, lunch and learn sessions, physician shadowing, and health disparities research.
Because of their efforts, the program has grown to 12 students as of this year. While becoming doctors and other health professionals is the ultimate goal for GEP scholars, they also want to have a positive impact in their communities. That dedication to the community contributed to the topics the students chose to research over the summer, including coronary artery disease, lung cancer, and asthma.
Discussing Problems In Their Own Backyard
The hurdles and seemingly insurmountable public health challenges facing many communities in Washington, D.C., and the stark reality that merely stepping foot into a different ward can mean entering a different world was all made clear by the scholars, who themselves have either lived in or around the very communities on which they were presenting.
For Melat Tedla, a rising sophomore at Calvin Coolidge Senior High School, it was not so long ago that her community stretched well beyond the bounds of the local metropolitan area, having emigrated from Ethiopia only nine months before becoming a GEP scholar. The room fell quiet during her sobering presentation about HIV infection and treatment within the African-American community. Tedla said she was inspired to explore the topic because of the widespread epidemic of HIV infection in her home country.
A Dedicated Support System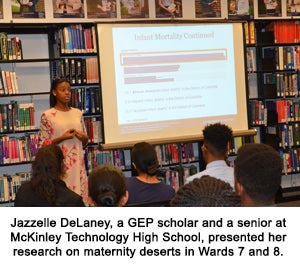 The intellectual, social and personal transformation that takes place among GEP scholars during the summer is the product of the mentorship they receive from Georgetown medical students and faculty members, as well as the effort and vision of a dedicated staff at the Office of Diversity & Inclusion, which includes a group of undergraduate students known as Innovation Associates who in addition to a variety of programmatic tasks, serve as coaches to GEP scholars.
"Nothing can compare to my time as a coach for the GEP scholars. They were inspiring and taught me how to be a better teacher, motivator, and leader," said Astrid Meenan, an innovation associate and senior at Virginia Tech. "I am excited to see what they accomplish in the upcoming years."
GEP scholars praise the program's commitment to their success. "Sometimes you go into programs and they don't really have the time or may not want to be around us. But here we have a lot of physicians, coaches, mentors, and just people who are really willing for us to come to them and ask them questions," said Jazzelle DeLaney, a senior at McKinley Technology High School who aspires to be a surgeon but is open to other health careers as well.
DeLaney's research focused on the lack of maternity care in Wards 7 and 8, a part of the District known for higher rates of poverty and crime. Focusing on the problem of maternity deserts, DeLaney framed the problem, analyzed the relevant data and drew upon opinions from experts at Georgetown to develop her own evidence-based solutions.
Addressing the Social Determinants of Health
Ronald Bailey, a senior at Bell Multicultural High School, studied the effect of food deserts on Type 2 diabetes in Wards 7 and 8 as a GEP scholar this summer. Reflecting Georgetown's ethos around being a reflective learner committed to justice and common good, Bailey described how much perspective he has gained since becoming a GEP scholar.
"When you see a lot of things talking about obesity or diabetes and asking people to stop eating — there's so much more to it like food deserts which limit access to nutrition," he said. "It's a much more larger-scale and systemic problem rather than people just not making good choices."
Seren Snow
GUMC Communications