Helping Future Caretakers Take Care of Themselves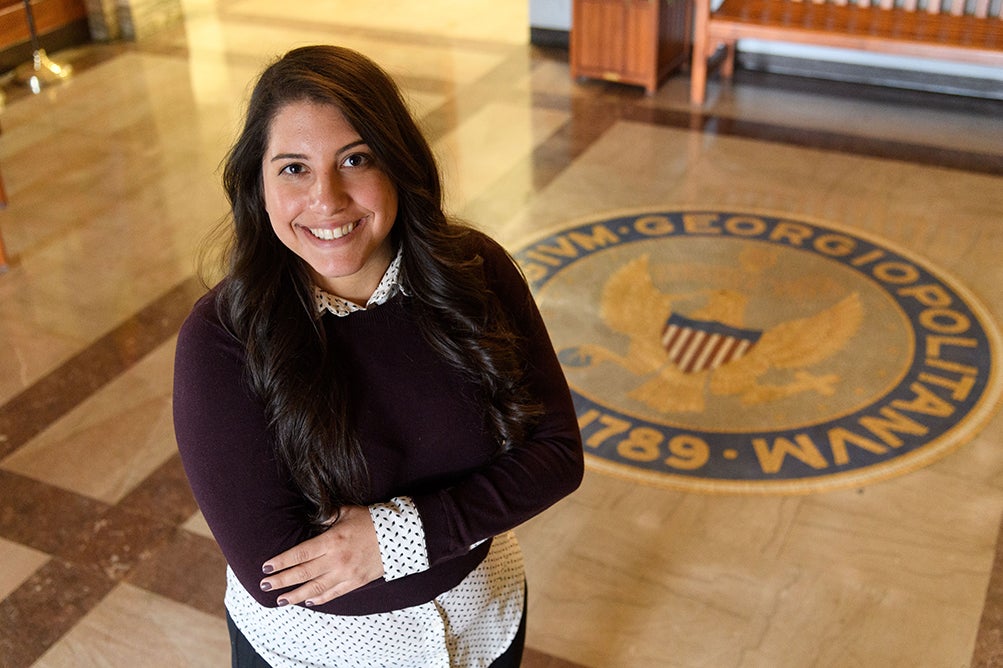 Posted in GUMC Stories | Tagged mental health, School of Medicine, student wellness, wellness
(March 15, 2019) — When Simoné Jalon [SIM-oh-nay JAH-lahn], PsyD, discovered that Georgetown University was seeking a psychologist to work at the School of Medicine, she eagerly applied for the position. Motivated to work with medical students, Jalon started her position as the primary psychologist for Georgetown University School of Medicine on March 1.
Hired as a member of Georgetown University Counseling and Psychiatric Services (CAPS), which serves as the university's primary mental health agency for its students and campus community, Jalon will work exclusively with medical students, serving as the School of Medicine's first in-house psychologist.
"It's important to ensure that we're hearing our students," said Stephen Ray Mitchell, MD, MBA, dean for medical education. "One change we've implemented based on student feedback has been to hire someone as a resource for them. We're thrilled to have recruited a dedicated person and psychologist, Simoné Jalon, to be present for our medical students."
Specializing in anxiety and panic, stress management, emotion dysregulation and sleep disorders, Jalon feels that her experience aligns with the needs of students in a high-stress environment such as medical school.
"I was attracted to this position because I see a need for it," she said. "There doesn't seem to be a huge focus on self-care and well-being in this field in general, and I can see how a lot of the work that I've done can dovetail nicely to help medical students."
Falling in Love with Psychology
Originally from Ecuador, Jalon moved to a suburb outside of Philadelphia as a child. In college, she attended Drexel University, where she started out as a chemical engineering major. However, after "falling in love" with a general psychology class in her second semester, Jalon switched majors and ultimately earned her B.S. in psychology.
Since then, Jalon has earned both her master's and doctorate degrees in psychology from LaSalle University. She has also worked with clients of different age ranges, presenting concerns, and backgrounds in settings including a hospital-based partial hospitalization program, trauma-focused center and a college counseling center.
"My advanced practicum was working at the University of Delaware, and it was an awesome experience," she said. "I loved working with students, an age population that typically deals with a lot of adjustment anxiety."
Along with high levels of anxiety, Jalon found that students in college and graduate school tend to have issues with sleep, another area of expertise she brings to Georgetown.
"Typically, you hear about sleep hygiene, but it's more intensive than that. When I helped clients with sleep issues, I would screen for any medical sleep concerns first, like apnea or narcolepsy," she said. "From there, I would either refer to psychiatry or I would work directly with clients, treating their symptoms behaviorally and helping them gain control of sleep patterns and habits."
An Individualized Therapeutic Approach
Jalon was trained in the practice of cognitive behavioral therapy (CBT), a form of therapy that focuses on patterns of thinking or behavior, as well as several third-wave approaches, such as dialectical behavior therapy (DBT) and acceptance and commitment therapy (ACT), which she often uses with clients.
"ACT doesn't force us to change our thoughts, because we can often end up in a war with them. This form of therapy helps us learn how to accept and defuse from our unhelpful thoughts," she said. "It also forces us to question our values. What are the things that are important to us? How do we start making decisions and choices based on these values?"
Jalon also uses these third-wave approaches to help clients with distress tolerance, helping an individual determine how to survive when experiencing a crisis situation and understanding which tools can best help them cope.
Depending on the individual's needs, she often combines these therapies while incorporating other wellness techniques, such as mindfulness. "For me, it's really important to see the person that's sitting in front of me," Jalon said. "How can I borrow from these different practices and trainings to come up with the best approach for this specific person?"
Destigmatizing Psychotherapy for Medical Students
Jalon hopes to provide a safe space for students along with "psycho-education," an understanding of what it means to take care of yourself and your mental health.
"I've worked with people in the health care field and, in these roles, they're often the helper," she said. "It's easy to focus on everyone else. But how can you be effective in taking care of your patients if you're not taking care of yourself?"
Jalon is currently meeting with medical students for 45- to 50-minute sessions both during the day and twice a week in the evenings to accommodate third- and fourth-year students on clinical rotations.
"My hope is to normalize therapy for medical students; to create a place for them that they don't think twice about visiting," she said "If they're struggling, I want them to come in. I'm here to help."
She added, "I'm a firm believer that everyone can benefit from psychotherapy."
To make an appointment, medical students can email Jalon at sj787@georgetown.edu.
Giuliana Cortese
GUMC Communications