Helping First-Year Medical Students Get Cooking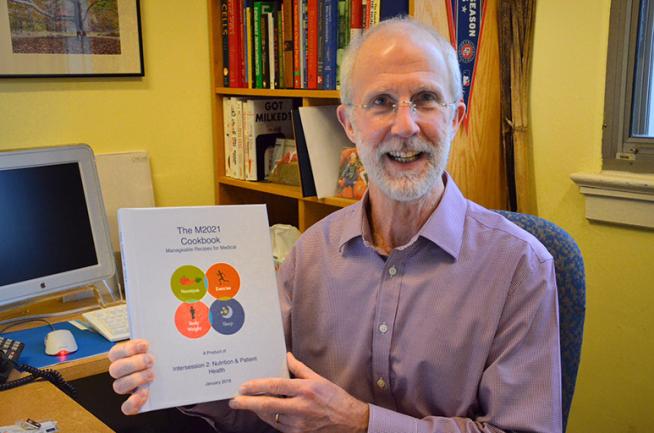 Posted in GUMC Stories | Tagged nutrition and health, School of Medicine
(February 16, 2018) — As a part of an intensive weeklong class on nutrition and patient health, Thomas Sherman, PhD, professor of pharmacology and physiology, suggested that members of the School of Medicine Class of 2021 submit recipes for a cookbook. The result features more than 200 recipes reflecting the students' diverse backgrounds, experiences and tastes.
"The M2021 Cookbook: Manageable Recipes for Medical Students (new window)" covers classic recipes like guacamole, meatballs and sauce, chicken soup, and snickerdoodles, as well as some dishes that are not as familiar including "Get Your Health On Zucchini and Quinoa," "Give Peace a Chance Walnut Granola," "How to Win the Ladies Chicken Marsala" and "You're the Zest Scallops and Risotto."
Several students reached out to family members to get traditional recipes from their cultures, Sherman said. "I think many of the students who have an ethnic background were eager to share recipes," he added. Recipes from Nigeria, Russia, Armenia, Mexico, Korea, Turkey, Greece, China, Cambodia, east Africa, south India, Nepal, Peru and Portugal are all included in the cookbook.
Some of the students shared stories about their recipes, like how GOAT Blueberry Oat Greek Yogurt Muffins gave one student the energy to work 12-hour shifts at the hospital while studying for the MCAT and training for a half marathon. Another student wrote that the "Trick Anyone Into Eating Healthy" Chocolate Protein Shake helped her return to her pre-pregnancy weight.
"I think about half of the students do a little bit of cooking. They'll do breakfast and stuff like that. But not very many of them bring their own lunch and not very many of them prepare for the week by cooking over the weekend," Sherman said. "One of the concluding things we made towards the end of this course was the best way to seize control of your health and stop worrying about high fat, high salt, was to learn how to cook."
Addressing Implicit Biases and Upstream Determinants of Health
In addition to creating the cookbook in the new class, held between the end of winter break and the start of the spring semester, students also learned about how implicit biases may affect their relationships with patients who are overweight or patients who smoke. "It was really nice because they embraced the assignment," Sherman said. "They wrote really meaningful essays but they also recognized the societal role in the obesity epidemic and the societal role of marketing."
Yumi Jarris, MD, professor of family medicine and assistant dean for population health and prevention at the School of Medicine, led students in a team-based learning exercise. Using the problem-solving methodology, students split up into groups and discussed ways to address the issue of childhood obesity in D.C., then created posters that they took turns judging for content and presentation.
"Diet and physical activity are what we consider downstream determinants, but students also look at the upstream determinants, which include the availability of affordable healthy foods in the community, lack of transportation, opportunities for recreation and physical activity, or food insecurity on a limited income," Jarris said. Students also had energetic discussions about ways to incentivize healthy eating such as taxes on sugary beverages and whether people should be able to use food stamps to purchase junk food.
"Dr. Sherman did an excellent job with this intersession," Jarris said. "Students learned really practical information that they need to know as physicians because so much of disease is diet-related and preventable."
"If you think about all of the chronic diseases that are plaguing us right now, everything from diabetes to hypertension to many cancers, almost all of these have a significant nutritional component and by making good choices, by eating well, we would essentially obviate a significant portion of these conditions," Sherman said.
Kat Zambon
GUMC Communications