Help the Kids on St. Baldrick's Day
Posted in GUMC Stories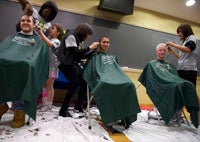 On Friday afternoon, March 9 from 3:00 to 6:00 p.m. in Sellinger Lounge at the Leavey Center, Georgetown medical students, staff, faculty, family and friends will join forces with the St. Baldrick's Foundation, a non-profit organization dedicated to raising money for childhood cancer research, to encourage individuals to "brave a shave" and go bald to conquer pediatric cancer.
This is the third year Georgetown is participating in the St. Baldrick's Day Event. Once again, our volunteer "shavees" will go bald to stand in solidarity with children who typically lose their hair during cancer treatments.
The St. Baldrick's Day event contributes to a critical pool of funding that drives new investigational research targeted against pediatric cancers that affect thousands of children and their families in the Washington, D.C. area.
To date, Georgetown students have raised $60,000 and shaved over 80 heads on behalf of pediatric cancer. The program includes student bands, face painting and arts and crafts for kids, followed by a silent auction. The auction will feature gift certificates to local restaurants and bars, personal training sessions with 1st Lieutenant Ben Krainin, a second-year medical student, dinners with the deans, Georgetown sports tickets, and autographed memorabilia. Popular food trucks will be there to feed the hungry participants, with a portion of the proceeds going to the cause.
In the U.S., more children die of childhood cancer than any other disease. If you would like to make a donation to help us support childhood cancer research, please visit https://www.stbaldricks.org/donate.
For people willing to donate more than their hair, Matt Glading (M'2) is coordinating a bone-marrow drive at the event. "In conjunction with St Baldrick's. we started the group, Med Students for Marrow, this year," said Glading. "This is the first of hopefully an annual Bone Marrow Drive." The drive consists of a painless cheek swab, and students will register individuals to the national Be the Match® Registry. The registry is part of the National Marrow Donor Program®, a nonprofit foundation and global leader in providing bone marrow and umbilical cord blood transplants to patients in need.
Fundraising is also an important aspect of the student bone-marrow drive, since it costs the registry about $100 to add someone to the list. Says Glading, "We have raised $1,600 so far." To make a monetary donation to the bone marrow drive, please click here.
By Frank Reider, GUMC Communications
(Published February 27, 2012)