Health Justice Scholars Take Advocacy Efforts to Capitol Hill
Posted in GUMC Stories
March 26, 2017 – As part of Health Justice Week 2017, 35 Health Justice Scholars from Georgetown University School of Medicine went to Capitol Hill March 21 to advocate for a wide range of legislative proposals including bills to fight chronic homelessness, increase HIV/AIDS testing and improve access to maternity care.
"GUMC celebrates our students, faculty and staff who actively pursue equity and justice in health care, not only during this designated week but year-round in the classroom, in the clinic, in public advocacy and in other forums of civic engagement," said Edward B. Healton, MD, MPH, executive vice president for health sciences and executive dean of the School of Medicine.  
In addition to the Advocacy Day on Capitol Hill, Health Justice Week included a plenary session featuring a lecture by Jim Withers, MD, the founder and medical director of Operation Safety Net, a panel discussion on the health needs of vulnerable populations and advocacy project presentations.  
For the first time this year, the medical students partnered with their counterparts from Georgetown University Law Center to prepare for their visits to Capitol Hill. Faculty members from the law center also offered the medical students background information on the legislative process and tips for effective advocacy.
The collaboration between the medical and law centers is part of the new Georgetown University Health Justice Alliance. In November, faculty from Georgetown University Medical Center and Georgetown University Law Center signed an agreement to create the Health Justice Alliance, which will facilitate future collaboration between students from both institutions.
Promoting a Proposal to Fight Chronic Homelessness
Hannah Lehrenbaum (M'19) and Elaine Li (M'19) went to Capitol Hill with Brooke Pinto, a third-year law student at Georgetown, to express their support for H.R. 161, which would use grants to fund programs that target the causes of chronic homelessness, including mental health services, substance abuse treatment programs and health education.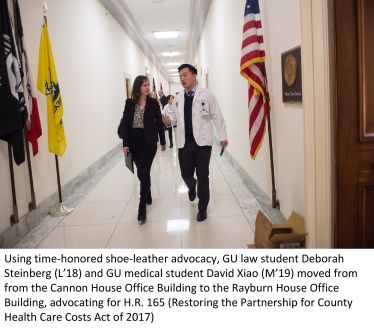 To prepare for their visit, Lehrenbaum, Li and Pinto read the legislation and discussed the key takeaways. After scheduling a meeting with staff members from the office of Rep. Joe Kennedy III (D-Mass.), the students focused on how the legislation would affect his constituents. As the group developed talking points and identified relevant personal experiences that they could share, Pinto encouraged them to zero in on anecdotes that were likely to resonate with staff members in Kennedy's office. The medical students also thought through ways the bill would affect their future patients and how their perspectives from a medical standpoint could inform the debate.
Lehrenbaum, Li and Pinto were all pleased with their experiences.
"We were all really excited to be able to go physically to Capitol Hill to advocate for a vulnerable population that we had all had some profound interactions with," Li said. "It was an eye-opening experience that went by faster that we'd thought. Everyone from the representative's office was really nice, and we felt like we were listened to."
"I would definitely encourage other students to participate in the Hill visits in the future– it allowed me to gain a new perspective on how policy is formed, and how these policies will shape the landscape of health care in real, appreciable ways for our patients in the future," Lehrenbaum said.
"The medical students were very prepared and were able to successfully share why they thought the bill was important with clarity and from a medical perspective," Pinto said. "I think the experience was very valuable, and I would absolutely encourage future law and medical students to participate in the future."
Advocating for HIV/AIDS Screenings
Nigel Gwini (M'19), Justine Achille (M'19) and Ryan Lion (M'19) went to Capitol Hill to share their support for H.R. 164 which is intended to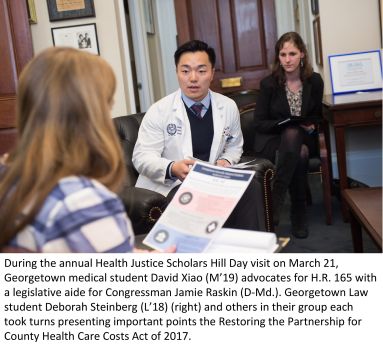 increase access to screening for HIV/AIDS and sexually transmitted infections. While the group scheduled a meeting with staff members from the office of Rep. Anna Eshoo (D-Calif.), who represents Lion's home district and serves on the House Energy and Commerce Committee's Subcommittee on Health, they met and spoke with Eshoo herself as she visited her office during their meeting. They also met with staff members from the offices of Rep. Linda Sanchez (D-Calif.), a member of the House HIV/AIDS Caucus.
"One of the things so many people don't realize is how easy it is to schedule meetings and access time in our representatives' offices," Lion said.
Gwini was surprised to see other citizens promoting their causes on Capitol Hill. "I always had the outsider assumption that no work gets done in Washington and nobody really goes to see their representatives, but there were more people than expected walking up and down the government buildings to talk to their representatives," he said.
Supporting Access to Maternity Care and Military Justice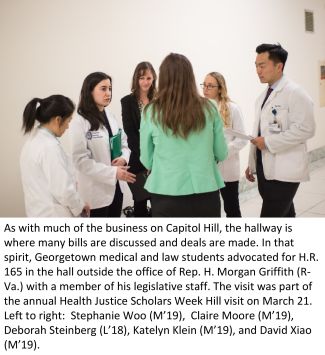 In addition to her work as a Health Justice Scholar, Ashley Jaeger (M'17) recently took an elective course in health policy. On Capitol Hill, she advocated for S. 628, which would help increase access to maternity care. Jaeger also expressed her support for S. 2992, which would create a fair and impartial system for prosecuting sexual assault in the military, an issue she is passionate about as a second lieutenant in the Air Force.
"My experiences in the health policy course and Health Justice Scholars program helped prepare and inspire me for future advocacy work," Jaeger said. "As a future ob-gyn provider in Texas, I imagine that I will have a lot of advocacy work to do and I am glad I now have the tools to do so."
"I strongly encourage students to get involved in advocacy," Jaeger continued. "It's yet another way we can better take care of our patients and do good." 
Kat Zambon
GUMC Communications