Hoyas on the Hill: Health Justice Scholars Advocate for Change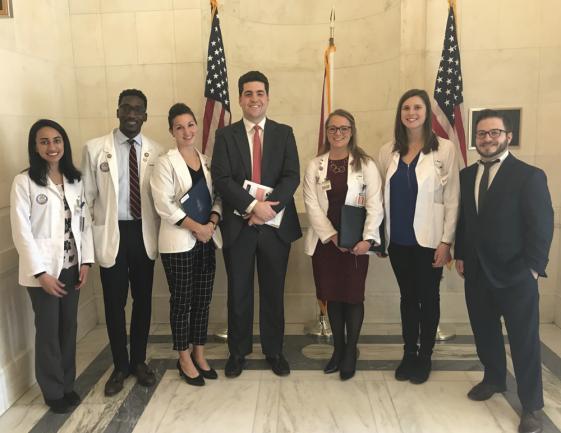 Posted in GUMC Stories | Tagged advocacy, health justice, medical education, medical-legal partnership, School of Medicine
(March 29, 2018) — The view of the Capitol building felt even more significant as a car full of medical students pulled up to the Russell Senate Office Building on March 22, 2018.
Forty-five Health Justice Scholars from the Georgetown University School of Medicine were joined by students from Georgetown University Law Center on Capitol Hill for Health Justice Week 2018 to advocate for legislation to end long-term homelessness, provide maternity care for women, support veteran health through telemedicine, and develop school-based health centers.
As part of the Health Justice Scholar track, second-year medical students work with law students on a pending House or Senate bill. While the medical students are responsible for research, preparing talking points and creating materials, the law student serves as a legal mentor, summarizing the bills and providing information on the legislative process.
"It's so important to have a law student there… to have that support structure," said Oswald Reid Jr. (M'20).
A Partnership Built to Empower
Working with law students has also helped Reid understand the broad scope of resources available to his patients.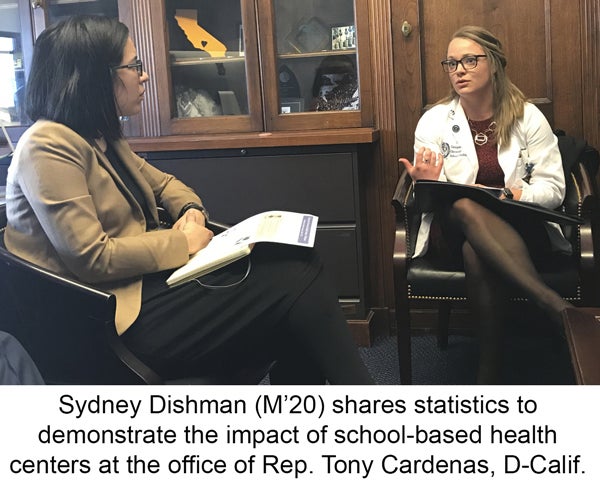 "I've been able to work with law students hands-on. We've gone through cases together, and reviewed bills and laws together. They've provided us with information about D.C. resources that are available for our patient population, such as the [Supplemental Nutrition Assistance Program] …We're not only treating the chief complaint, but also providing a holistic approach."
Collaborating with the law students also helped one group of students draft their own bill, proposing the creation of a university-affiliated clinic system. "By incentivizing medical students in residency to staff these clinics through a federally funded loan forgiveness program, university-affiliated clinics can ensure the necessary services for uninsured/underinsured patients," according to the draft bill.
How did a group of medical students successfully craft their own bill?
This is the result of the Georgetown University Health Justice Alliance, a medical-legal partnership that brings together medical and law students dedicated to improving the health and well-being of people living in poverty.
"With future physicians and future lawyers collaborating together, we can better attack the health disparities that exist," said Jennifer Purks (M'21) during a meeting in the office of Sen. John McCain, R-Ariz.
Advocating for Health Care in Schools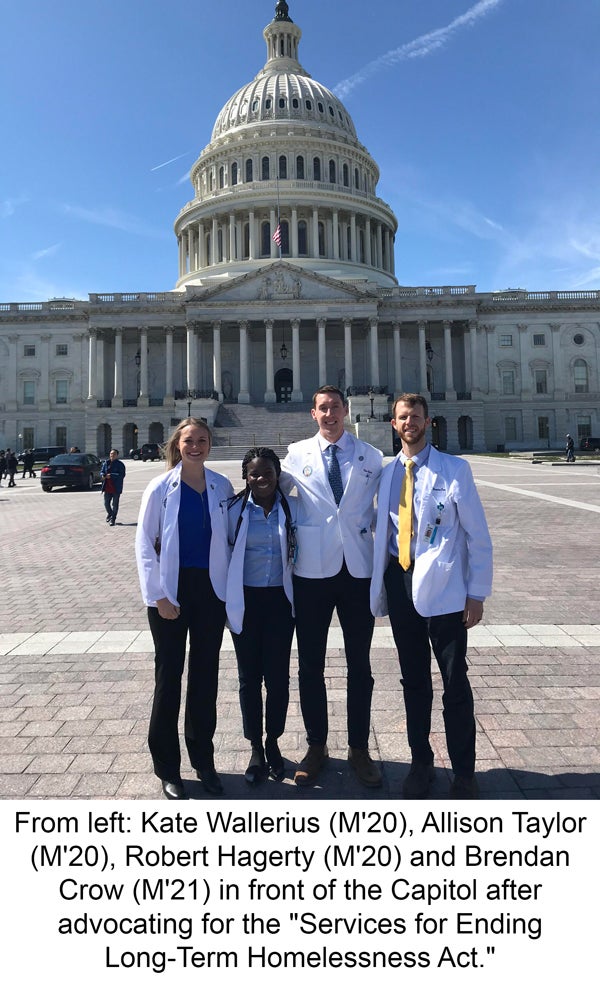 Reid, along with Jessica Haladyna (M'20), Anjana Patel (M'20), Sydney Dishman (M'20), Jennifer Purks (M'21) and Matthew Angelo (L'20) advocated for school-based health centers through the "Hallways to Health Act" (S.356 & H.R.1027). These school-designed health hubs provide health education, referral services and direct care to students.
As former teachers, Reid and Angelo offered an additional perspective, having seen what health disparities can look like in a classroom.
"Whether it was a student suffering from undiagnosed ADD or a student who had PTSD from living in a community filled with violence," students' health played a huge role in their ability to perform academically, Reid said. "This is what really inspired me to become a doctor," he added.
While speaking to a legislative director in the office of Rep. Tony Cardenas, D-Calif., Reid also drew attention to the bill's focus on cultural competency. "The cultural competency component is so important. What a school-based health center looks like in a rural community in Nebraska is going to be different from what [it] looks like in the inner city in New York. The bill takes all those factors into account," said Reid.
Creating Future Advocates
Although the medical students only advocated on the Hill for one day, the experience may spark an interest in advocacy that continues beyond graduation.
"We had great survey results last year. The med students felt prepared and said they were more likely to pursue advocacy having had this experience after they graduate," said Vicki Girard (L'87), JD, co-director of the Georgetown University Health Justice Alliance and professor of legal research and writing at Georgetown University Law Center.
"As part of the Health Justice Alliance, we're doing research around the learning outcomes to support the value of the work and the impact it has on the medical students' education," she added.
Robert Hagerty (M'20) was inspired after his day on the Hill, alluding to potential advocacy work in the future.
"The visit to the Hill was amazing," he said. "My group was really fun to work with and although it was sort of nerve-wracking at first to do our presentation, I think it went really well… I feel very capable of continuing to advocate as I move forward in my career."
Giuliana Cortese
GUMC Communications