Harley Receives SENTAC Lifetime Achievement Award
Posted in GUMC Stories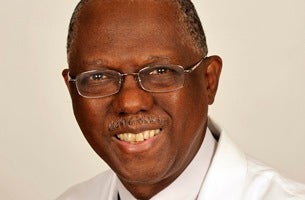 Earl H. Harley Jr., M.D., F.A.C.S., F.A.A.P., associate professor in the department of otolaryngology at Georgetown University Medical Center, has been presented the prestigious Sylvan E. Stool Award from the Society for Ear, Nose and Throat Advances in Children (SENTAC). Harley, a nationally known pediatric otolaryngologist, was honored for outstanding lifetime contributions and service in the field of ear, nose and throat advances in children.
Harley received the award November 30 at SENTAC's 40th annual meeting in Charleston, South Carolina. SENTAC is a non-profit interdisciplinary professional organization founded in 1973. Its members are otolaryngologists, pediatricians, surgeons, pediatric otolaryngologists, speech pathologists, audiologists, nurses and basic scientists-all of whom are interested in enhancing the care of children with acquired or congenital disorders of the ear, nose and throat.
The Sylvan E. Stool Award is named in honor of the late Sylvan Stool, M.D., one of the early pediatric otolaryngologists in this country and the co-editor of "Bluestone and Stool," often referred to as the "bible" of pediatric otolaryngology.
Harley, known for his love of teaching and his tireless mentorship of students and residents, regularly attends the annual SENTAC meeting with Georgetown students and residents in tow. Several of these have received awards for their presentations at the meeting.
Harley's acceptance speech focused on his latest interest: encouraging left-handed medical students to pursue the field of surgery. "As it turns out," he said, "very few left-handed students go into surgery. I am hoping to help develop special provisions or training for left-handed students so that they are not deterred from surgery and procedural specialties."
A 1971 graduate of Howard University College of Medicine, Harley interned at the National Naval Medical Center and completed residencies in pediatrics and otolaryngology at San Diego Naval Medical Center and Oakland Naval Hospital. He completed fellowships in pediatric otolaryngology at Children's National Medical Center and Harvard Medical School. He sees patients at MedStar Georgetown University Hospital.
By Frank Reider, School of Medicine
(Published November 30, 2012)