GWIM Honors 'Role Models' in Medicine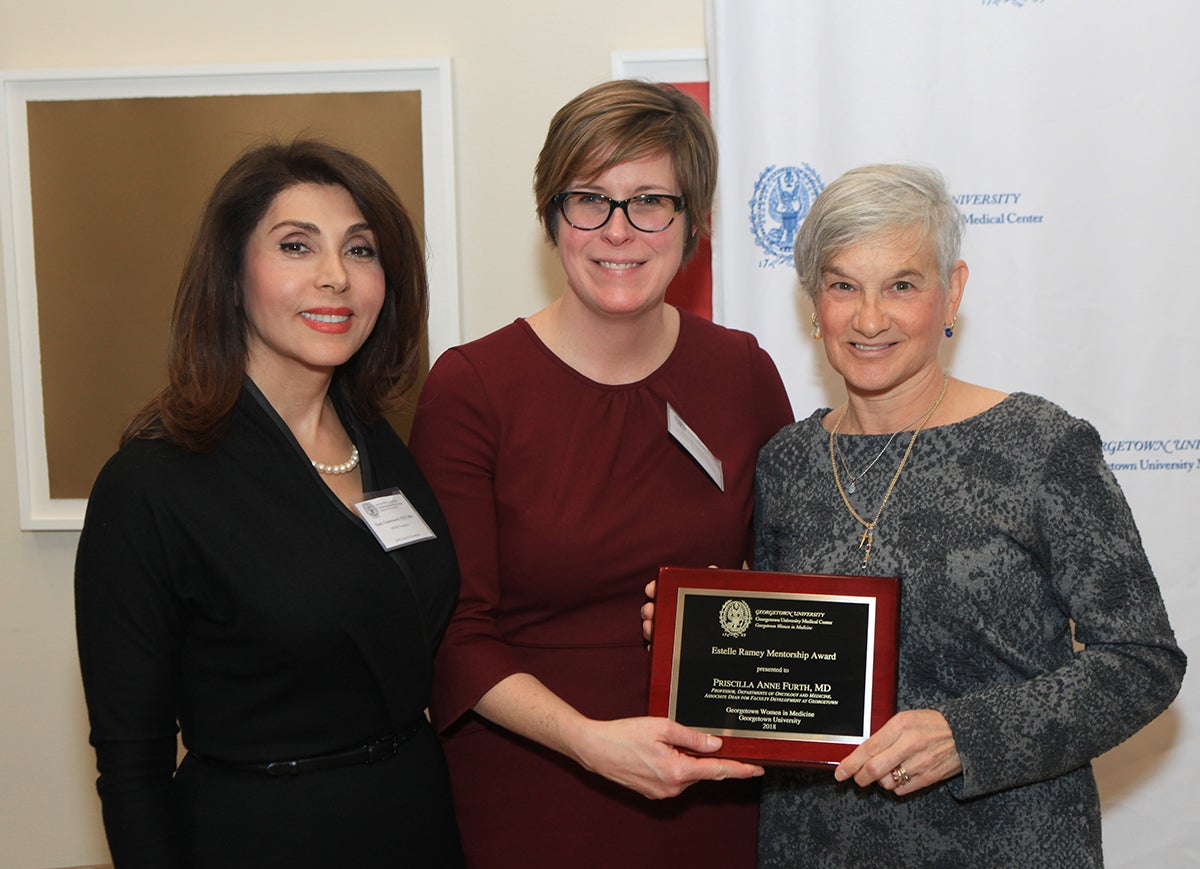 Posted in GUMC Stories | Tagged Georgetown Women in Medicine, School of Medicine, women in STEM
(December 9, 2018) — At their annual awards ceremony and reception, Georgetown Women in Medicine (GWIM) recognized women on the faculty at GUMC for their accomplishments in mentoring, leadership and more.
"Each year, GWIM recognizes the outstanding achievements of our women faculty through specific awards and honoring the accomplishments of women faculty will further our efforts towards compensation equity, leadership and visibility, which are the priority areas of this year of GWIM," said Nady Golestaneh, PhD, MSc, president of GWIM and assistant professor of ophthalmology.
Golestaneh expressed her appreciation for the support GWIM has received from GUMC and MedStar Georgetown University Hospital at the December 6 event in the Lombardi Atrium.
"We hope that through our collaborative efforts, we will further create a prosperous environment in which women are equally compensated, valued and given the opportunity to serve as leaders in academic medicine," she said.
In addition to honoring the award recipients, the GWIM event was an important opportunity to pause and reflect on GWIM's achievements, said Edward B. Healton, MD, MPH, executive vice president of health sciences and executive dean of the School of Medicine.
"We gather to celebrate the accomplishments of some of the many remarkable members of the GUMC community, and as we do that, I also want to thank all of you for continuing to be role models for generations of women in health, science and medicine to come after you," Healton said.
Research on mentoring has shown that it has a positive impact on job satisfaction, employee retention and career progression for the mentor and the mentee, said Patricia Cloonan, PhD, RN, dean of the School of Nursing & Health Studies and associate professor in the department of health systems administration.
"When I speak with students and parents, I talk about Georgetown's mission around the development of men and women living generously in service to others," Cloonan said. "And when I think about the work which is exemplified here, it does seem as if the work here really illustrates that value in a particular way, and we're interested and deeply grateful for the work that you do and deeply pleased to be part of this community."
Putting 'Women on the Walls'
This fall, GWIM announced that the late Estelle Ramey, PhD, would be the subject of the first portrait commissioned as a part of the Women on the Walls campaign, in addition to the recently unveiled portrait of former Dean Joy Williams, supported by Stephen Ray Mitchell, MD, dean of medical education at the School of Medicine.
Recalling her experience as a Georgetown medical student, Lisa Boyle, MD, vice president of medical affairs and chief medical officer at MedStar Georgetown, described Ramey as "a larger-than-life iconic figure."
"I said to Nady, you better find a pretty big wall because she is an outsized individual and just a spirited personality, so I couldn't think of a better role model to have as our inaugural portrait," Boyle said. "So I'm really excited."
Michael Sachtleben, president of MedStar Georgetown and senior vice president of MedStar Health, announced that MedStar Georgetown pledged $20,000 to the Women on the Walls campaign.
"I want to thank the Georgetown Women in Medicine for inviting me this evening and the opportunity to celebrate the women who are making a remarkable difference for our institutions and for the patients who entrust us with their care," he said.
GWIM Award Recipients
Karen Gale Outstanding Achievement Award
Rochelle E. Tractenberg, PhD, MPH, PStat, FASA, FAAAS
Professor, Department of Neurology, Biostatistics, Bioinformatics and Biomathematics, and Rehabilitation Medicine
Estelle Ramey Mentorship Award
Priscilla A. Furth, MD
Professor, Department of Oncology and Medicine; Associate Dean for Faculty Development
School of Nursing & Health Studies Mentorship Award for Women in Health Studies
Kelley A. Anderson, PhD, RN FNP, CHFN-K
Associate Professor, Department of Professional Nursing Practice
John Eisenberg Career Development Award – Mid-Career
Suzanne C. O'Neill, PhD
Associate Professor, Department of Oncology
Nassim Zecavati, MD, MPH
Associate Professor, Department of Pediatrics and Neurology
John Eisenberg Career Development Award – Early Career
Lindsay Kobayashi, PhD
Assistant Professor, Department of Oncology
Sejal Bavishi, MD
Assistant Professor, Department of Pediatrics
---
Kat Zambon
GUMC Communications