GWIM Announces New Portrait for 'Women on the Walls'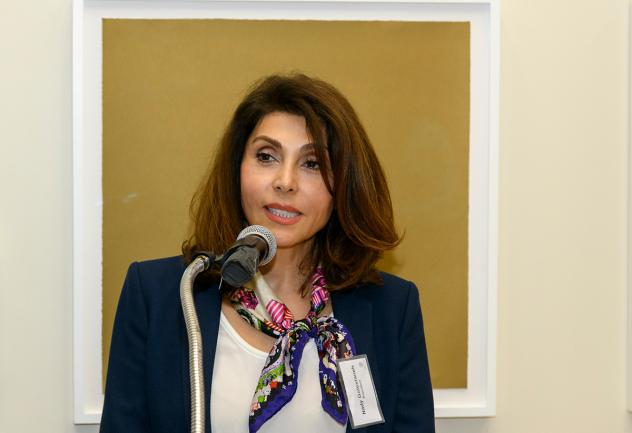 Posted in GUMC Stories | Tagged School of Medicine, women in STEM
(October 8, 2018) — The late Estelle Ramey, PhD, emeritus professor of physiology and biophysics at Georgetown University School of Medicine (SOM), will be the subject of the new portrait commissioned by Georgetown Women in Medicine (GWIM) to increase the number of women depicted on the walls of the medical center.
The announcement at GWIM's fall welcome reception came about one year after the launch of the Women on the Walls campaign. Following a process in which nominations were solicited from members of the GUMC community, the biographies of more than 50 women were reviewed before Ramey was selected, said Nady Golestaneh, PhD, assistant professor of ophthalmology at GUMC and GWIM president, at the September 27 event in the Lombardi atrium.
An endocrinologist, Ramey famously used her medical training to disprove allegations that women's hormones make them unreliable leaders. Ramey also founded and served as president of the Association for Women in Science.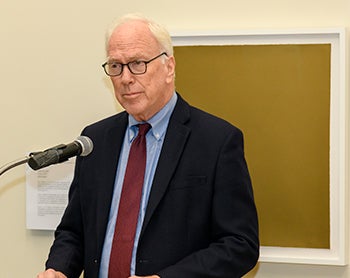 Edward B. Healton, MD, MPH, executive vice president of GUMC and executive dean of SOM, praised the choice of Estelle Ramey as the first "woman on the walls" for the medical center.
Since 2000, the Estelle Ramey Mentorship Award has been given by GWIM to faculty at Georgetown University Medical Center (GUMC) and MedStar Georgetown University Hospital for outstanding mentorship of women faculty members.
"She's a wonderful choice as a first GWIM portrait and on behalf of the medical center, we're very pleased to support this effort," said Edward B. Healton, MD, MPH, executive vice president of GUMC and executive dean of SOM. "I look forward to being at the unveiling in the spring and supporting the next woman on the walls for the medical center."
"We are appreciative and encouraged by the support that we receive from GUMC leaders including the support of the executive vice president's office for this new woman portrait as part of our Women on the Walls campaign," Golestaneh said.
Exploring Who Is Represented And How
GWIM members also celebrated the publication of an article on the importance of increasing the diversity of those portrayed on the walls of medical schools. "Deck the Halls with Diverse Portraits" by Caroline Wellbery, MD, PhD, professor of family medicine at SOM and Ranit Mishori, MD, MHS, professor of family medicine at SOM, was published in the Journal of the American Medical Association (JAMA) in August.
At the reception, Wellbery shared examples of artists who are depicting doctors and scientists in innovative and original ways that tell stories and show women and minorities in the full context of their lives.
"I think the arts are an integral part of the broader story of innovation in our awakening to social issues," she said. "We should not think only about who we represent but about how we want to represent them and avoid mimicking the very types of representation we seek to reimagine."
Reaffirming A Commitment To Goals, Values
In addition to increasing the visibility of women in medicine, GWIM is focused on increasing compensation equity and leadership roles among women at the medical center, efforts that Healton has supported. "I'm especially pleased … to reaffirm my support for GWIM's three priorities for this year," said Healton, who is directing an effort to address faculty equity in all aspects of work at GUMC.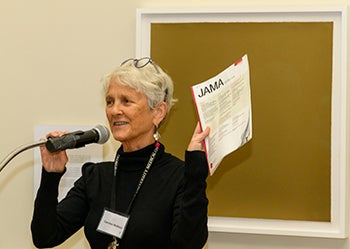 Caroline Wellbery, MD, PhD, professor of family medicine, with a copy of the journal article she co-authored on the importance of increasing the diversity of those portrayed on the walls of medical schools.
"GWIM will be 25 years old next spring and we are pleased to see that GWIM's long-lasting efforts have positively impacted our institution and the GUMC community," Golestaneh said. "While these improvements are encouraging, we still need to work collectively to further create a prosperous environment in which women are equally compensated, valued and given the opportunity to serve as leaders in academic medicine."
A recent "encounter with a wet floor" led to an emergency room visit by Patricia Cloonan, PhD, RN, dean of the School of Nursing & Health Studies (NHS) and associate professor of health systems administration. While the experience reminded her how hard it is to be a patient, she was pleased to see health care providers who acted with kindness, clarity and generosity of spirit.
"The outcome was that I really had quite a wonderful, if not so brief, experience at MedStar Georgetown, which just makes me really proud to be a part of this community," she said. "It makes me even more committed each and every day to make sure that we're modeling the right kind of behavior for our trainees, for our students, for our alumni, and that we share and continue to stay strongly committed to the great work that can happen when people understand each other, work together and respect each other's work."
Pursuing Equity at the Medical Center and Beyond
Kristi Graves, PhD, associate professor of oncology at Georgetown Lombardi and immediate past president of GWIM, has seen how GWIM's work provided a foundation for efforts to improve gender equity across Georgetown's campuses. "I think the long history of GWIM helped set the stage and create a culture to support President DeGioia's relatively new Task force on Gender Equity," she said.
GUMC is represented on the gender equity task force by Graves as well as Carole Roan Gresenz, PhD, the Bette Jacobs Endowed Professor in the department of health systems administration and senior associate dean at the NHS; Miriam Toporowicz, MD, MPH, professor in the department of pediatrics in the SOM; Judy Wong, PhD, associate professor of oncology in the SOM; and Edilma L. Yearwood, PhD, PMHCNS-BC, FAAN, associate professor of nursing and chair of the department of professional nursing practice at NHS. The task force will study issues related to compensation, leadership equity and work-life balance across the university, Graves said.
"There will be opportunities to contribute ideas in different ways," she said. "It's a privilege that some of the work that GWIM had done helped set the stage for this presidential task force," she said.
Kat Zambon
GUMC Communications