GWIM Celebrates Women in Leadership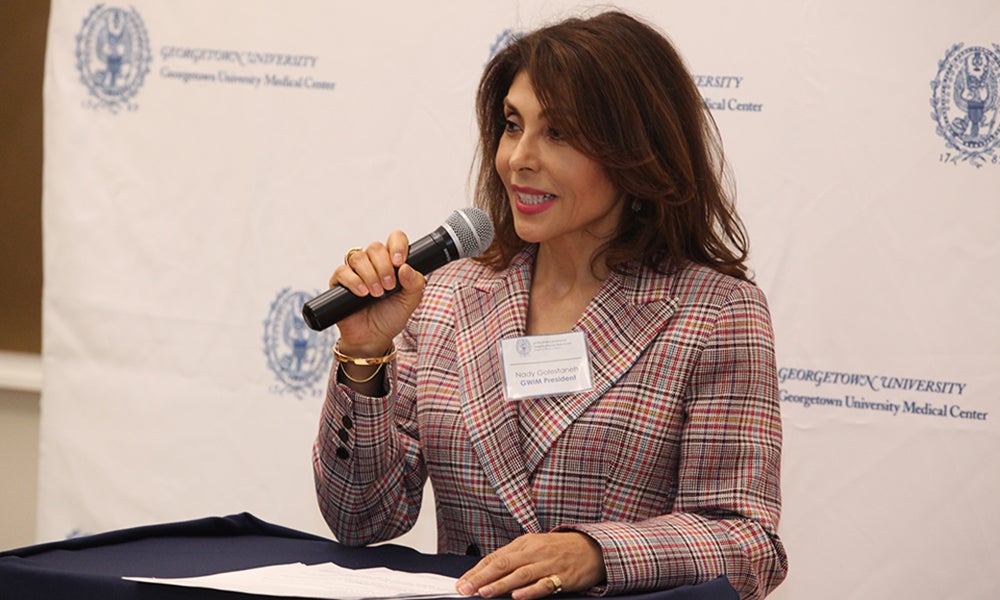 Posted in GUMC Stories | Tagged faculty honors, Georgetown Women in Medicine, School of Medicine, women in STEM
(October 4, 2019) — At their fall reception, Georgetown Women in Medicine (GWIM) welcomed new and returning female faculty members and celebrated several high profile promotions for GWIM members.
"Each year, we start off the academic year with our fall reception as an opportunity to review GWIM's mission, priorities and GWIM officers, but also to recognize excellence in leadership of our women faculty at GUMC," said GWIM president Nady Golestaneh, PhD, MSc, associate professor of ophthalmology, neurology, biochemistry and molecular & cellular biology. "GWIM celebrated its 25th anniversary last April, and we are pleased to see that GWIM's lifelong efforts are translating into positive actions and new policies at our institution and the GUMC community."
"It's terrific to see a wide variety of faculty and staff from across the campus, from NHS, from the School of Medicine, and some of our graduate programs," said Edward B. Healton, MD, MPH, executive vice president at Georgetown University Medical Center and executive dean of the School of Medicine.
Speaking about ongoing and upcoming leadership development opportunities for faculty and staff at GUMC, Healton reaffirmed his support for GWIM's priority areas of improving compensation equity, increasing visibility and supporting leadership development for women in medicine. "We will continue our work together on these shared goals, and I'm looking forward to that."
Adding Another Woman on the Walls
Increasing the visibility of women in medicine has long been one of GWIM's top priorities. Through the Women on the Walls campaign, launched in 2017, GWIM has been drawing attention to the work of female faculty members by increasing the number of women depicted in portraits at GUMC. In addition to portraits of Dean Joy Williams and the late Estelle Ramey, PhD, Golestaneh announced that Miriam Toporowicz, MD, professor in the department of pediatrics, will be the next woman featured on the walls of the medical center.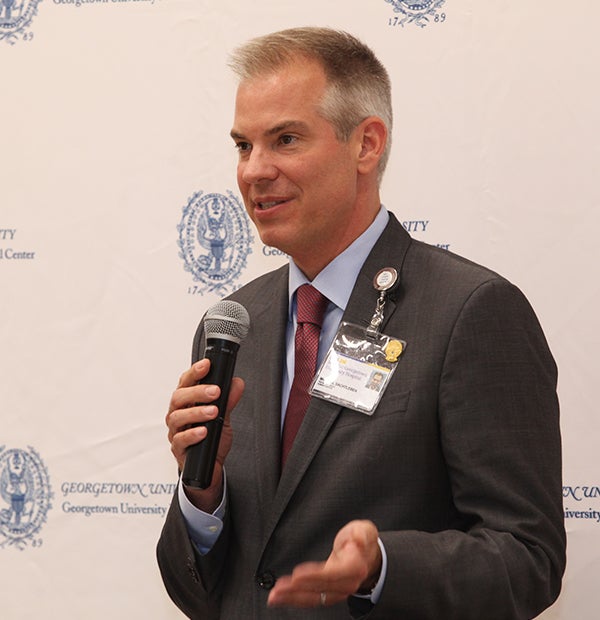 Golestaneh thanked Healton and Stephen Ray Mitchell, MD, MBA, dean for medical education at the School of Medicine, for their support of the existing portraits and Michael Sachtleben, president of MedStar Georgetown University Hospital, for sponsoring the portrait of Toporowicz. The new portrait will be unveiled at the GWIM Awards Reception on Dec. 5.
While the portraits of Williams and Ramey decorate the halls of the Medical-Dental Building, the portrait of Toporowicz will be the first of a woman physician in the Goldberg Auditorium at MedStar Georgetown. Displaying the portrait in the auditorium "will provide a permanent recognition to Dr. Toporowicz for her exceptional contributions to Georgetown University Medical Center and MedStar Georgetown University Hospital, which includes her work in clinical care, education, service and research," Sachtleben said.
"On behalf of MedStar Georgetown University Hospital and our board of directors, I want to thank Georgetown Women in Medicine for their long-standing partnership," Sachtleben added. "We are providing our patients with much better care because of you, and for that we are sincerely grateful."
Honoring Women in Leadership
Since GWIM's 25th anniversary celebration in April, several women faculty members received prominent promotions, including Anna Riegel, PhD, senior associate dean for biomedical graduate education; Carole Roan Gresenz, PhD, interim dean of the School of Nursing & Health Studies; Vesna Petronic-Rosic, MD, MSc, MBA, chair of the department of dermatology; and Kathleen Maguire-Zeiss, PhD, chair of the department of neuroscience.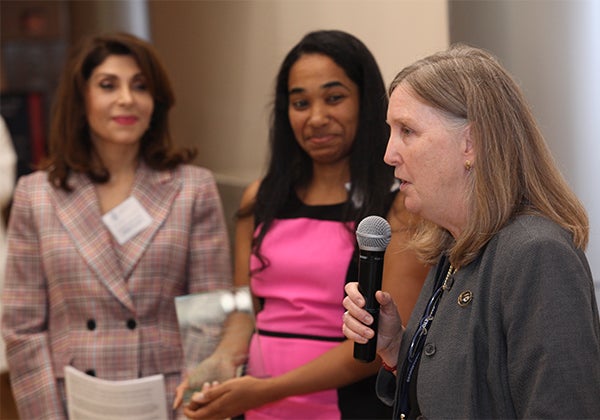 "I am very grateful for my experience here at Georgetown, for GWIM and for Nady recognizing me tonight, but also for the transformational work that this organization has been doing," Maguire-Zeiss said. "I think it reminds us of an important thing, that all of us at Georgetown are welcome here, that we're here to support each other, to sponsor each other and also to mentor each other."
Gresenz challenged attendees to look at issues like inequities in compensation and representation and consider why such issues persist.
"The thing about representation and compensation is that they're both pretty easy to measure," she said. "And I just wanted to draw attention to the idea that we also need to go deeper than that as well, and go beyond the things that are easy to measure, to really understand as we think about compensation inequities or representation inequities, what are the structural and other factors that affect that, and that we can surface and address as GWIM does its work in the upcoming year."
Kat Zambon
GUMC Communications