Green Initiatives Announced at GUMC Town Hall
Posted in GUMC Stories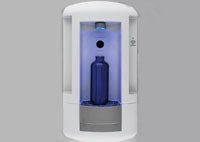 Medical waste is a huge problem—four billion pounds a year in U.S. landfills—second only to the food industry. GUMC intends to begin to reduce its share of waste by exploring greener items it can use on a regular basis at Georgetown University Medical Center (GUMC). To do so, a "GUMC Green Team" has been established, initially focused on the laboratory setting, to identify some pilot projects for waste reduction over the summer.
New hydration stations will begin to appear around campus, allowing the GUMC community to eschew the purchase of bottled water, which produces 1.5 million tons of plastic waste annually. The stations will chill and filter tap water using Brita ™ technology, and thirsty users can fill their reusable water bottles for free and help reduce the use of plastic water bottles.
Bicycle riding is healthy, eco-centric transportation. Washington D.C. is fast becoming a leading bicycle-friendly city, with the advent of Capital Bikeshare and a growing number of bike paths and lanes across the metropolitan area. GUMC is encouraging cycling with more bike racks on the Medical Center campus to provide easier access and a secure place for your bicycle. There will be three additional locations on the Medical Center campus. Bike racks will be placed outside of Building D on the Podium Level, behind the Pre-Clinical Science Building on the ground floor to the left of the Hoya Federal Credit Union, and at a yet-to-be-determined location outside of St. Mary's Hall.
Don't forget to wear your bicycle helmet.
(Published June 18, 2012)